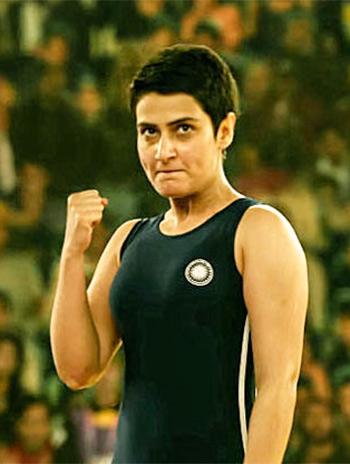 'It took me eight months to do the entire casting for the film.'
It was also important that the girls should resemble Aamir Khan and Sakshi Tanwar.'
'Also, we needed the girls to work with us for many months to prepare for the role.'
In October 2015 at the India premiere of Aligarh at the Mumbai Film Festival, director Hansal Mehta told the audience that he had known Manoj Bajpayee for nearly 20 years.
But it was casting director Mukesh Chhabra, who had reminded Mehta that Bajpayee would be perfect for the role of Professor Shrinivas Ramchandra Siras.
That is what Mukesh Chhabra -- the leading casting director in Bollywood -- does best.
He introduces and suggests to directors unique talents, often potential lead actors and many times large casts of supporting actors.
Over the years, Chhabra has worked on a range of films from Gangs of Wasseypur to Shahid, Kai Po Che, Highway, Haider, Rockstar, Chennai Express, Bombay Velvet and Bajrangi Bhaijaan.
A member of the Casting Society of America, Chhabra is now being celebrated for his work on what many critics have described as the best Bollywood film of 2016: Nitesh Tiwari's Dangal.
Although based in Mumbai, the Mukesh Chhabra Casting Company also has an office in Delhi. Chhabra has a team of 65 people working with him and he also has interns from the Whistling Woods International film school.
Mukesh Chhabra speaks to Aseem Chhabra (the two are not related) about his journey in Bollywood and casting process that differs from film to film.
IMAGE: Mukesh Chhabra, centre, with the Dangal cast: Suhani Bhatnagar, Sanaya Malhotra, Zaira Wasim, Aparshakti Khurana, Vivan Bhatena and Fatima Sana Sheikh.
The casting of Dangal's supporting actors -- especially the four girls who play Geeta and Babita Phogat -- definitely contributed to the success of the film. How did you find the girls?
Fatima had acted as a child star in a number of films, including Chachi 420. But she auditioned really well.
We must have auditioned 10,000 girls for the Geeta and Babita roles.
Really?
Close to 11,000 actually.
How long did you audition for this film?
It took me eight months to do the entire casting for the film. I even did a 15-day acting workshop with them.
How did you find Sanya Malhotra?
We also do casting for ad films, so we had Sanya's profile in our database. I saw it again and suggested we should call her. She looked simple and yet correct for the role.
Even Fatima had auditioned with us earlier and I found that file.
How did you decide who will get Geeta's role?
We matched the actors and then realised that Sanya still had a child in her. We sensed she would be better to play the younger sister.
What about the younger girls, Zaira Wasim and Suhani Bhatnagar?
Zaira's story is interesting. We had cast her for an ad and had also auditioned her for the young Katrina Kaif's role in Fitoor. But she was a bit old.
I remembered her even though her voice had been dubbed for the ad.
Some people said she looks Kashmiri and won't fit into the role, but she did such a wonderful job in the audition. She got the perfect Haryanvi accent.
We auditioned Suhani in Delhi. She had so much purity in her. We had cast Sanya so Suhani matched her.
It was also important that the girls should resemble Aamir Khan and Sakshi Tanwar.
Also, we needed the girls to work with us for many months to prepare for the role.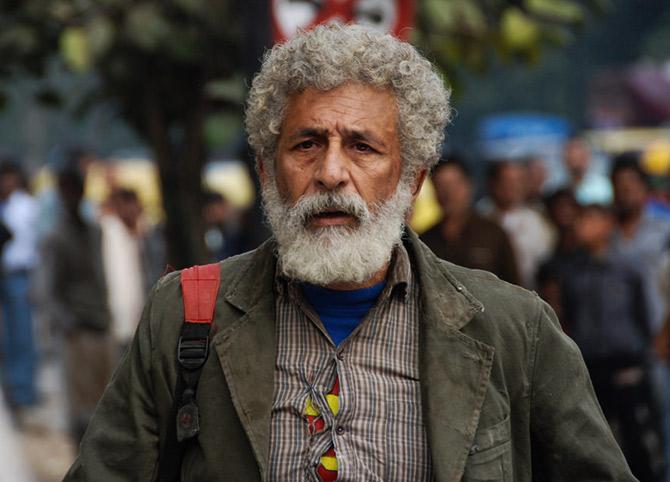 IMAGE: Naseeruddin Shah in Amal.
How did you become a casting director?
I am originally from Delhi and came to Mumbai in 2007.
I had helped a bit in the casting of Rang De Basanti. Before that, I was working with TIE (Theatre in Education), which is part of the National School of Drama.
I was in the children's section, where I would conduct theatre workshops for kids.
I also worked on Chak De! India. Basically, if the film needed a child or an uncle, I would recommend the actors.
I knew a lot of theatre actors, especially from Delhi.
I helped with Chintu Ji, a film with Rishi Kapoor. Then I worked on Richie Mehta's Amal.
I realised at that point that people were not taking the job seriously. I figured it was an empty space and I could move into it.
There were a few other people engaged in casting, like Honey Trehan.
Honey worked exclusively with Vishal Bhardwaj. There wasn't an organised casting process.
Now the kinds of films that are being made, directors want new faces and actors from different regions of the country.
The first casting director in Hindi films was Tigmanshu Dhulia. He did the casting for Bandit Queen (he also worked on The Warrior).
Even after Tigmanshu got actors like Seema Biswas, Nirmal Pandey, Ragubir Yadav, Manoj Bajpayee and others, people still did not understand the value of a casting director.
That casting process is finally being recognised in Bollywood.
How did you meet Richie Mehta for Amal?
I think Seema Biswas told him about my work. At that time, I was working with the TIE company in Delhi.
Who all did you cast in Amal? I am very fond of that film.
Richie knew Naseeruddin Shah. But I brought Keol Purie to the film as well as many of the younger actors. They were all from Delhi.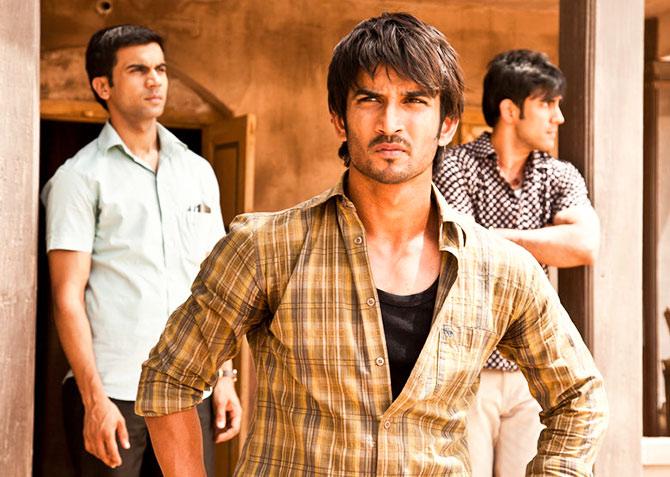 IMAGE: Rajkummar Rao, Sushant Singh Rajput, Amit Sadh in Kai Po Che.
When did you start to work with Anurag Kashyap?
Anurag had seen Chiller Party, where I had cast many children. That is when he asked me to work on Gangs of Wasseypur.
When I joined the project, Anurag had only cast Nawazuddin Siddiqui and Manoj Bajpayee.
Everybody else, including Richa Chadha and Huma Qureshi, came on board after I cast them.
There were 384 actors in the two-part film. It took me a year to finalise the casting.
I had a database of actors from Uttar Pradesh, Bihar and Delhi. Some were already in Mumbai.
When I get a project and the actors have to speak a particular language or dialect, I start the casting process in that region.
So I start by going to local acting schools, colleges and looking for talent there.
For Luv Shuv Tey Chicken Khurana, I first went to Punjab to look for actors.
For Highway, I went to Haryana.
For Kai Po Che, I first looked in Gujarat.
For me, it is very important to know what region the actors are from, what language they speak, and the tone and the language the film requires.
Only after I am comfortable with the actors and have auditioned them do I take them to the director.
Rajkummar Rao had a small role in Gangs... Did you also bring him to Kai Po Che?
Yes, I brought all three of them -- Rajkummar, Sushant Singh Rajput and Amit Sadh -- to that film.
Gattu (director Abhishek Kapoor) wanted three new faces. I auditioned and worked with these actors for nearly a month.
I knew Rajkummar, but he was not a big actor at that time. So I made him audition again.
Sushant was already working in television?
Yes, but there are so many other actors on television and very few people from the film industry watch television.
I knew I had seen him somewhere and thought he had an interesting face and personality.
When I tested him, I thought he was not just a television actor. He had a greater range and potential to become a star.
So I pushed him to lose weight, to build his body.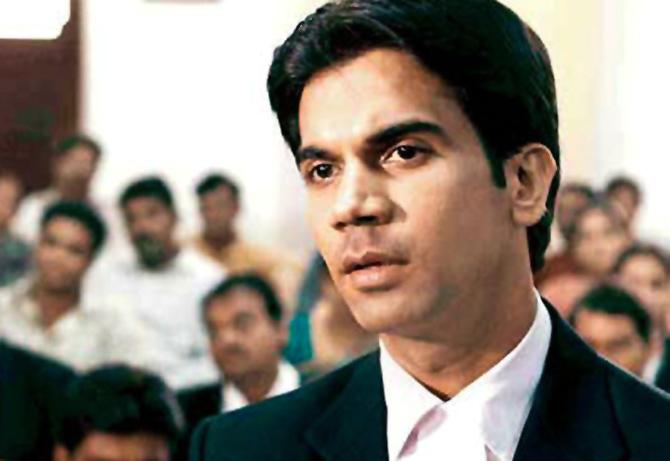 IMAGE: Rajkummar Raon in Shahid.
You also took Rajkummar Rao to Hansal Mehta for Shahid.
Hansal wanted a big name actor with a star image, so I had to convince him. I think it is important as a casting agent to stick to my conviction.
I can get into an argument with any director if I know I am right.
I argued with Anurag on Gangs... and with Raju Hirani on PK.
But now people don't audition Rajkummar right?
No, after Kai Po Che and Shahid, he never looked back. Now he doesn't audition.
Which do you think is your biggest film in terms of casting success in the recent years?
There were PK, Ugly, Bombay Velvet... But I am very happy with the casting for Bajrangi Bhaijaan.
I found the little girl Harshalli Malhotra and people praised her acting a lot.
And Aligarh, of course.
I had spent so much time with Manoj, so I knew that his physicality would match that of the character.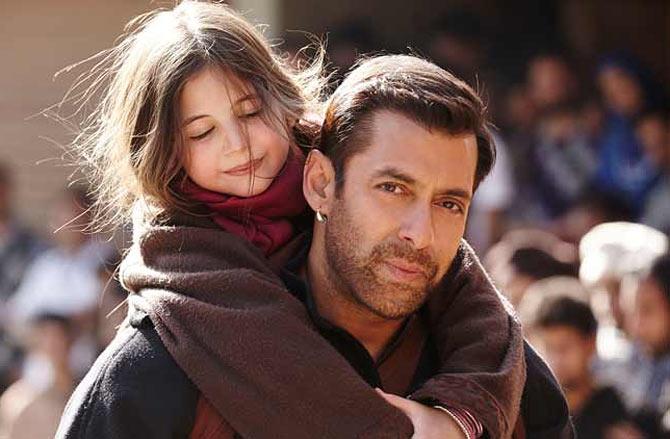 IMAGE: Harshali Malhotra and Salman Khan in Bajrangi Bhaijaan.
How did you cast Harshalli for Bajrangi Bhaijaan?
It was a complicated auditioning process.
My goal was to find someone like Jugal Hansraj, who was discovered in Masoom.
I was told the little girl should play a role like Jugal. Kabir Khan and others thought it was taking a long time, but I was persistent in finding the right girl.
Finally, we found Harshalli in Gurgaon. We went to schools, dance schools, traveled around and conducted workshops.
You also worked on Haider. Did you go to Kashmir for the casting?
I was an assistant on Kaminey and I have also worked on Vishalji's new film Rangoon.
For Haider, we were in Kashmir for two months looking for the supporting cast.
Do you ever say no to projects?
I choose from the scripts I get, especially if there is a challenge in casting.
I don't do multi-star films.
I don't take films if I cannot understand why they need a casting director.
I will not take on a film if I am being asked to cast a driver or a bhabhi or a bhaiya.
For me, the actor has to play a substantial role.
I remember you acted in Richie Mehta's Siddharth. How did you cast yourself?
I didn't cast myself.
Richie was very clear that I should play that role.
Anurag cast me in Gangs of Wasseypur. Hansal cast me in a small role in Shahid.
I met you early last year in New York and you mentioned you had written two scripts. When are you making those films? Do you plan to direct them yourself?
Yes, that's my dream and as soon as I get to them.
But right now, I am enjoying the casting process.