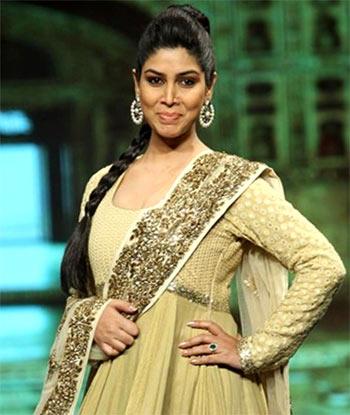 'On my way to Aamir Khan's office, I was thinking about what to say, how to react.'
'I thought that I should get a picture clicked with him because the casting probably won't happen, as it's too big a film.'
But Sakshi Tanwar *was* cast as Aamir Khan's wife in his sports drama, Dangal.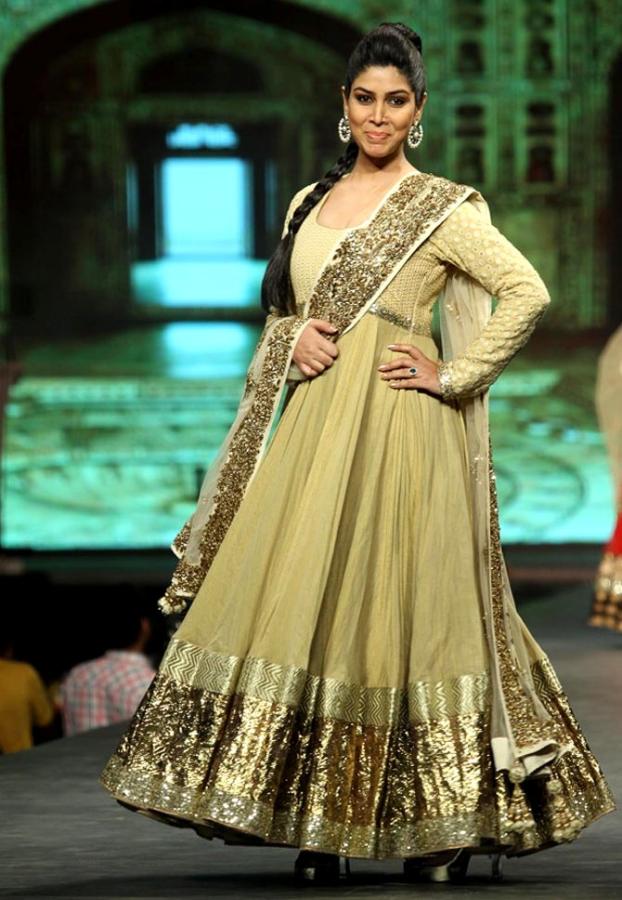 Aamir Khan's house in Bandra, a posh western suburb in Mumbai, seems to have become a Dangal adda.
That's where his team gets together to promote the film.
After meeting his onscreen daughters Fatima Sana Shaikh and Sanya Malhotra, it was time time to meet his onscreen wife, Sakshi Tanwar, at the same venue.
We remember her as the ideal bahu Parvati from Kahaani Ghar Ghar Ki or the middle class mature woman, Priya from Bade Acche Lagte Hai.
One of the biggest stars on the small screen, Sakshi could not believe when she was signed up for Dangal.

She discusses Aamir Khan and Dangal in 'one of the most fun interactions,' and Jahnavi Patel/ Rediff.com takes notes.

Tell us your Dangal story.

When I got the first call from (casting agent) Mukesh Chhabra's agency, I thought it was a prank. They then asked me to meet and were serious about it.
When I met Aamir sir, without two minutes of our meeting, he said, 'Let's do a scene.'
We did the scene, which is in the trailer (the dialogue where Sakshi says, 'Pehlwani sirf chore kare hai' and Aamir replies, 'Maari choriya chore se kum hai ke.').
We did a couple of variations for that scene.

After this, they asked me to meet (associate producer) Srinivas Rao to discuss the dates, etc. Whatever dates he asked for, I was free, as I wasn't doing anything.

I was returning home in my car when I got a message from Aamir sir. I called him back and he said, 'Welcome to Dangal. You're on board.'
It all happened so fast that it didn't sink in. I just said, 'Okay, thank you.'

I sat in the car, blank, not knowing how to react. There were so many emotions going on that I did not know which one to choose.

I didn't tell anyone. I just called my sister and told her that a trip to Bhutan that I had planned had to be cancelled. I told her that I might be doing a film with Mr Khan but that she could not tell anyone, as I wasn't sure about it.

Before I could come to terms with this news, it was in the newspapers.

After that, everyone started calling me.

I didn't believe it for the longest time and when I say that, I mean till the time I saw the trailer!

I was shooting for it but somehow, it wasn't sinking in.

Why was that?

It is because of the person I am. My present career was never my plan A.

I wanted to be an IAS officer. I was studying for my civil services. Things just happened for me.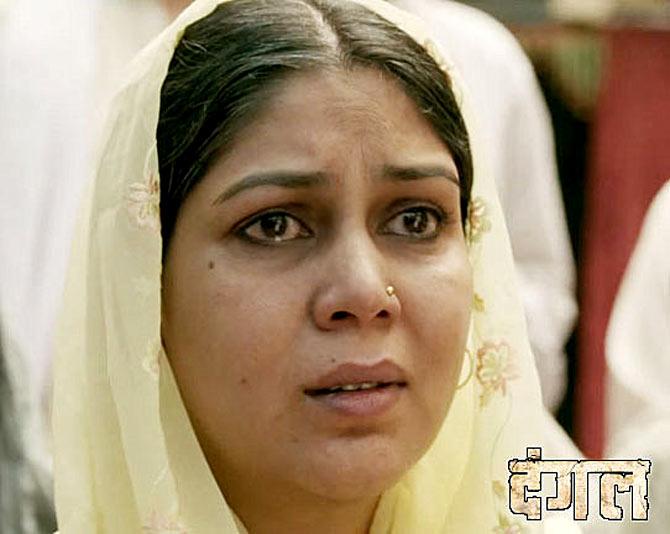 How was the first meeting with Aamir?

On my way to his office, I was thinking about what to say, how to react.
I thought that I should get a picture clicked with him because the casting probably won't happen, as it's too big a film. Then, I kept telling myself not to ask for a picture.

When I reached, it all happened too fast -- we were doing the scenes and in no time, it was over.

I didn't know how I was going to behave but I think I behaved well.

We saw a different side to him on Koffee With Karan.

I used to think he's very serious because he has that image. I thought there would be serious discussions on set regarding the scenes. But he would be sitting in one corner reading a book.

When I met him for the first time, he was so unlike Superstar Aamir Khan. He is simple, warm and down-to-earth. I didn't see that element of stardom in him even once, never through the filming or otherwise.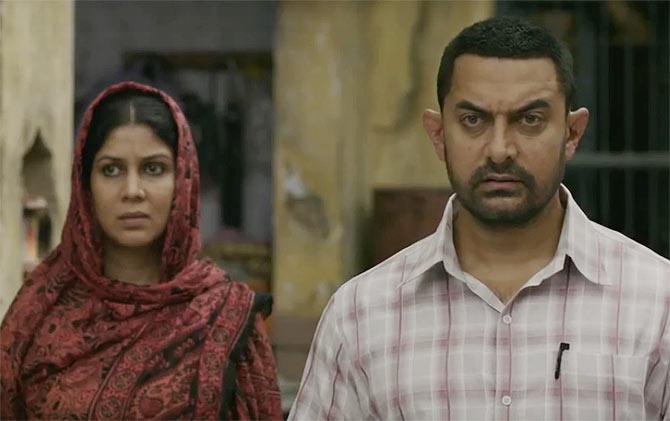 What preparation went behind your role?

Thankfully, I didn't have to go through wresting training. It was more with the language.
I was cast very close to the shooting. I didn't get the combined reading and language sessions with everyone, so the language teacher Sunita Sharma came home for five days.

I recorded my lines in her voice and kept listening to it in my car. My driver thought I was mad because I would keep saying my lines in Haryanvi.

(Director) Nitesh Tiwari sir's brief also helped me prepare. He gave me the journey of the character, her contribution to the main story, equations with the husband and daughters, the look... so I followed that.

I couldn't meet Dayaji (Mahavir Singh Phogat's wife Daya Kaur) before filming, so I had no point of reference. I had just seen her photograph and felt I didn't look like her at all.

Why don't we see you in more movies?

I am a very lazy person.
Kaam mujhe dhund leta hai (work finds me). Otherwise, I keep on saying no to work. If work is really meant for me, it happens.

I don't really make an effort because it's just one part of my life. I would rather do a lot of things that make me happy.

Aamir has called you a one-take actress. How does it feel when an actor of his calibre says that?

Though he is praising me, in a way, it reflects on the kind of person and actor he is.
Despite being such a huge star, to compliment his co-stars lavishly is such a beautiful aspect of his personality. He is sharing the credit with everyone. He doesn't want the focus solely on him.

How was it working the girls -- the younger actors Zaira and Suhani and the older actors Fatima and Sanya?

They are outstanding.

When I saw the younger ones, I felt they would do a lot of mischief on the set. Most of my scenes are with the younger girls. I thought I would have a tough time with them, as shooting with kids is difficult.

They would do masti but the minute Nitesh sir would say 'action', they would transform.

They are so young but you will see so much depth in their characters, especially Zaira, who plays Geeta. I was thoroughly impressed.

Even Sanya and Fatima, they don't look like first-timers. They have so much confidence.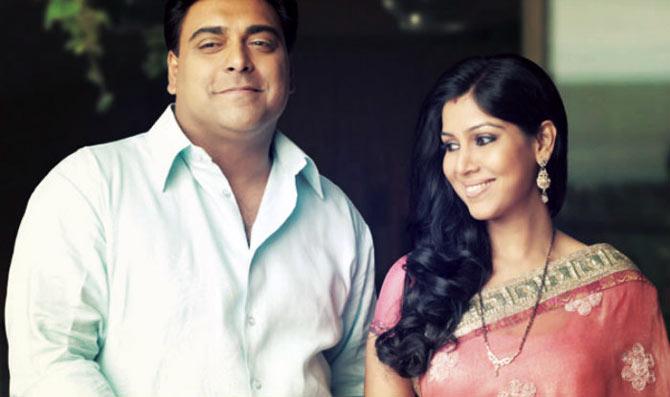 Your doing Ekta Kapoor's Web Series with Ram Kapoor. Why did you opt for it?

I got a call from Ekta and said let's do it.

My main criteria was that it was only a 14-episodes thing and I was needed for 30 days only.

I never asked her what it was or how it would be because I started my television journey with her. They were coming out with a digital platform and it made sense to tread new territory with a known platform.

What do you think about television serials today?

It is such a powerful medium and has such an immense reach that I feel people who decide the content on television should take up subjects that are more relevant and progressive.

I hope there are more finite series so there's a start and finish to the story. I hope that are more shows like 24 or POW because I think if we slowly try to show these to the audience, they would see different content too.

If we show good and relevant stories, people will watch it.

Bade Acche Lagte Hai came at a time when television was showing only saas-bahu shows. It struck strike a chord with people. Maybe we have to try a little more.