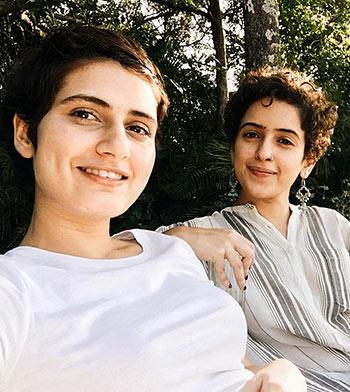 'Aamir Khan is a chalta phirta school. Even if you spend one day with him, you will learn a lot. He never gets tired. He works from morning till night.'
Meet Dangal's Fatima Sana Shaikh and Sanya Malhotra.
Affable. Talkative. Polite. Beautiful.
That pretty much sums up Aamir Khan's Dangal daughters: Fatima Sana Shaikh and Sanya Malhotra.
The first-time actors are at Aamir's home, giving interviews and promoting 2016's biggest film together.
Mumbai girl Fatima, who plays Geeta Phogat, and Delhi girl Sanya, who plays her sister Babita, look at ease with each other. They maintain eye contact with each other before answering the questions.
At one point during the interview, Sanya notices Fatima's footwear strap isn't right and fixes it for her.
They discuss Dangal, Aamir Khan and much more, as Jahnavi Patel/ Rediff.com listens in.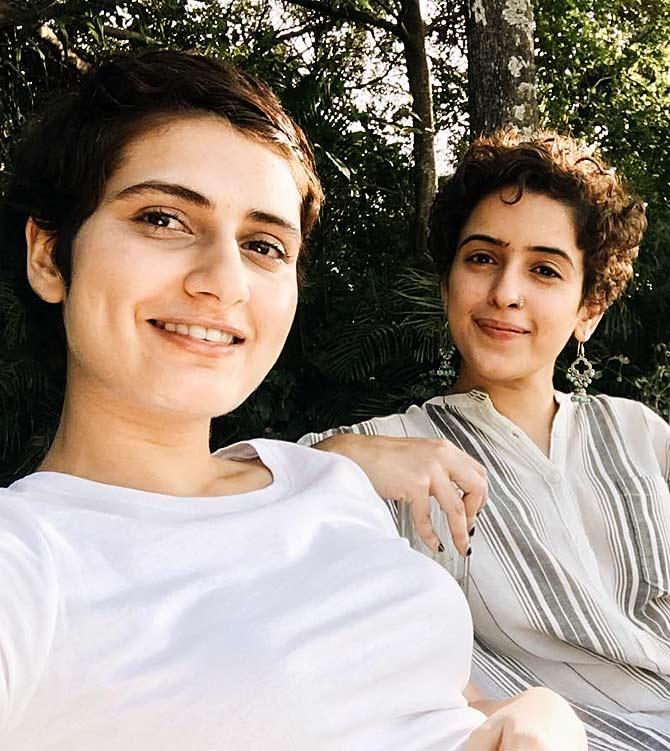 IMAGE: Fatima and Sanya. Photograph: Sanya Malhotra/Instagram
Both of you have learnt wrestling for the film. Is promoting the film just as difficult?
Fatima: I am having a lot of fun. These are the first interviews and I haven't done this before. I am very excited. Besides, I love talking!
Sanya: We are so well prepared after wrestling that we don't find anything difficult.
So how did you get the film?
Sanya: During my graduation, I was dancing professionally. I gave an audition in Mumbai for a dance reality show and got selected in the top 100.
I always wanted to act but did not get any opportunities in Delhi. That's why I came to Mumbai.
I didn't get through the reality show but I stayed back to see how Mumbai was. After that, I told my father that I want to move here.
The first four-five months I had no idea about what to do, where to go and how to give auditions.
I started doing advertisements and got a lot of ads.
After a year, I got a call from (casting director) Mukesh Chhabra's office for Dangal's auditions. I gave the audition, and I thought I'd get the film.
But I did not get a call for a month. Then, I read that Kangana Ranaut was doing Geeta, the role I was auditioning for.
I went to Delhi to surprise my mother on her birthday. As soon as I landed (in Delhi), I got a call from Mukesh Chhabra's office that I've been shortlisted and Aamir wants to meet. I came back and saw the shortlisted girls -- the list wasn't short at all! Fatima was also on the list. That's how the audition journey started.
Fatima: I have been struggling for the past three-four years before Dangal happened. I had given up on acting because I would go for auditions everyday but nothing would happen.
I tried my hand at photography and worked with a studio for six months.
I thought of learning cinematography, so I assisted a cinematographer for an ad. During that time, around January, I was called for Dangal's audition.
Mukesh Chhabra's assistant sent the scenes to me and I instantly googled Geeta Phogat. I am ashamed that I didn't know who Geeta Phogat was even though she has won gold for our country.
I saw that she's a strong, tough looking girl. At that time, I was lanky. So I called the assistant and told her I am not the right girl for the film. But she asked me to audition anyway.
I didn't think I would get the film. I did not get a call for a month and I had no expectations. Then I got shortlisted.
Our workshops started with Mukesh Chhabra and Nitish sir (Tiwari, director).
We were asked to meet our coach Kripa sir (Shankar Bishnoi).
We had a two-week audition for wrestling. It was very difficult. I used to cry every morning! The body would be so sore.
Then finally, they told us we've got it.
Sanya: After one and a half months.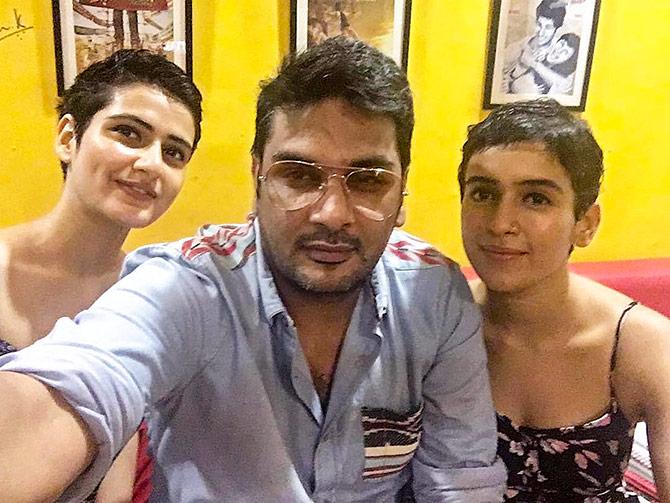 IMAGE: Fatima, Mukesh Chhabra and Sanya. Photograph: Fatima Sana Shaikh/Instagram
Did you ever want to give up?
Sanya: Never.This is a dream. We know wrestling is a tough sport.
Fatima: All the wrestling in the film is because of him.
Sanya: It's a difficult sport but he used to make the practice fun. He used to motivate us. We weren't actors for him, we were pehelwans.
Did you have workshops with the other two girls, who are playing your younger characters in the film?
Fatima: Yes. We stayed together in Bandra (a western suburb of Mumbai).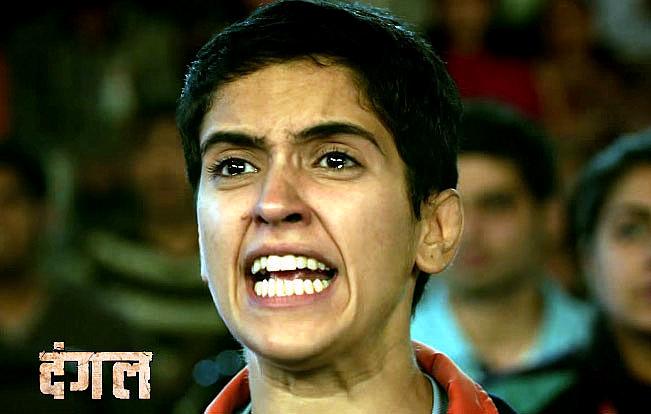 IMAGE: Sanya Malhotra in Dangal
What was an average day for you like during Dangal's preparations?
Fatima: We used to get up at 6:30 am; we had to go to Kandivali (a western suburb) for practice. The travel time was 1 hour and 15 minutes.
After wrestling for three hours, you get exhausted, need food and want to just go home and sleep. Once we got back, we would have lunch, sleep for about half an hour, get up, do our Haryanvi class for an hour, go to the gym for an hour...
By the time we got back home, we used to eat and die!
Sanya: We used to sleep by 9.
Fatima: We were training like real wrestlers.
Sanya: We were following the same routine.
Fatima: If we continue that level of wrestling and training, we can actually get into the sport!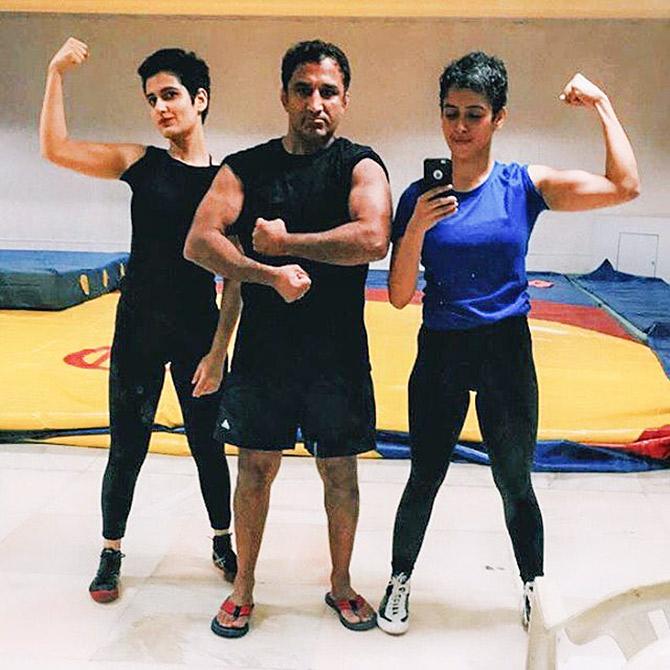 IMAGE: Fatima and Sanya with their coach Kripa Shankar Bishnoi. Photograph: Sanya Malhotra/Instagram
Wrestlers have a tough body but you girls look different.
Sanya: We have lost the muscle weight because we stopped training in February-March.
Fatima: Also, our body can never be like theirs. When they had come for the mahurat, I touched Geeta and Babita and their bodies are so hard. They have been training since they were young. We can't get that body in five months.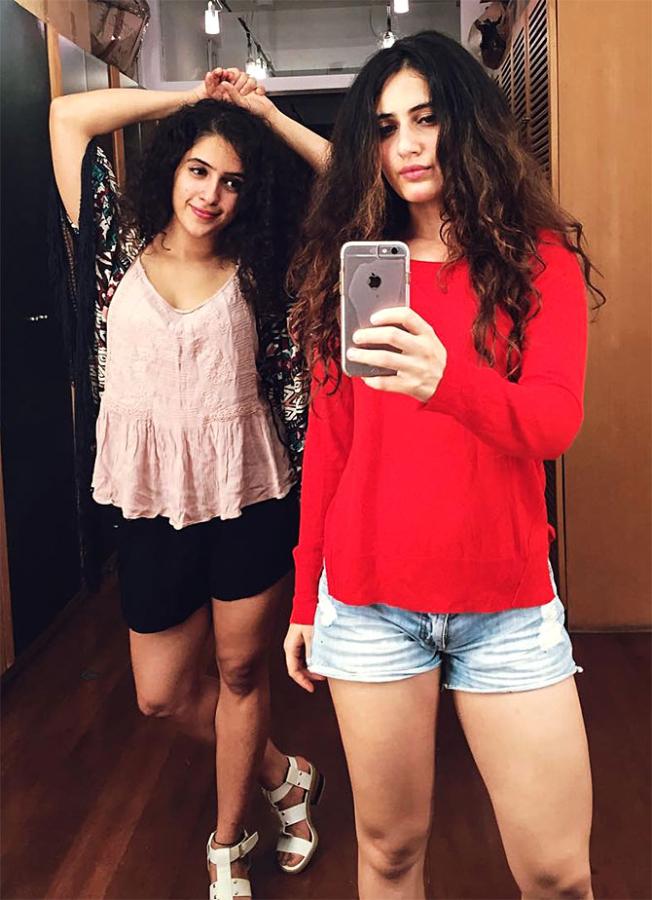 IMAGE: Sanya and Fatima before they cut their hair. Photograph: Sanya Malhotra/Instagram
Both of you had to cut your hair short.
Sanya: I thought I would cry a river but I was really happy after getting the haircut. It was a good change.
How much did you interact with Geeta and Babita. Did the interaction help?
Sanya: They came for the mahurat once and once during a practice session. I attended Geeta's wedding. On her sangeet night, they danced to Hanikarak Bapu.
The interaction was just that much; it didn't help with the character.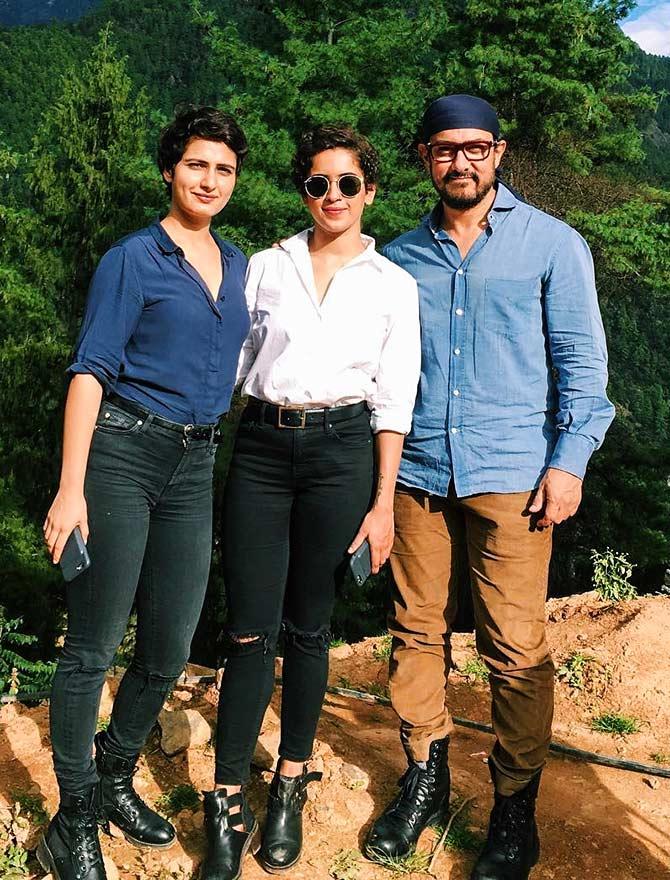 IMAGE: Fatima and Sanya pose with their onscreen father, Aamir. Photograph: Sanya Malhotra/Instagram
What did you learn from Aamir Khan?
Fatima: We learnt a lot. We were with him through all the processes -- post production, background, mixing, sub-titling... He is a chalta phirta school. Even if you spend one day with him, you will learn a lot. He never gets tired. He works from morning till night.
You seem to share a camaraderie. We saw that on Koffee with Karan.
Sanya: We had fun shooting for that show.
Fatima: Now we have a bond that is beyond an actor and co-actor. We are very fond of each other, we get along really well, we share our lives with each other...
We seek advice. If I have issues, she and AK will help me and it's the same for her. I can cry in front of him and he will console me.
Sanya: It's the same with Nitish sir. We chill together.
Fatima: Shah Rukh Khan is the love of my life. I love Aamir Khan also.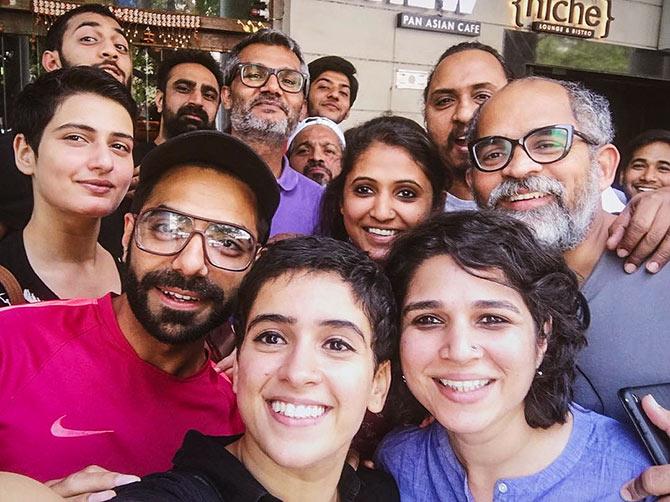 IMAGE: 'Dangal ke bookhe bhediye,' Fatima captions this picture of the Dangal team. Director Nitish Tiwari can be seen in purple, third from the left. Photograph: Fatima Sana Shaikh/Instagram
People who aren't from the industry sometimes get subjected to the casting couch. What do you think?
Sanya: I am from Delhi and we believe what we read and see in the news. A lot of people told me that if I go alone, this will happen. I struggled for a year. I went for a lot of auditions but till date, I haven't experienced it.
Fatima: Such things are there in every industry, not just acting. In the end, it's your choice whether you give in or not.
Have you watched Sultan?
Sanya: Yes
Fatima: Yes, I loved it.
Sanya: When you see Dangal, you will see it's a very different film.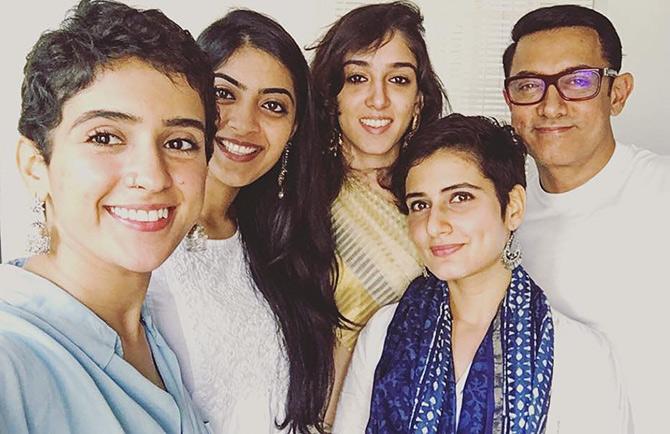 IMAGE: Fatima and Sanya celebrate Eid with Aamir, his daughter, Ira and his niece, Zayn Khan. Photograph: Sanya Malhotra/Instagram
How much has your perception of superstar Aamir Khan changed?
Fatim: Instantly! He was like a walking-talking teddy bear.
He is not even that kind of a person. He is a very simple man. He came barefoot to meet me. He can make the other person very comfortable. We never felt that he was a superstar and we were newcomers.
Sanya: After he lost weight and he came on set, I was star struck!
Fatima: Same with me.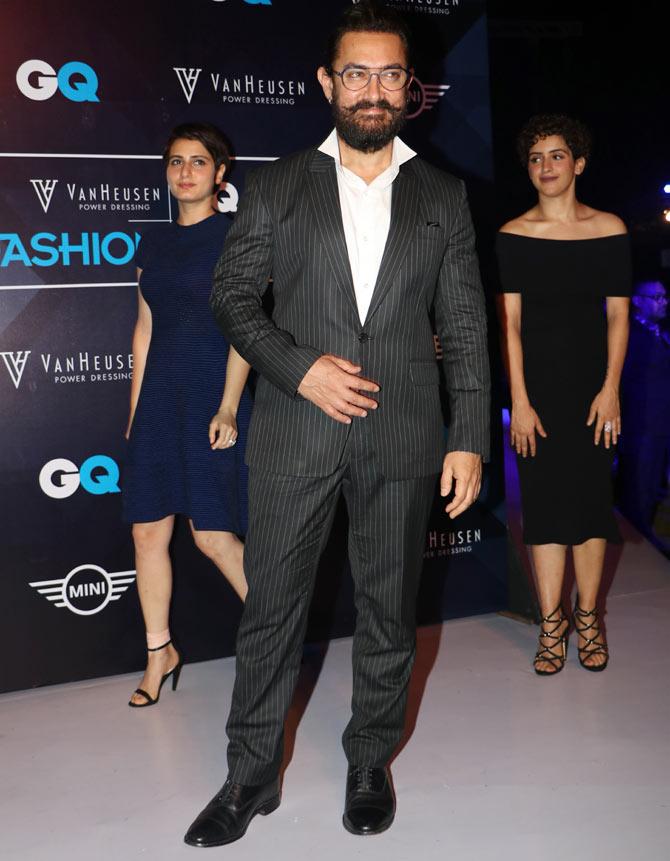 IMAGE: Sanya, Aamir and Fatima at the GQ Fashion Nights 2016. Photograph: Hitesh Harisinghani/Rediff.com
Dangal took a long time to get made, including the training time. Did that take a toll on your personal life?
Sanya: Since my family is in Delhi, I used to chill with my friends, almost daily. That reduced a little and I miss it. But nothing else has changed.
Fatima: I have few friends and most of them are either working or abroad. So I used to chill alone, go for movies alone. I had nothing to do. So it's good that I am busy.
If Dangal hadn't happened, what would you be doing?
Sanya: We would still be auditioning.
Fatima: I had given up on acting. Just because you were a child actor (I was in Chachi 420), you won't get work.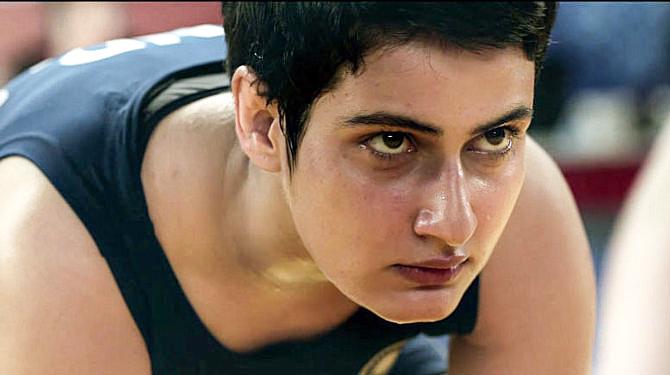 IMAGE: Fatima Sana Shaikh in Dangal.
Fatima, do you remember your Chachi 420 stint with Kamal Haasan?
No, I just remember me being pampered. I don't remember working with him much.