'I am a huge fan of Prabhas. It was a dream to work with him.'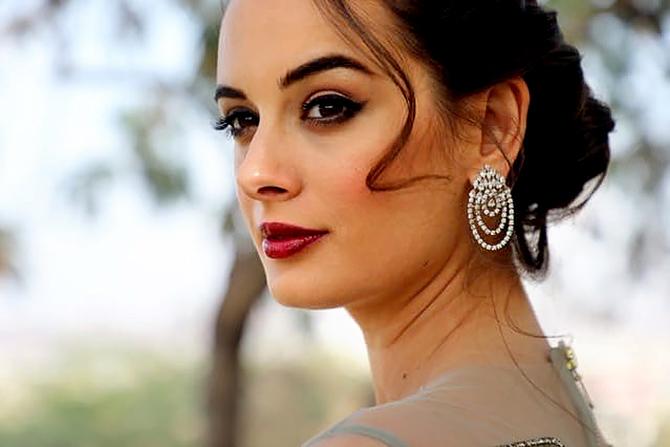 After doing brief roles in films like Yeh Jawaani Hai Deewani, Yaariyan and Jab Harry Met Sejal, Evelyn Sharma was recently seen in the action entertainer, Saaho.
The film may not have got good reviews but the actress has enjoyed working in it, and with leading man Prabhas.
"But next time, I want my own song!" she exclaims to Rediff.com Contributor Mohnish Singh.
How did you bag Saaho?
(Director) Sujeeth called me and asked me if I would like to join the cast of Saaho.
I said yes because this is the first time I get to play a super exciting action role!
Other than that, I am a huge fan of Prabhas. It was a dream to work with him.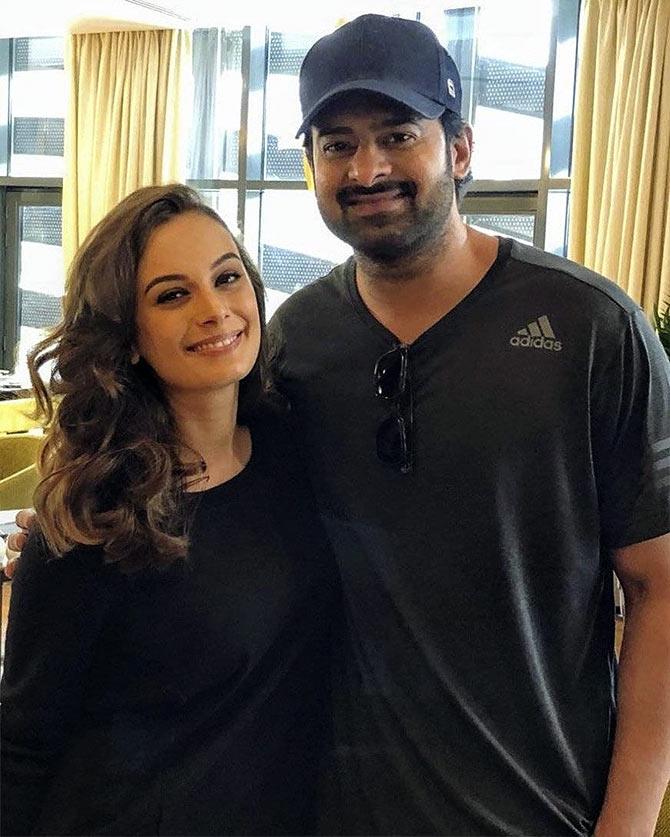 Saaho is a multilingual film. Do you feel any difference between Bollywood and the South Indian film industry?
Saaho is more of a pan-India movie.
There are so many cast members from across India.
Some members of the crew were international. We had Kenny Bates for the action sequences in Abu Dhabi.
There was an international feel to the project.
I have done small-budget films in Bollywood, like Ishqedarriyaan and Jack and Dil. But Saaho was on a bigger scale, shot lavishly, and took more days to shoot.
How was it working with Prabhas?
He is super nice.
He is an absolute gentleman and super fun, very humble.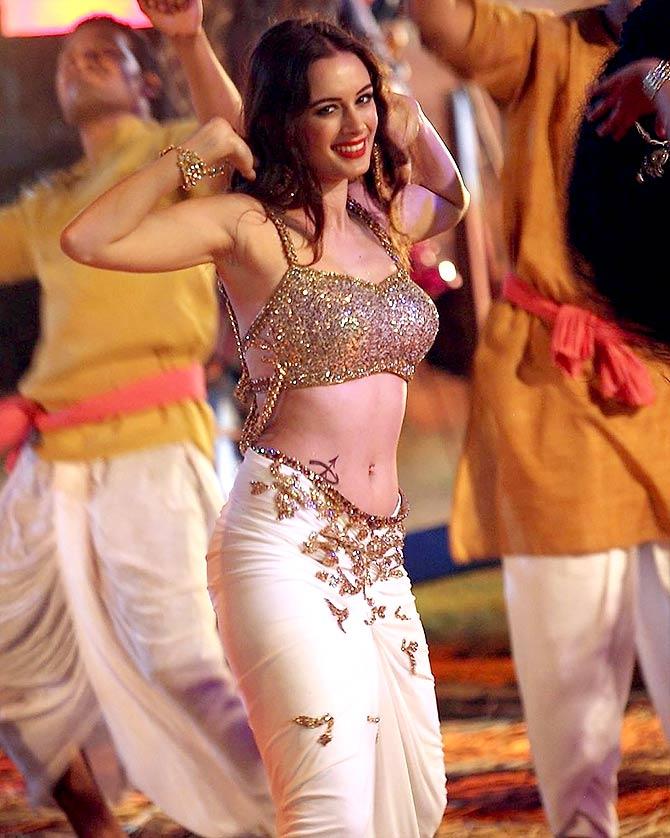 Are you happy with the screen time you have been given in a multi-starrer like this?
When you sign a movie, it's about making a great film.
As far as my role is concerned, I hope everyone sees a different side of me.
In the overall film, it's about the director's vision. So I think he would be happy more than anyone.
Video: Does Evelyn ever look at the length of her character before she signs a film? Video: Afsar Dayatar/ Rediff.com
Did you miss not being part of a song in Saaho?
Yes, I did.
Next time, I want my own song (laughs).
Saaho is the most expensive film of your career, right?
Yeah, it's on a different level.
But if you see my journey in Bollywood so far -- from Yeh Jawaani Hai Deewani to Jab Harry Met Sejal -- they were also big-budget films.
Even small films like Ishqedarriyaan are close to my heart because the work you put in is on a different level.
Because the budgets are lower, the more is expected from your performance.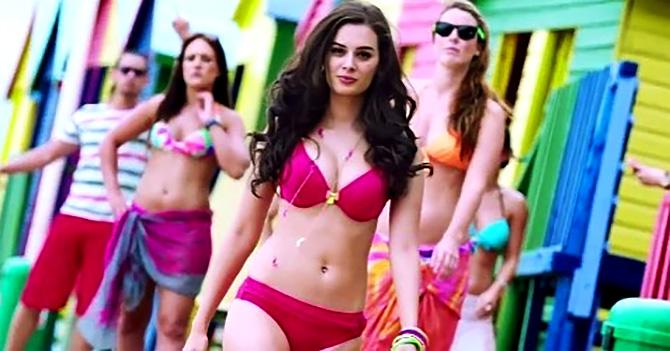 Video: What fascinated Evelyn to be a part of Bollywood?
Which Bollywood films did you grow up watching?
Growing up, I only knew Shah Rukh Khan's movies because his films were shown in Germany.
But the first movie which I saw on my flight to Mumbai, when I came to India, was Wake Up Sid.
After watching the film, I was like, 'Look at this! It's a really nice movie. I would not mind being a part of such a nice movie.'
Back then, I didn't know who Ranbir Kapoor was. I didn't know who (director) Ayan Mukerji was.
And then, I was in a movie directed by Ayan and with Ranbir!
The same thing happened with Jab Harry Met Sejal also.
I met Imtiaz Ali on a flight, and he told me about the film.
Shah Rukh plays a tourist guide from Frankfurt, so he gave me some German lines to read.
Then he asked if I could help Shah Rukh with the pronunciation.
I said, of course.
I think two weeks later, he called me and said, 'There is a small role of a German girl. Would you like to play this role?'
I said, of course.
It was a life-changing process.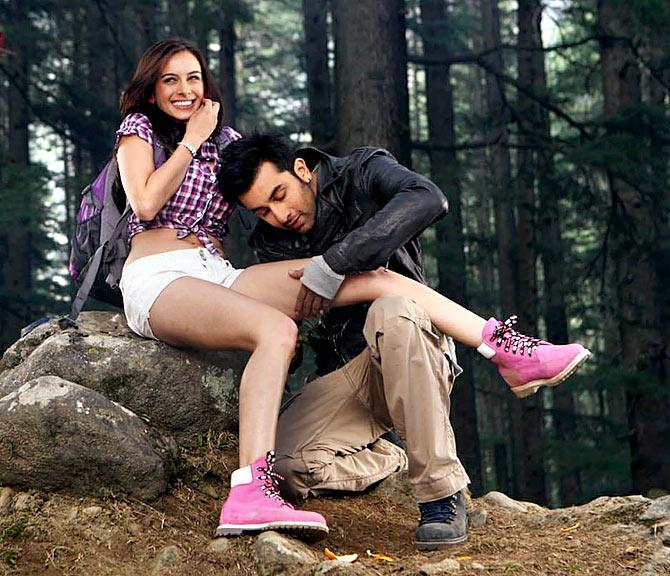 Video: Evelyn looks at her decade-long journey in show business.
Video: The kind of films Evelyn wants to do.
In one of your previous interviews, you had said that there have been incidences when you were not paid for your work.
Yeah, and I want to take all the names, but I will not.
It usually happens in cases of films that do not do well and the producers just disappear.
I know it happens a lot in this industry, and not just with actors but with other crew members also.
That's why I take my payment upfront now.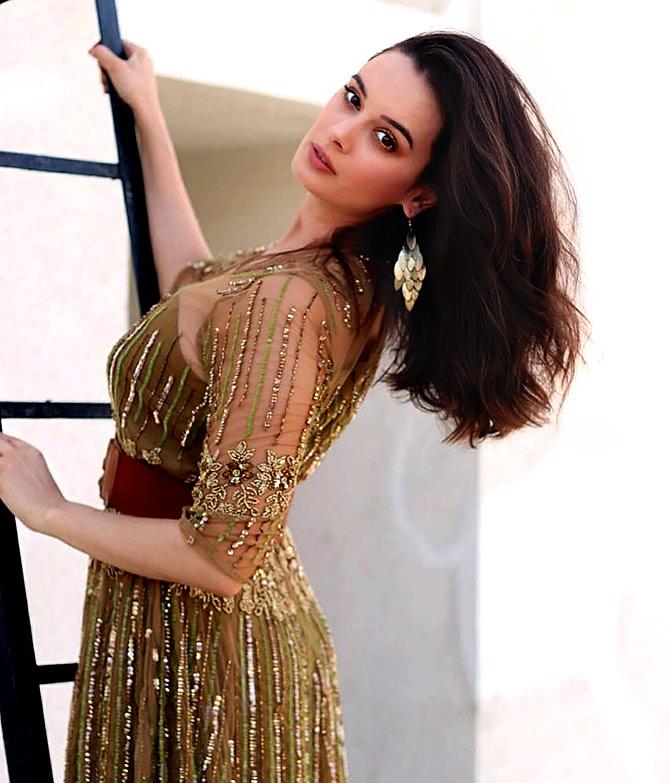 Video: Evelyn's message to aspiring actors.