'Chhapaak is definitely the most challenging film of my career.'
'I have gone through many emotionally challenging experiences, but none affected me the way it did when I played an acid attack survivor.'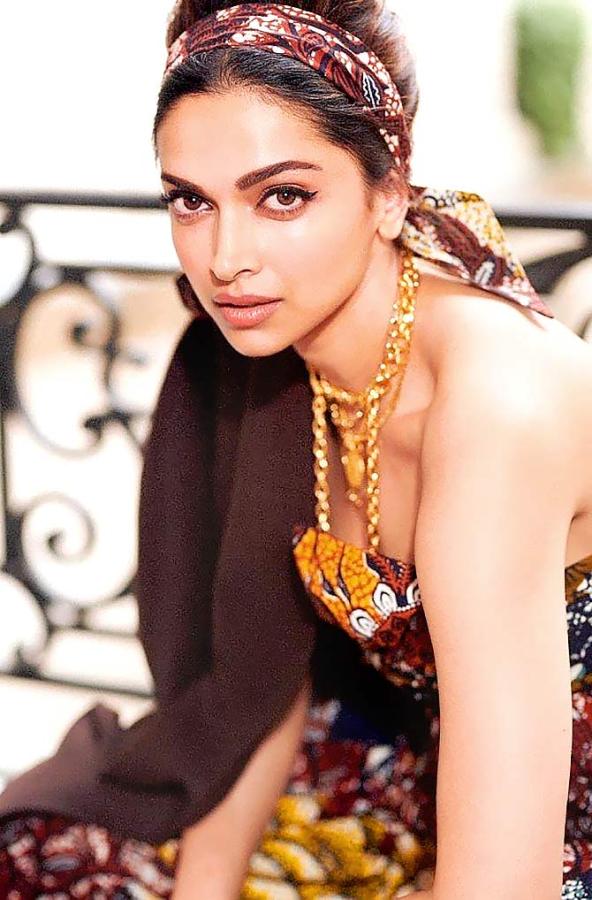 Deepika Padukone has been promoting her new film Chhapaak aggressively, hoping that audiences see her in her career's most challenging role so far.
Directed by Meghna Gulzar and co-starring Vikrant Massey, the film is based on the real life story of acid attack survivor Laxmi Aggarwal.
"I don't think we are going to change Laxmi's life, but we can definitely change the life of many other survivors through this film," Deepika tells Rediff.com Contributor Divya Solgama.
The last decade saw some lovely movies from you -- Cocktail, Chennai Express, Goliyon Ki Raasleela Ram-Leela, Happy New Year, Piku, Bajirao Mastani, xXx: Return of Xander Cage, Padmaavat. You open this decade with Chhapaak. How does that make you feel?
I have learned a lot in the past 10 years.
I have evolved into a new person, so I hope that my next 10 years go the same way.
I would like to grow constantly as a person and as an actor because if it becomes stagnant, it will bore me.
I want myself to change as a person and actor every month.
Earlier, people might not have noticed that spark in me, but I did not take it in the wrong way.
I have always taken criticism positively.
I believe that negativity and criticism are two different things, and I have not entertained negativity in my life.
But I have analysed criticism with regard to my work and taken necessary steps to correct it.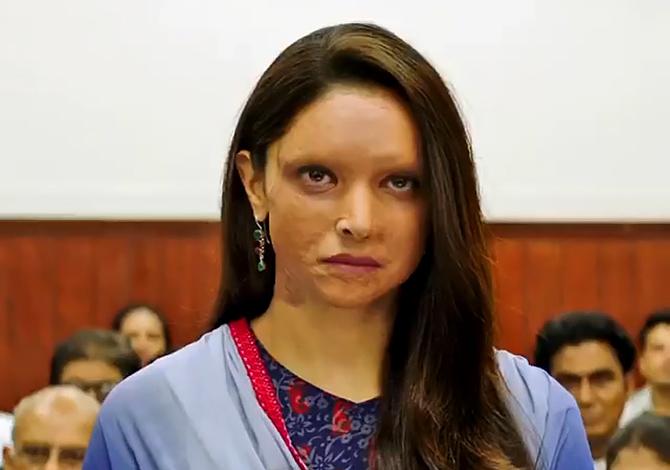 You are a sportsperson in real life. Do you think that helps to have a positive attitude in life?
Sports played a very important part in my life because your perspective towards life changes automatically when you are an athlete.
I want to recommend that all the youngsters out there play a professional sport.
One doesn't necessarily have to represent the state or the country, but to play a competitive sport is very important.
It really makes you a different person; I have seen that change in my life.
I don't mean in a bad way, but I can see the difference between my contemporaries and me, with respect to attitude towards life -- whether it is criticism, defeat or success.
To handle negativity and criticism is one thing, but to handle success is also important.
There are many cases where stars get overnight success and cannot handle it well. Their personality and attitude changes.
Sports teaches you how to handle success as well as failure.
It has taught me discipline, hard work, dedication and so on.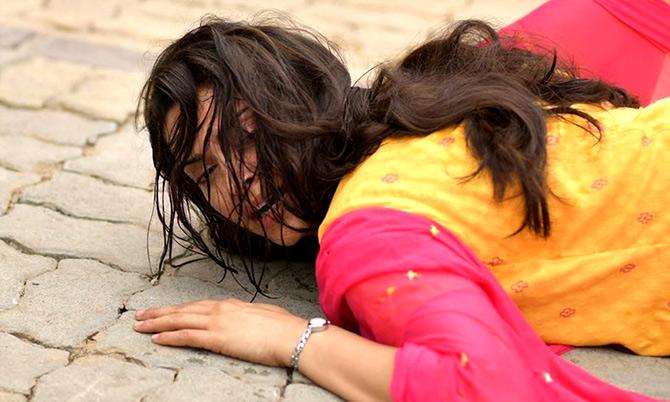 People generally pity acid attack survivors. What message does Chhapaak give audiences?
We show that Laxmi Aggarwal is a very confident and positive girl, who has set an example and made an impact in the lives of other acid attack survivors.
I don't think we are going to change Laxmi's life, but we can definitely change the life of many other survivors through this film.
Laxmi's life is an inspiration to all of us.
Also, I don't think they want sympathy from us. They just want to be treated equally.
Laxmi's life is not perfect and neither is ours; everyone has their own difficulties in their lives.
We have to understand that an acid attack survivor does not have a disability. They are able to do as much or more as we can.
The biggest problem is that we are not able to look into the eyes of an acid attack survivor because we feel awkward.
But they are not conscious about looking at themselves; they look at their face in the mirror every day.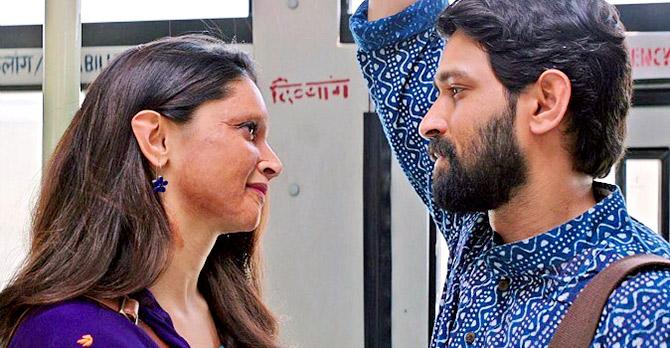 Do you think taking up a film like Chhapaak will make it a game-changer for actresses in Bollywood?
Call it my luck or destiny that I came across a character like this, but the prime credit should go to the writers who thought of writing such a story. And the fact that they chose to write it in a mainstream manner is an achievement in itself.
I was quite happy to hear that Meghna (Gulzar, director) had said she could not think of anyone other than me to play Laxmi Aggarwal, right after they started writing the script.
That's the best thing an actor can hear.
I don't think it's a bold decision for me because I have always looked forward to doing films that were meaningful.
I have always looked forward to films which can bring some change and influence the lives of the people. Piku was one such example.
Tamasha is another example because it talks about how people have become so robotic and mechanical in relationships.
It's a film that people have either loved or not at all.
For the people who loved it, the film made a good impact in their lives.
Padmaavat is another film that talks about how one can be a silent rebellion.
It talks about how a woman can be extremely courageous and fight with dignity.
It's not about justifying the act of jauhar because it was meant to show the tradition followed at the time. It's history that is already written.
The film was more about Rani Padmavati's thoughts and belief.
So I have done films that can bring about change in society and influence people's lives.
I also believe that every film doesn't have to be socially relevant, with a heavy issue. It can be as simple as Piku, which made you think of a father-daughter relationship and role-reversal after a point of time -- how our parents become children and we become adults.
The film brought a smile to your face.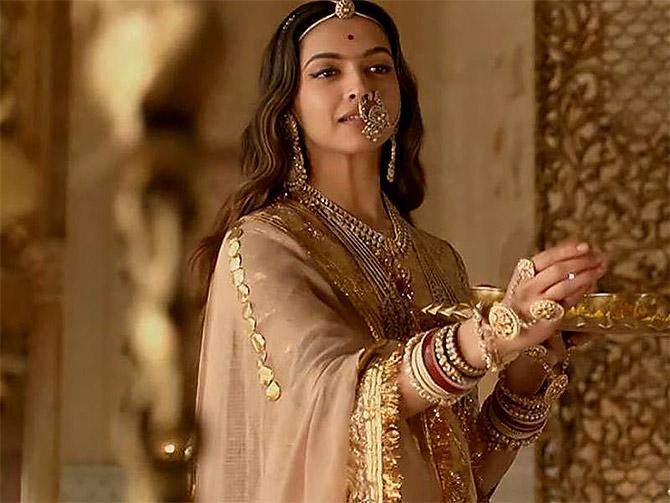 How difficult was it to become Laxmi Agarwal?
It's definitely the most challenging film of my career so far.
I have gone through many emotionally challenging experiences, but none affected me the way it did when I played an acid attack survivor in Chhapaak.
Playing Laxmi Aggarwal really affected me.
I was not aware of the nuances of an acid violence because awareness of such issues was the same like anybody else, through news and other mediums.
When you do a film like Chhapaak, you understand what happens to the survivor at the time and after the acid attack, the medical point-of-view, the impact on the family, the challenges they face after the attack, the challenges at the law and order level, the victim's compensation scheme, society's views towards the survivor and her family...
There are so many things I learned by just being a part of this film.
You turn producer with Chhapaak. What's the biggest lesson you have learned?
I don't think anything surprised me as such in the process of production.
As an actor, you have that theoretical knowledge and know the process but as a producer, I was more involved.
My priority will always be good acting because only then will a film work.
But as a producer, you get to know the strategy, the marketing plan, why certain things are done in a certain way, what's going on behind the scenes...
It's a lot of learning and equally challenging because you have to balance the creative and commercial aspects of the film, and they are diametrically opposite each other.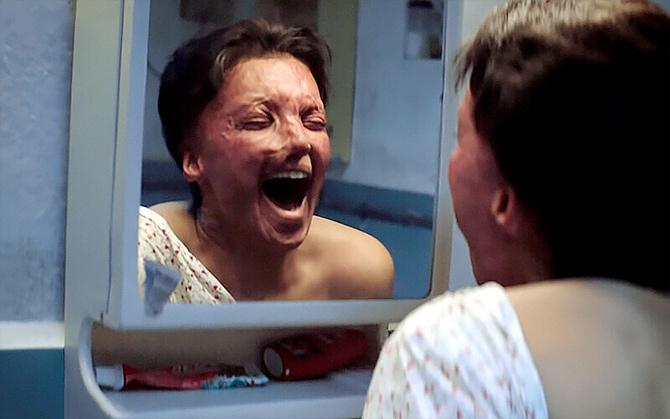 How difficult is it to manage the money?
It's not that different, but I learned to value money from a very young age.
I belong to a simple middle-class family.
I never got pocket money.
I purchased a mobile from my hard-earned money after my college days.
So I am very responsible in terms of money, as an individual and as a producer.
But it is equally important to spend money in the right way.
For instance, if my crew needs a break for a day at an outdoor shoot, I would rather allow it than think that my money is going waste on that non-working day.
I will make sure that my crew is well rested before they come on set the next day.
I don't understand how big studios run their business.
I only understand the basic things as a producer and take care of them.
I believe the experience has to be memorable for each and every person working with and for me.
Why do you think acid attacks happen?
It's mostly because of rejection and ego issues, but that's not the only reason.
It happens for other reasons as well, like some problem between two families, money issues, revenge...
Recently, I heard that there are drive-by acid attacks in London due to racism.
But yes, in India, it is more because of rejection.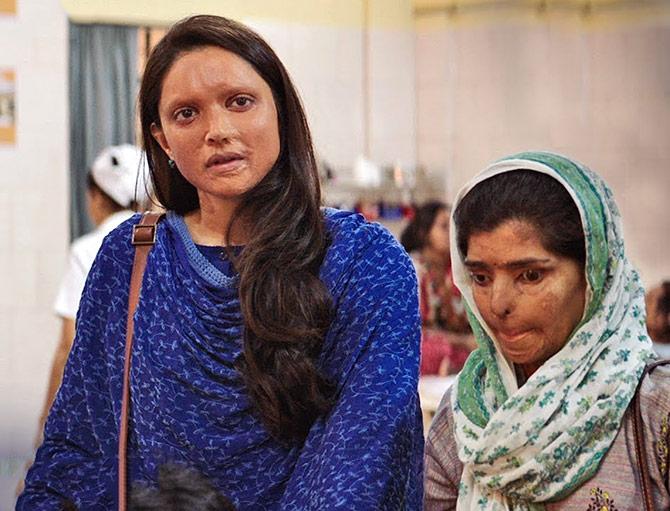 There are rumours that you are doing a film with Kartik Aaryan. Is that true?
No, it's not.
But I would like to add here that the energy of today's youngsters in our industry is amazing.
Actors like Ranveer, Kartik or me don't belong to a filmi background. So coming from nowhere and understanding the business of the film industry is very commendable.
In a country like India, every second person wants to become an actor, but they don't get opportunities easily.
We are a chosen few who got opportunities.
If we talk about Kartik Aaryan, I see sincerity and hard work in him.
I appreciate the fact that he is not apologetic about whatever he does to achieve success.
As far as films are concerned, I am not working with him as of now.
My next film is with Siddhanth Chaturvedi and will be directed by Shakun Batra.
You didn't promote your film on Bigg Boss, but fans are waiting to see you with Salman Khan.
Yes, our fans are curious to see us together in a film.
I would also like to be in a Salman Khan film, but it's important for us to come in the right kind of film.
I am the biggest fan of Hum Dil De Chuke Sanam and would like to see him in that kind of role or something different from what he has done so far.
We have not really been offered scripts in recent times, but yes, I would love to work with him.
---
Divya Solgama loves masala entertainers as well as hard-core realistic films. Divya can be contacted at movies@rediff-inc.com
---