'Ask Karan Johar and Adi Chopra why they are not directing me!'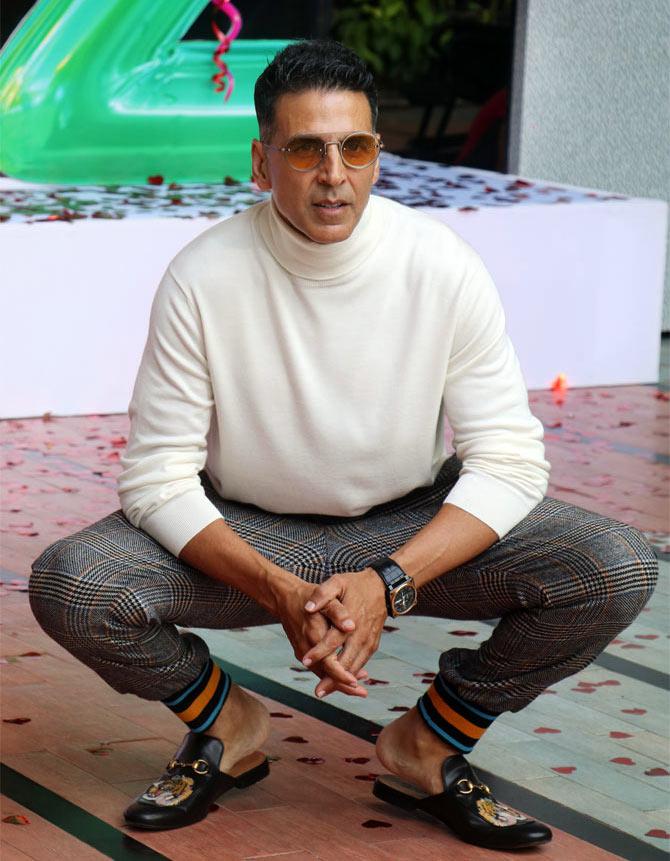 Akshay Kumar has had four films releasing this year: Kesari, Mission Mangal, Housefull 4 and the latest, Good Newwz.
All of them have done good business at the box office.
"I don't make big budget films. So if my film makes Rs 120 crore, it's a huge hit. We finish fast, make it on a small budget and recover fast," Akshay tells Patcy N/Rediff.com.
Good Newwz deals with a sensitive subject. How careful were you with the comedy?
Very careful. Just like how we were careful in Toilet (Ek Prem Katha), which also had a lot of comedy.
But this (mix-up of sperms) has happened, nobody can deny it.
It is an important subject, especially for women and families who cannot have children.
Eight million babies have come through IVF ever since it was discovered, aur kitne logon ke ghar bane hai.
There is 92% success ratio in this method.
The taboo word 'banj' (barren) used in our country will permanently go out.
Karan Johar said you have mostly worked with new directors.
Did he tell you why?
Because he never takes me!
Bade bade directorne mujhe kabhi liya he nahi, so naye tayaar karne pade (the big directors never took me, so I had to create new ones).
When big people don't take you, you have to start your own journey.
You cannot sit at home, waiting for a big job.
Raj (Mehta) is my 21st new director.
Also, I feel the greed to do good work is far more in new directors than in older directors.
For new directors, it's a do-or-die situation. They want their film to work anyhow.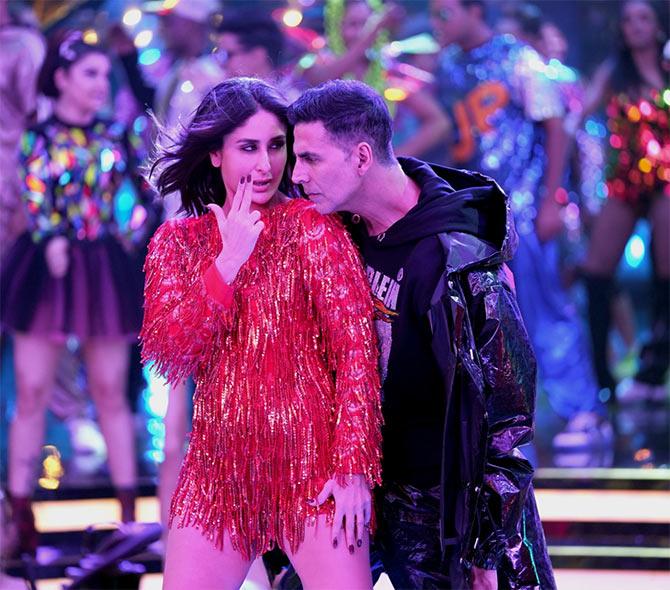 Do the older directors go to the Khans instead?
I don't know where they went, but they didn't come to me.
They went to the people who deserved it.
Not just the Khans, even the Kapoors and the other stars too.
So people, who deserved it, got it.
I presume I didn't deserve it, so I did it my own way.
But from Dharma Productions to Yash Raj, everyone wants to work with you.
I still don't have big directors.
They are producing my films, not directing me.
Ask Karan Johar and Adi Chopra why they are not directing me!
How much do you guide the new directors who work with you?
I am not any kind of guiding force.
They do their own work and do a good job.
More than the directors, I trust the script and screenplay. If that is nice, 60% of your work is complete.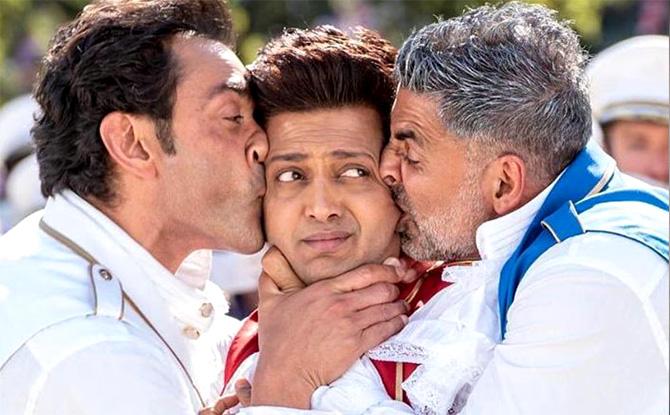 When the Good Newwz trailer was launched, Karan Johar said it's sensible comedy while Housefull was pitched as senseless comedy. Do you think comedy should be justified?
There are different branches of comedy.
There is a Mr Bean kind of comedy, which is about expressions.
There's Charlie Chaplin, which is about physical comedy. He makes you laugh with his actions.
There are situational and slapstick comedies.
I am happy to get a chance to visit different kinds of comedies.
I got a chance to do slapstick comedy with Housefull. Let people call it 'senseless', but there is an audience for it.
Slapstick comedy is the most difficult type.
Slipping on a banana peel is not easy; you have to show the proper fall.
It is not easy to make people laugh at your expense. It's one of the hardest comedies.
Unfortunately, people here do not give credit to this kind of comedy at award nights.
A comedy film never gets the Best Film award. Why?
The actor will get a Best Actor in A Comic Role award, but not the Best Actor award.
Why don't we have Best Actor in A Romantic Role?
Somebody has to ask them why they differentiate so much.
Have you stopped believing in awards?
Nahin. Kabhi milta hai toh chala jaata hoon (laughs) (If I get an award, I attend the ceremony).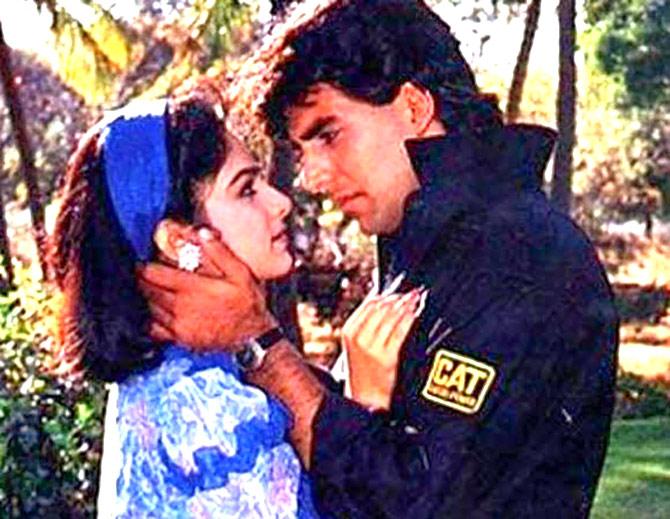 There was a time when you were known as the Khiladi actor. Now, you do all kinds of roles in all kinds of cinema. What are you most comfortable in?
If I say I feel comfortable in a particular genre, you will put a tag on me.
I don't want any tag.
I have come out of that game when I was doing only action.
I was bored.
I never wanted the tag of an action hero.
I am comfortable with all kinds of genres.
Are you creative satisfied?
No. I am still looking for more work.
If you have a good script, let me know.
I am a very greedy man.
Actors take a lot of time to get in and out of characters. You do so many films in a year, how difficult is it to jump from one character to another?
Everyone has their own style.
I don't take more than half a day to get into a character.
I can lie and tell you I have spent a whole month alone in a room to get into a character and memorise my dialogues, but that is not my style.
It is just acting.
If I have to hit someone, I have to make the action of hitting, not actually hit someone.
But that's my opinion.
People, who do the other way, are also doing it the right way.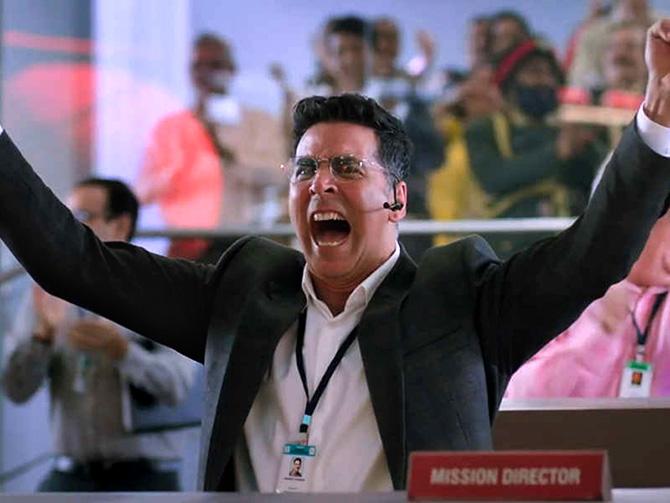 This year has been very good for you at the box office.
Mera har saal achcha jaata hai (every year is good for me).
I make films on a small budget.
Do you know the budget of Good Newwz? Rs 36 crore.
We will recover that from music and overseas.
I don't make big budget films. So if my film makes Rs 120 crore, it's a huge hit.
We finish fast, make it on a small budget and recover fast.
Bollywood has normalised stalking, the lack of consent and ill-treatment of women on screen...
Films should be taken as films.
Come here, pay for the ticket, enjoy and don't take it seriously.
Yes, there's obviously a person playing a negative character -- sometimes, I play that too -- but that does not mean I am trying to teach you to be negative.
I am just playing a character.
I am an actor, that's it.
If you have a problem with the trailer, don't see the film. Tell your family and friends not to watch it.
If it is passed by the Censor Board, what is the problem?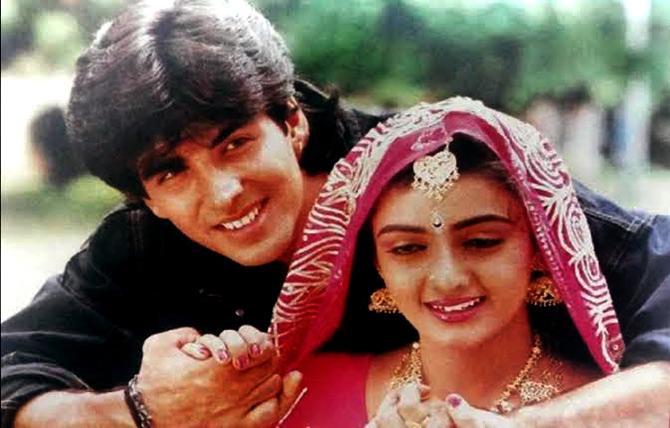 You have improved as an actor from your first film.
I am not from this industry. None of my forefathers were from here.
Everything was new when I came.
I had never even known what camera angles were and which lens was used for which camera.
I have learnt all this on the job, slowly and steadily.
There was no one to teach me, I have learnt on my own.
I have come through this process after delivering 14 flops at one time, again delivering eight flops later on.
There is so much to learn.
Now, I am working with Dr Chandraprakash Dwivedi on Prithviraj.
I sit with him and learn so much about history.
Dabbang 3 releases the week before Good Newwz.
Prabhudeva sir makes good movies -- he made Rowdy Rathore with me.
He is not going to make a bad film and obviously, it's a huge franchise. At the same time, we have a week's difference.
There won't be any problem.
---
Patcy N is Rediff.com's in-house expert on all things Bollywood. She has been getting the stars to talk to her for 15 years. You can contact her at movies@rediff-inc.com
---