The slump in Hindi film music continues.
Between dispensable original soundtracks and a deluge of remixes that sound depressingly alike, the drought in imagination is truly regrettable.
2019 was a bleak if not entirely black year for music lovers.
There were some genuinely euphoric notes, but only too few and far between.
Sukanya Verma lists 10 of her favourite songs of the year, in no particular order.
Apna Time Aayega, Gully Boy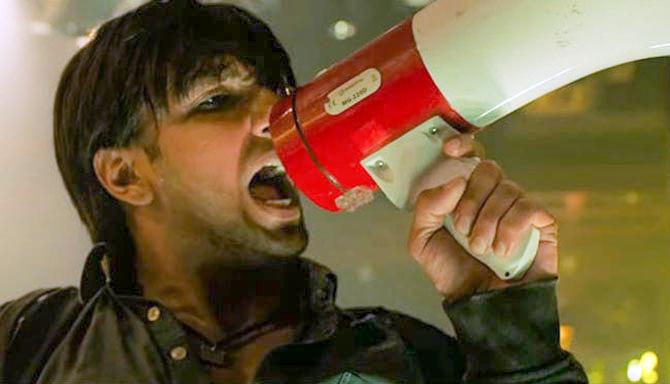 Music: Dub Sharma, Divine
Lyrics: Divine, Ankur Tewari
Singer: Ranveer Singh, Divine
Every single creation on this eclectic, extensive album is high on spunk, rhythm, expression and a variety of musical styles propelling Mumbai's underground hip-hop scene into mainstream consciousness.
But it's not just the novelty of it all.
The songs touch a chord.
They speak to our everyman hopes and disenchantment, politics and passion.
I love them all dearly and for different reasons.
If I have to pick just one? Apna Time Aayega, hands down.
Its combination of relentless optimism and 'Tu nanga hi toh aaya hai kya ghanta lekar jayega' rationale, conveyed in Ranveer's energetic, anthemic chanting, acquires the quality of a maxim I'd want to live by.
Kalank Title Track, Kalank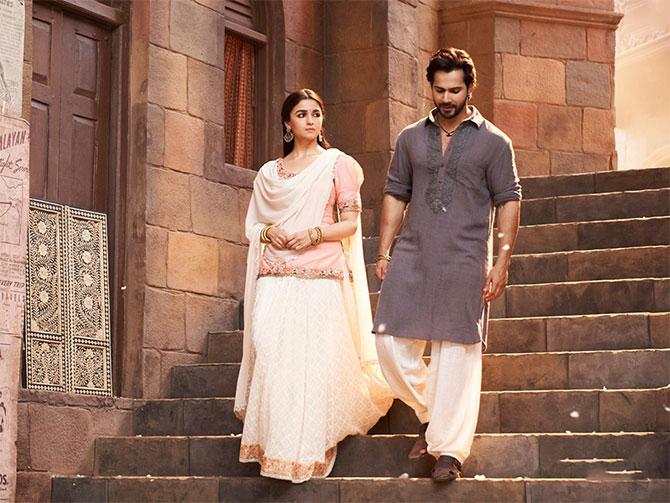 Music: Pritam
Lyrics: Amitabh Bhattacharya
Singer: Arijit Singh
Kalank is little more than a fancily wrapped empty box.
But the old-fashioned ardour and star-crossed melancholy infusing Pritam's poignant title track, perfectly encapsulated in Arijit Singh's expertise for all things forlorn is a mood you want to experience again and again.
Dil Hi Toh Hai, The Sky is Pink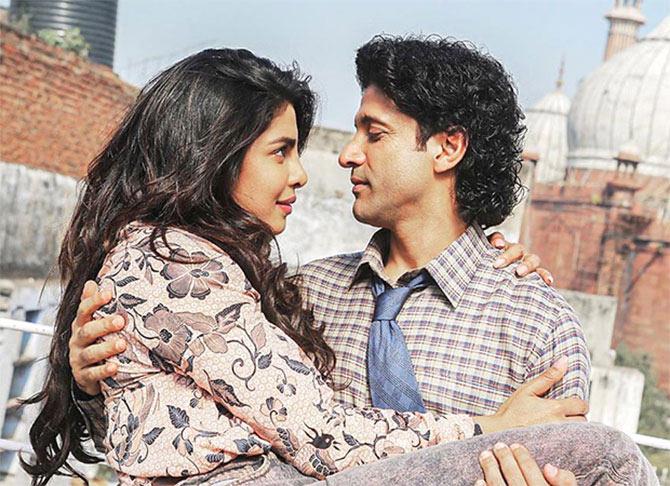 Music: Pritam
Lyrics: Gulzar
Singer: Arijit Singh, Antara Mitra
Dil Hi Toh Hai had me at hello.
The deliciously mellow guitar riff accompanying Arijit and Antara's heart-to-heart on dreams and doubts articulated in Gulzar's magical penmanship is winsome from the word go.
For Aisha deserves special mention.
Though it's not a part of the official soundtrack and plays towards the end credits, the part English, part Punjabi song composed by Ishaan Chaudhary is dedicated to his late sister and teenage motivational speaker Aisha on whose life the movie is based.
It's a lovely number and a lump in the throat is guaranteed.
Nakhrewaali, Mard Ko Dard Nahi Hota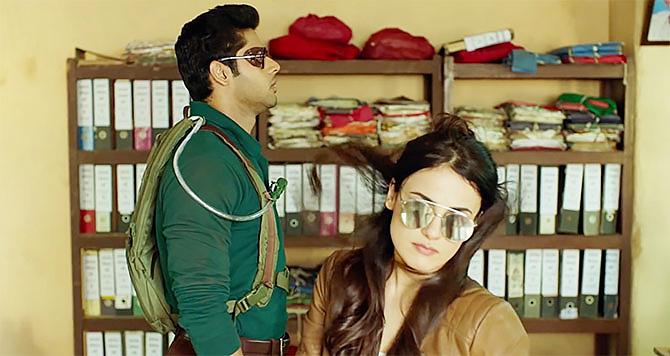 Music: Karan Kulkarni
Lyrics: Garima Obra, Hussain Haidry
Singers: Karan Kulkarni, Saba Azad
Mard Ko Dard Nahi Hota is a fizzy mix of nostalgic tributes and novel imagination.
Karan Kulkarni's soundtrack is an extension of this zany approach.
So many fun songs to dig in there -- I am looking at you Jimmy Mani.
But it's the stylish, sexy, swaggering vibe of Nakhrewaali. I pump up the volume to.
Baaghi Re, Sonchiriya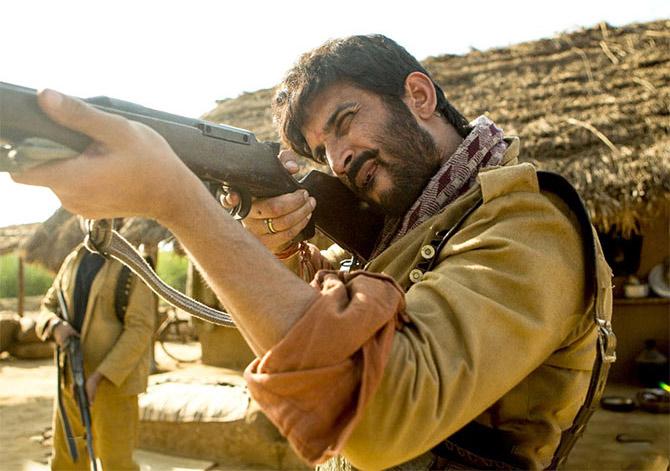 Music: Vishal Bhardwaj
Lyrics: Varun Grover
Singer: Mame Khan
Composer Vishal Bhardwaj recognises Sonchirya's gritty, Western exterior and gives it an exciting, rock-music edge in Baaghi Re.
But it's the rustic element in Mame Khan's rendition and brooding observations in Varun Grover's lyrics that provide haunting insights into the burdens of being a bandit -- Punya ke khel mein paap ka bhaagi re.
Jagga Jiteya, Uri-The Surgical Strike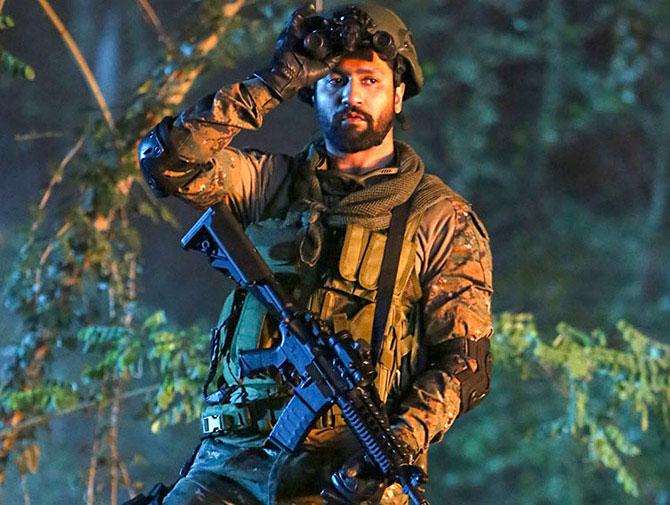 Music: Shashwat Sachdev
Lyrics: Kumaar
Singers: Daler Mehndi, Shashwat Sachdev, Dee MC
Josh is all-pervading in Uri's war ready disposition, a good deal of it is channelised in Shashwat Sachdev's effective compositions.
The charged tempo of Jagga Jiteya's intensely electronic sound finds an unlikely foil in Daler Mehndi's folksy rendition and it surprisingly works too. Big time.
Ghoongroo, War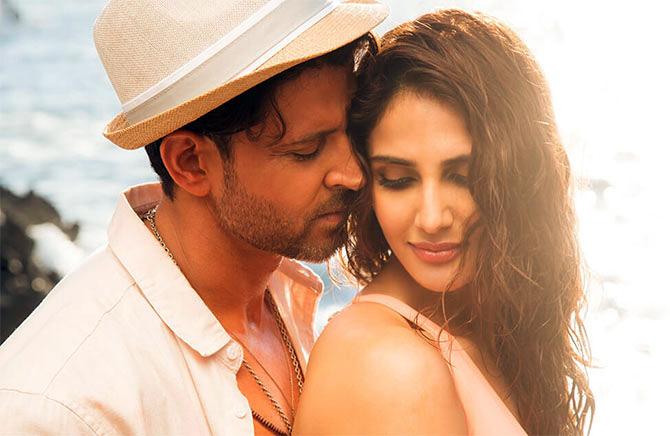 Music: Vishal-Shekhar
Lyrics: Kumaar
Singers: Arijit Singh, Shilpa Rao
Vishal-Shekhar are masters of groovy grace.
The composer duo applies the same rules of restraint to highlight the coolth and beat in Ghoongroo's fine-tuned seduction in Arijit and Shilpa's sizzling voices.
The impact is double in the presence of a smouldering Hrithik Roshan's signature hook step.
Jhunna Jhunna, Saand Ki Aankh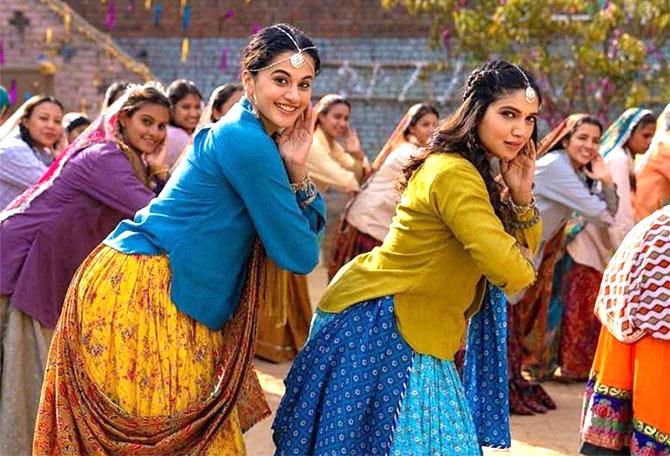 Music: Vishal Mishra
Lyrics: Raj Shekhar
Singer: Pratibha Singh Baghel, Krutika Borkar
Jhunna Jhunna has a catchy, Womaniya-reminiscent vibe and Pratibha-Krutika's enthusiasm for it ensures there's never a dull moment.
But the real star of this shrewdly tongue-in-cheek composition is Raj Shekhar's writing.
Doing its bit like sugar coated bitter pills, the song jauntily mocks at the routine subjugation of women reduced to the role of nurturers and housekeepers and robbed of all freedom and agency.
Nahi Lagda, Notebook
Music: Vishal Mishra
Lyrics: Akshay Tripathi
Singer: Vishal Mishra, Asees Kaur
Two things about this Salman Khan production I really liked -- lilting songs and lyrical camerawork.
Vishal Mishra's dulcet score and singing as well as Asees Kaur's pensive take on the usual 'missing you' premise transports the listener to mesmerising places.
All of which reiterate -- repeat mode.
Ho Ja Awara, Pal Pal Dil Ke Paas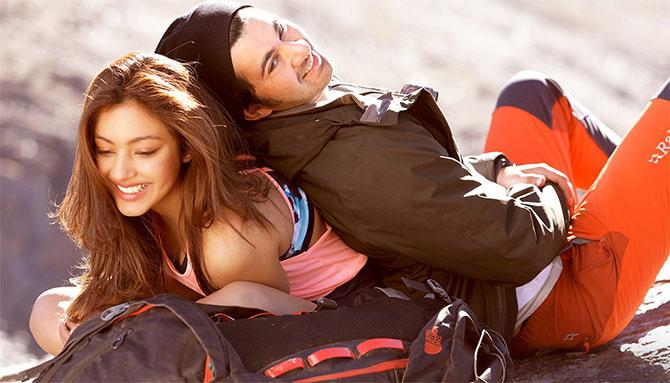 Music: Tanishk Bagchi
Lyrics: Siddharth-Garima
Singer: Monali Thakur, Ash King
Tanishk Bagchi needs to get out of the remix rut and focus on producing more original, upbeat music like this one.
The sheer abandon and pitch powering Monali's spirited vocals injects Bagchi's already zippy track with a melody that deserved to be heard more.
---
Sukanya Verma is the Principal Movie Reviewer for Rediff.com.
One of the most perceptive observers of Hindi cinema, Sukanya has a dazzling portfolio of features that have engaged Rediff.com readers for 20 years. You can read her features at https://realtime.rediff.com/news/-sukanya-verma
She can be contacted at mailto_sukanyaverma@rediffmail.com