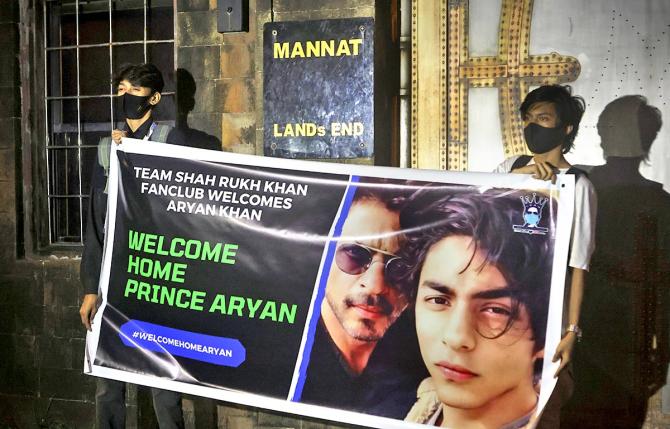 On his 56th birthday, November 2, Shah Rukh Khan may not be home at Mannat, his sea front home in Bandra, north west Mumbai, to meet and greet fans as he does every year.
According to a close friend of the actor, plans are afoot to take the family away to an unknown destination for a holiday once Aryan is home on bail.
Says the friend, "It's all very nebulous at the moment. Nothing is decided. But yes, it's likely that Shah Rukh would take the family out of Mumbai to give Aryan time to catch his breath and to heal. Of course it would all depend on Aryan's state of mind after his return."
Shah Rukh Khan's eldest son Aryan spent 25 days, first in the Narcotics Control Bureau's custody, then in Mumbai's dreaded Arthur Road prison, in the case of alleged seizure of banned drugs aboard a cruise ship off the Mumbai coast.
But why was Aryan kept in custody when he wasn't found in possession of the drugs?
As allegations against Narcotics Control Bureau Zonal Director Sameer Wankhede are aired daily, Shah Rukh and his family have decided to distance themselves from the NCB controversy completely.
"The main concern at the moment is Aryan's mental and physical health. How much has this one month in the harsh prison environment affected him? This is the question that will have to be answered," a friends tells Subhash K Jha.
A thorough health check-up is the only outing Aryan can look forward to in coming days.
"How much has this time affected Aryan physically and emotionally? We have no way of knowing until he is back home," adds the friend. "Even then, it may take some time until the extent and impact of Aryan's experience manifests itself."