The week-long first Hyderabad International Film Festival came to an end on March 29. It had an interesting medley of films from different parts of the country and the world. Organised by the Hyderabad Film Club and the Andhra Pradesh Film Director's Association in collaboration with the Government of Andhra Pradesh, HIFF went off rather well despite its share of teething problems.
The opening ceremony was a simple affair. Well-known actor Jayasudha lit the lamp. The state Information and Public Relations Minister, Shabbir Ali, who attended in place of the Chief Minister, inaugurated the festival. The mandatory speeches from Festival Director Prakash Reddy (the main person behind HIFF), diplomats from Iran, Algeria, France, Egypt (who had lent the films), noted filmmakers K Vishwanath, B Narsing Rao, Goutam Ghose and Tammareddy Bharadwaja followed.
Opening film
Yatra, shot mostly in Hyderabad and the vicinity, was the opening film. It was disappointing considering it came from acclaimed director Goutam Ghose, and had a strong cast of Rekha, Deepti Naval and Nana Patekar. This story of a writer intertwines fact and fiction, real and imaginary, but somewhere down the line, the film gets entangled in this quagmire. Rekha plays a courtesan well. Music by Ghose and Khayyam is melodious.
Terrorism times
In The Shadow Of Palms, a documentary by Australian filmmaker Wayne Coles Janess, was haunting. It was a courageous effort by the filmmaker who stayed in Iraq for 10 weeks to trace the situation leading to the war, the war itself and post-war. With excellent and perhaps even rare footage on the war, this documentary also looks at the lives of ordinary people. It is quite an eye-opener as it documents Saddam Hussein's times, and the aftermath. Such determined and brave effort needs to be applauded for sheer grit of the filmmaker and his dedication to shoot in troubled circumstances despite all odds. Wayne was present at the HIFF.
Algerian film Rachida portrayed the reign of terror Algeria saw in the 1990s through the tale of a school teacher Rachida, a victim. The film shows how common people lived their lives in the face of terror. Helmed by a woman director Yamina Bachir Chouikh, Rachida was a touching tale.
Classic cinema
The Battle Of Algiers may have been made 42 years ago by Italian Gillo Pontecarvo but it is still a classic. Depicting the Algerian struggle for independence from French colonial rule, this film is shot in a documentary format and edited brilliantly. It is a compelling watch.
Krzyzstof Zanussi's Persona Non Grata had a good script, brilliant performances, particularly by Zbigniew Zapasiewicz, and fine music. A thought-provoking, layered tale of two diplomats, this film tests the intelligence of the viewer.
South African spotlight
Since South Africa was under focus, quite a few films from that country -- mostly produced by Anant Singh (an Indian living in South Africa) -- were screened. Darrell James Roodt's Sarafina was much appreciated at the festival. Sarafina is a tale of a young girl who idolises Nelson Mandela and dreams of a free Africa but lives in the troubled times of apartheid. Inspired by the Soweto Rebellion (1976), the struggle of the children is portrayed in this high-energy movie with lively music.
Tom Hooper's Red Dust also revolved around the apartheid atrocities in an intense drama. Hilary Swank plays a human rights lawyer in this film which focuses on political and ethical questions on oppression.
Roodt's Yesterday, a humane story in Zulu language, tackles the struggle of the lead protagonist Yesterday (played brilliantly by Leleti Khumalo, the Sarafina heroine) to get her daughter educated while she battles with HIV/AIDS.
Anant Singh's brother Nilesh was present at the festival.
Indian subjects
Vanaja, the Telugu film which won Hyderabadi filmmaker Rajnesh Domalpalli the Golden Bear at Berlin, was screened in Hyderabad for the first time.
Another film which featured for the first time in India was Murali Nair's Unni (Life Is All About Friends).
Both filmmakers attended the festival.
No celebs
Unlike other Indian film festivals, the HIFF was shorn of glitz and glamour. Only a few filmmakers were present, while the mainstream Telugu film fraternity mostly stayed away. Only some Telugu directors like Teja and Neelakantha were spotted occasionally. Actor-director Revathy flew down from Chennai for the final day. Kiran Shantaram, son of the late doyen V Shantaram, also put in a brief appearance.
Exploring the role of women
A one-day seminar on Portrayal of Women in Indian Cinema was held on March 27. Noted film writers and analysts like Maithili Rao, Rinki Bhattacharya, Deepa Gahlot and Rani Dey Burra from Mumbai participated in this. There were a few from Hyderabad as well, like Mrinalini, Vijayasri and Moinak Biswas from Jadavpur University. This seminar attracted only a handful of audience.
Other fare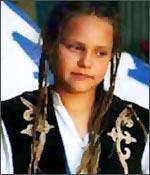 Some interesting films were Real Life is Elsewhere (Switzerland, about what a chance encounter could do to three different sets of people), Little Vilma -- The Last Diary (Hungary, about Vilma, daughter of a Hungarian sculptor exiled in Kyrgystan, who comes back as an adult to unravel the horror of her parents' times and her father's death), Sophie's Scholl -- The Final Days (Germany, based on a true story which recreates the last six days of fearless anti-Nazi activist Sophie from arrest, interrogation, trial and sentence) and The Role Of Her Life (France, the tale of a freelance journalist who meets a film star and becomes her PA and life thereafter). 
Awards time
Awards were given to documentaries and short films. The jury comprised award-winning filmmaker Jahnu Barua, Hyderabad-based director Mani Shankar and Maheen Zia from Pakistan. The winners in seven categories included:
Jury Award (Rs 25,000) Ink: Tanikella Bharani   
Category 1 (below 15 minutes)
Best films
The Golden Pearl (Rs 50,000) went to Bilori, by Sandeep H Modi.
The Silver Pearl (Rs 25,000) went to Agaurav, by Nakul Sawhney.
The Best Director award (Rs 10,000) went to The Journey, by Madhu Mahankali.
Category 2 (15 minutes and above)
Best films
The Golden Pearl Award (Rs 50,000) went to Video Game, by Vipin Vijay.
The Silver Pearl (Rs 25,000) went to Positive Living, by C Vanaja.
The Best Director award (Rs 10,000) went to Undecided, by Nakul Sawhney.
Footnotes
The festival had its share of complaints. The Namesake was scheduled to close the festival, but it was cancelled later. So technically, there was no closing film although the theatres screened films at 7 pm after the closing function.
On the whole, the festival seems to have ushered in the need for a festival of international standing showing good quality, serious and meaningful cinema.