Home > Movies > Interviews

The Rediff Interview / Gautam Ghose

'Satyajit Ray told me he loved my music'

March 22, 2007


| | |
| --- | --- |
| Goutam Ghose | |
| | |
| | |
| | |
| | |
| | |
| | |
There's something about Goutam Ghose's films that leave a lasting impact on the mind, especially films like Paar and Patang.
His oeuvre spans documentaries and feature films. A scriptwriter, director, cameraman and music composer, his passion for cinema reflected in his films and the way he talks about them.
His latest film Yatra premiered at the Montreal Film Festival and was showcased at festivals in Rotterdam, London and Los Angeles. It was also showcased in the International Film Festival of India in Goa and the Kerala International Film Festival in Tiruvananthapuram in December.
Yatra is the opening film of the Hyderabad International Film Festival which was inaugurated on March 22.
Radhika Rajamani met with the multi-talented filmmaker and got him talking about his passion.
You are coming back to Hyderabad after a gap of 26-27 years. How does it feel?
I am full of nostalgia. I have so many friends and memories. I was living in Hyderabad when I made Maa Bhoomi. In fact, it was like a honeymoon for my wife and me, as we had got married before we started shooting the film. It would be a pleasure to visit the city again.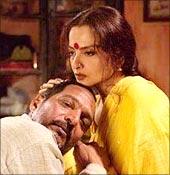 Could you tell us what Yatra is about?
Yatra is a writer's journey and how he conceives a new novel. He tries to come up with new ideas but the old ones from his previous work still beckons him.
Yatra is a multi-layered film and shows the writer travelling from one place to another. On one of his trips, there's a co-passenger, a filmmaker who admires him. The writer feels the subject could make for an interesting film and starts conceiving the film visually. Thus, the film has two layers -- a) the visualisation of the filmmaker and b) the imagination of the writer.
That's how the creative process of both comes to light. The dichotomy between fact and fiction is also depicted here. The story also shows the transformation from the rural to the urban scene as the characters shift from Adilabad to Hyderabad.
Nana Patekar plays the writer (Dashrath Joglekar) with an alter ego. I picked him because the character belongs to Adilabad district (in Andhra Pradesh) which is close to Maharashtra. I thought Nana's look would be the right one for the protagonist. Rekha (Lajwanti) plays a singer-dancer from Benaras-Lucknow while Deepti Naval play's Dashrath's wife.
You are adept in feature films and documentaries. How easy or difficult is it to do both?
Well, I'm comfortable doing both feature films and documentaries, as I am expressing myself through the medium of cinema. In documentaries, you work with real people, in features, you work with actors who enact your characters. Sometimes, after making a feature film with a large crew, I get tired and feel like doing a documentary with a smaller crew. This way, I also get to expand my area of knowledge.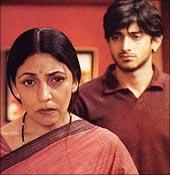 The subjects for your documentaries are eclectic ranging from Satyajit Ray, Bismillah Khan, Utpal Dutt to Dalai Lama, Jyoti Basu...
I want to learn from other artistes and these great artistes have inspired me a lot.
You compose music for all your films. Where does the interest in music stem from?
I love music and so does my family. My mother used to play the violin and there were many singers in the family. In those days, learning music was part of the lessons though it was not compulsory to be a musician. I remember my maternal grandfather telling me that learning music makes you a good human being (laughs). My mother studied at Santiniketan while my wife was born and brought up at Santiniketan. I also learnt western classical on the piano in school.
Music also helps me structure a film. Unlike literature where the intellectual perception is first stimulated, in films the effect is more visual. Music, too, hits you directly. The selection of music depends on the film. I plan the music during the script stage itself. So when I am shooting, I know how I am going to play the background music, song or whatever.
For Yatra, I have chosen the traditional compositions of Benaras and Lucknow gharana. In the film, Rekha's mother is a tawaif who hails from Benaras. So we are using Qader Pia's and Birju Maharaj's compositions. I write my compositions for the background score.
Are you inspired by Satyajit Ray because he too used to score his own music?
Very much. He was a great musician and composer. Ray told me he loved my music.
How did you take to the camera?
I started with still photography. I learnt photography from watching others. I admired my guru Subroto Mitra (Satyajit Ray's cameraman) though I never got to work with him. I learnt a great deal from the discussions I had with him and by watching his work and works of other great cinematographers around the world.
Your earlier films dealt with various social issues. What drew you to them?
Though I was born and brought up in Kolkata, I got to see the vastness of the country, especially rural areas, during holidays. When I was 17 or 18 years old, I started travelling to rural areas in Bihar, Bengal, Uttar Pradesh and South India. That's when I thought of making films about the life of the rural people.
My first feature film Maa Bhoomi was based on the Telangana uprising while the second film Dakhal was based on the contradictions between the gypsies and the farmers just after the First Land Reform Act.
In Paar, I wanted to show the caste feud and the endurance of the human race. In between films, I make documentaries.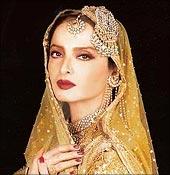 What drew you to filmmaking?
A combination of theatre and photography. I used to write and direct plays in English and Bengali. As I grow older it has become tougher, but I still enjoy it. Doing cinema is like giving birth to a child. I notice films normally take about 10 months (laughs).
I don't believe in the star system at all. I believe in actors. I use actors and non-actors (newcomers) in my films. I have used many non-actors who have become famous as actors.  My six-year-old nephew is unbelievable in the scenes in Yatra. He had just two scenes but he was amazing. Children are natural actors as they have no pre-conceived notions about acting.
Is cinema for entertainment or education? Should it reflect reality?
Both. It should reflect reality as well as educate people about their traditions. This globalised look is very boring and homogenous. But India is not homogenous, it's heterogeneous. That's our beauty and our strength. You have to make people know about it. Cinema has a great role to play in this regard. You have to reflect the irony of our lives.
Is creativity undermined in the effort to garner box-office success?
It's unfortunate but box office success is necessary. Your producer must get back his money. But at the same time, film is a very creative process and one mustn't forget that.
Do filmmakers need to be schooled in the craft of cinema?
The learning process is very important, either through regular courses or reading and watching films. Sometimes, one can even learn from another director.
Today, there are different kinds of cinema -- multiplex, crossover, middle-of-the road cinema... What is your take on this?
Due to urbanisation, multiplexes have come up. They have their own audience and some filmmakers cater to this milieu. I think one can make films for all sections of the people. A film like Yatra will not go into the C centres as the distributors won't take it because it is a cerebral film. I'm sure it will go into the urban and semi-urban sectors. You have to choose your subject accordingly.
Who has inspired you in filmmaking?
Satyajit Ray and Ritwik Ghatak to mention a few. I am a great admirer of the old Soviet school, French school and the Italian cinema (neo realist). My favourite filmmaker is Akira Kurosawa.
What motivates you to make films?
Passion. I feel like expressing myself and cinema is an incredible medium to do just that.