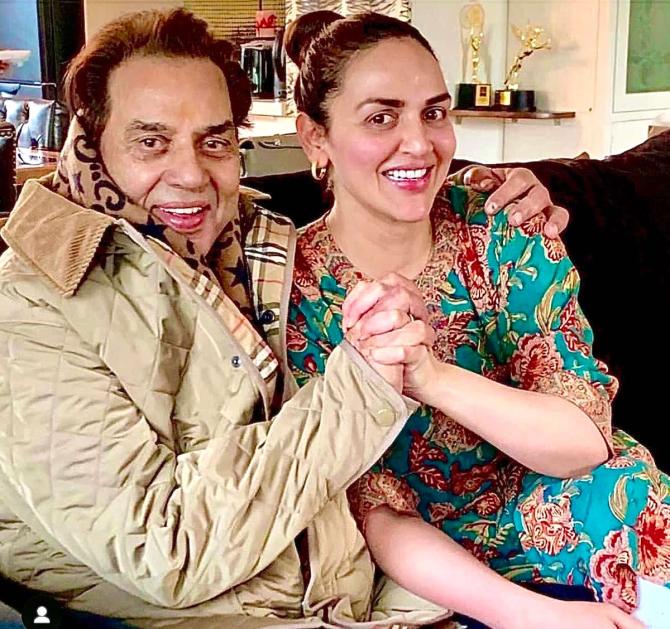 Even as the Deols celebrated Karan Deol's wedding on June 18, inviting everyone in Bollywood for the lavish reception, Hema Malini and her daughters Esha and Ahana Deol were missing from the guest list.
A few days after the wedding, Esha wished her nephew Karan on social media: 'Congratulations Karan and Drisha. Wishing you both a lifetime of togetherness and happiness. Lots of love.'
Is Dharmendra feeling guilty about not inviting the ladies?
He wrote a cryptic message on Instagram: 'Esha, Ahana, Hema and all my darling kids... loving Takhtanis and Vohras I love you and respect you all from the core of my heart... age and illness is telling upon me I could have spoken personally to to you... but,' adding an emoji of folded hands.
Esha replied, 'Love you papa. You are the best. Love you unconditionally & you know that. Cheer up & always be happy & healthy. Love u.'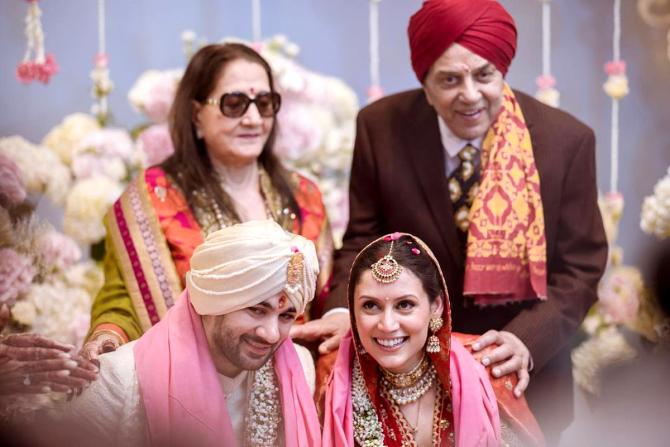 Among the many photographs of the wedding, we got to see a rare picture of Dharmendra's wife Prakash Kaur with the bridal couple.
Dharmendra and Prakash Kaur got married in 1954 before he started acting in films, and they have four children: Sunny, Vijeta, Ajeeta, Bobby.
In 1980, Dharmendra married Hema Malini, and they two daughters, Esha and Ahana.