Choked almost manages to be a real depiction of life after demonetisation for a lower middle class household, but ends up being a puzzle in a puddle, feels Moumita Bhattacharjee.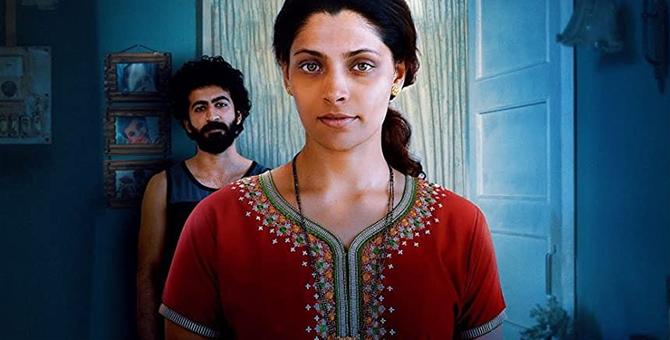 One reason why Anurag Kashyap's Choked on Netflix comes as a welcome change because he is probably the only director who takes up the theme of 2016's demonitisation and does justice to it.
Sarita (Sayami Kher) and Sushant (Roshan Mathew) were once a happy couple, where one sang and the other played the guitar.
But a choked performance by Sarita during a singing reality show breaks their bond.
They turn into an indifferent couple where Sarita, a bank employee, is the only earning member while Sushant whiles away his time doing nothing.
Choked also signifies the clogged sink which, one day, brings Sarita wades of notes and much happiness.
Things go well until November 2016, when Prime Minister Modi declares demonetisation.
Hell breaks loose, and Choked perfectly mirrors the trying times of ordinary people who suddenly realise that they cannot access their own money.
The pain, anguish, helplessness and long queues outside banks will probably refresh those days of massive uncertainties.
The film even takes a sly and perhaps unintended dig at the whole microchip fallacy when a guy rushes to the cashier, grabs a Rs 2,000 note and asks Sarita if it has a micro-chip. A smart inclusion of how fake news impacts!
The analogy of being choked is beautifully summarised through the lives of its leads.
Sarita and Sushant's relationship is a complete mess.
The scene where the two of them bicker over a plumber with a sleeping child as their witness bares the dynamics of their story completely.
The sequence that really stands out is when a proud Sushant gloats about Modi's masterstroke and Sarita retorts that at least he used to make chai and serve it to others.
In her world, she does everything.
There are moments that make you applaud heartily. Like the one when Saiyami's hand gets stuck in the drainage or the chaos after the notebandi announcement or when Sarita tells an old lady to beg before the people who she voted for...amazingly weaved in the narrative without being in your face.
Anurag Kashyap makes a lot of assumptions, which are good and bad for the film.
If we begin with the good bits, it gradually dawns on you that he has shown you how lives changed post demonetisation without making any scathing remark. For example, an IT official reveals how many politicians were in the know of this move and had gotten away with it. That shows how the 'masterstroke' had many loopholes.
Where these subtleties go wrong is when you are made to read between the lines.
A video clip of Sarita threatens to derail her life when Sushant discovers it, but that plot goes nowhere.
Debtor Reddy's (Upendra Limaye) plot is perhaps the weakest one in the film, as it just swoops in and out of the tale without much explanation.
Kashyap's cast compliments each other.
Sayami Kher is quite the revelation. She keeps it together as the lower middle class woman, who provides for her family and doesn't bother about conscience when money makes its way into her house. She gets the emotions right.
Roshan's Bollywood debut is quite limited, but he manages to shine. He only grunts and gets irritated for the better part of the film, but yet manages to catch your attention.
Amruta Subhash as Tai obsessed with her daughter's wedding and constant chatter keeps the proceedings really interesting.
Choked almost manages to be a real depiction of life after demonetisation for a lower middle class household, but ends up being a puzzle in a puddle.
Rediff Rating: