Ghoomketu's distracted, disjointed narrative acquires the tone of a dream whose quirk stems from naivete, not narcotics, complains Sukanya Verma.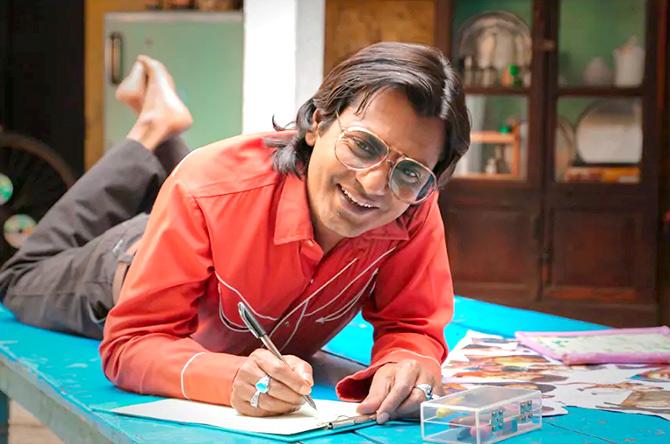 The stardust of Mumbai's glitz and glamour fuels the dreams of many starry-eyed small towners across India.
One such aspirant from Mohana becomes the focus of Pushpendra Nath Mishra's wide-eyed, formless Ghoomketu (Nawazuddin Siddiqui) after its titular character runs off to Mumbai in a bid to become a Bollywood writer.
Ironically, the script of Mishra's long-in-the-making project now streaming on Zee5 is all over the place.
Between Ghoomketu's fanciful encounters and textbook understanding of the film industry's workings, criss-crossing his whimsical, wistful nostalgia for home and a lazy, incompetent cop's (Anurag Kashyap) failure to locate him, the film barely comes together as a whole.
A datedness envelops the storytelling, one that is conspicuous even if you don't recognise Ranveer Singh's cameo from his 2014 Kill Dil look.
Rather it is the done to death voiceover technique as Ghoomketu philosophically reflects on 'Bambai' and its Gateway of India and Ganpati identity and proceeds to cutely broadcast his wannabe objectives before a bored yet patient Bollywood producer.
Having only written on wedding cards and truck slogans before this, Ghoomketu barely qualifies as talent let alone a promising one.
The movie cuts in and out of fact and fiction as genres of cinema are touched upon, age-old techniques are thrown in for effect while the Bollywood presence looms large in familiar faces (Razzak Khan in a posthumous presence) and formidable ones (Amitabh Bachchan).
A niggling incoherence streams through these erratically arranged scenes, a random item song, Ghoomketu's strange stint as an alien in B-movies or fleeting interactions with the cop's family.
If the idea is to paint his adventures as a mishmash of expectations and reality, the wobbly treatment dilutes it all.
Often this distracted, disjointed narrative acquires the tone of a dream whose quirk stems from naivete, not narcotics.
Alas, there is no spunk.
There is abundant to and fro as the scene shifts every few seconds to Ghoomketu's village to witness the rona dhona of his ghoongat-covered wife (Ragini Khanna) and everyday nok-jhonk between the inexpressive father and compliant siblings, played reliably by the delightful troika of Raghuvir Yadav, Ila Arun and Swanand Kirkire.
Mishra's humour neither shows a knack for parody nor the idiocy to evoke a chuckle. A failing that is somewhat obscured in Siddiqui's comical sincerity but is a full-blown mess every time Kashyap's good-for-nothing cop comes into play.
This is an easy part for Siddiqui, but not necessarily a right fit.
Perhaps when he took up the role, the idea of personifying a 'Laut ke buddhu ghar ko aaye' appeared fresh and fascinating.
But since then, those eyes have acquired wisdom and the stars have found home in the skies.
Rediff Rating: