It is unfair that actors like Jyotika and Parthiban are wasted in what could have been a spectacular courtroom drama, complains Divya Nair.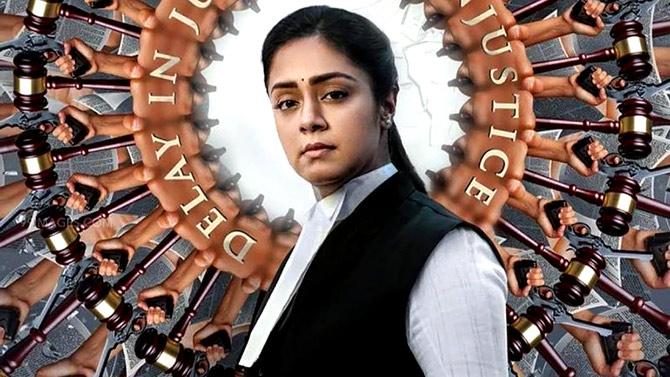 Directed by JJ Fredrick, Ponmagal Vandhal is one of the first Tamil films to premiere on the OTT platform.
So naturally, I was excited when I saw the trailer.
I felt something was missing, and I hoped the film would have the answers. Leave a powerful impression.
Set in picturesque Ooty, the film sets the perfect premise for a crime thriller.
We are told about a serial killer named 'Psycho Jyoti', who kidnaps and brutally kills children and is seen shooting two young men in a video shot by a tourist.
In 2004, Jyoti is killed in an encounter by the police and the locals believe justice was delivered.
Fifteen years later, a resident named Pethuraj (played by director actor K Bhagyaraj) and his daughter Venba (Jyotika) reopen the case to find out what really happened.
Was Jyoti really a serial killer?
Who kidnapped the children?
Was the investigation botched up?
The film has several twists that are meant to surprise you. Only they don't.
The writing is just as bad as the unoriginal story.
Firstly, you don't connect with any of the characters.
You cannot show a bunch of dead bodies, a gun and some police officers and call it a police investigation.
Is it a courtroom drama, then?
Again, two people wearing black coats, trying to outwit each other, is not how courts function. We all know that. Or at least some of us do.
I feel sorry for Jyotika.
Just like Parthiban (the defense lawyer) feels sorry for his opponent when she realises she has no evidence left to support her theory and win the case.
In the second half of the film, the director uses Jyotika like a pawn.
The character Venba, who is fighting her first case, defends why she has the right to justice even though she doesn't have the necessary evidence to support her case.
To overrule that, the director plots a monologue citing real life incidents of innocent people accused of crimes they never committed.
Crimes against women.
Honour killings.
The north-south divide.
Power politics.
Everyone in the court is either crying or using their phones to hashtag some revolution started by Jyotika.
Wait. What is this film about? Is this one film or a thesis on the films the director intended to make in his lifetime?
Before you blink, it jumps from one story to another without much credit.
It is cringe-worthy to think that the director chose to attempt a serious subject and turn it into an emotional drama.
It is not worth the build up. Worse, it is unfair to all those people who you thought would benefit from this subject.
It is unfair that good actors like Jyotika and Parthiban are wasted in what could have been a spectacular courtroom drama, backed by facts and evidence rather than tears and words.
Maybe you can use Parthiban's advice and spend some time visiting a court and watching how lawyers function.
Because even for a fictitious plot, we've seen better.
So dear director, next time, please do your homework. Make just one film. But give it your best.
Rediff Rating: