'Stripped of all humour and heft, Chris Hemsworth's Tyler Rake is Thor sans the thunder,' declares Sukanya Verma.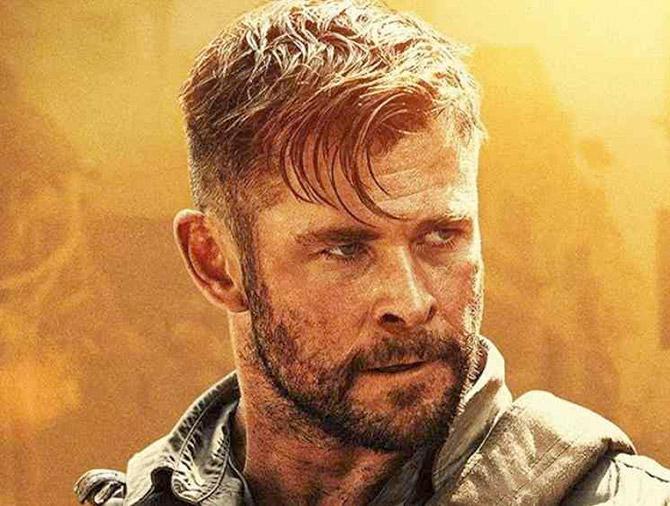 I could be blindfolded and still predict the exact events of Chris Hemsworth's brand-new action movie.
Streaming on Netflix, Extraction is so utterly banal and stupendously stupid in its pursuits, not one thing about it feels unique or new.
What its booming, big screen grandiosity does achieve is test if we are desperate enough to lap it up simply because there's limited alternative available in a COVID-19 environment.
In classic B-movie style, its battering, brainless action unfolds at bullet speed where nondescript men are slugged or shredded regularly by the unstoppable brooding, bearded hero.
As respectable the over filtered bam wham bits are -- the kinetic battle in a housing area where every room plays a different Bollywood tune, the chaotic car chases -- monotony quickly creeps in.
Characters no more significant than action figures pop in and out of its wafer-thin plot as it cluelessly scuttles from Australia to India to Bangladesh.
Mercenary Tyler Rake (Hemsworth) is assigned a challenging mission of bringing back a Mumbai-based convicted drug lord's (Pankaj Tripathi) kidnapped teenager Ovi (Rudhraksh Jaiswal) from the clutches of his rival kingpin (Priyanshu Painyuli) in Dhaka.
Stripped of all humour and heft, Hemsworth's Rake is Thor sans the thunder.
Tough lonely guy with tragic back story rescuing a timid kid is done-to-death and Extraction, directed by stunt coordinator turned director Sam Hargrave breaks no new ground.
Based on a graphic novel Ciudad by Ande Parks and produced by Avengers duo and siblings Anthony and Joe Russo, the only novelty comes by the way of some familiar desi faces and filming in the Indian subcontinent.
If the reliably steady Randeep Hooda's secondary role alternates between hostility and friendship, Pankaj Tripathi appears for a few seconds to gnash his teeth and make some threatening sounds like only he can.
It is Painyuli, best remembered for his activism as the eponymous Bhavesh Joshi Superhero in Vikramaditya Motwane's under-rated movie, who catches your eye under all that bling and kitsch with his gentle menace.
His equation with a youngling (Suraj Rikame) has some nice moments that would lead to something memorable and draw stronger parallels with Tyler-Ovi's growing bond in a better movie.
Latter is tokenism at its sloppiest.
Neither Tyler's sob story nor Ovi's loveless life and daddy issues evoke an iota of sympathy.
Did I mention how shabbily Stranger Things's David Harbour is thrown into the mix?
The charisma and intensity of these actors tries visibly hard to render Extraction the raw urgency its mildly ambitious setting incessantly craves.
But in the absence of genuine threat, no amount of blood and bombardment generates thrill.
Rediff Rating: