Rakhi, Karan, Umar and Rashami are the winners of the Ticket to Finale task.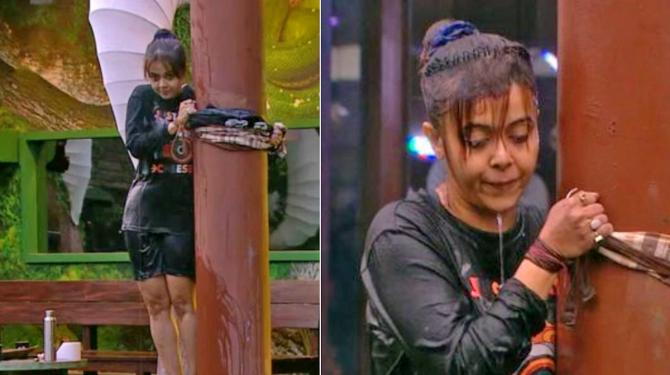 After Devoleena Bhattacharjee starts breaking things in the bathroom, the housemates try to open the bathroom door.
Shamita Shetty, Pratik Sehajpal and Tejasswi Prakash ask her to focus on the task and not Abhijeet Bichukle.
The last Ticket to Finale task is announced between Rashami Desai and Devoleena.
The ladies have to stand around a pole in the garden area, and the rest of the housemates can either support or distract them.
As soon as the task begins, Pratik tries to unbalance Rashami from the pole whereas Umar Riaz targets Devoleena.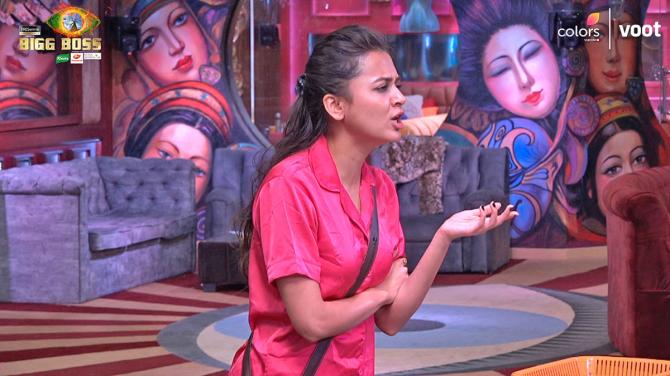 While the task is on, Tejasswi cries and Pratik consoles her. She feels she will not reach the finale as no one supports her.
As she leaves the garden area crying, Rakhi Sawant tells Karan Kundrra to go after her.
He feels Tejasswi is just 'doing drama' and has Nishant Bhat and Pratik for support.
The task continues with Nishant and Shamita trying to distract Devoleena.
Pratik, on the other hand, is hell bent on not letting Rashami win.
But both ladies perform brilliantly.
Bigg Boss announces that the task will go on until there is a clear winner between the two, so Devoleena and Rashami continue to perform till the next morning.
At night, when Umar and Pratik give their jackets to Rashami and Devoleena respectively, Karan and Rakhi start teasing them.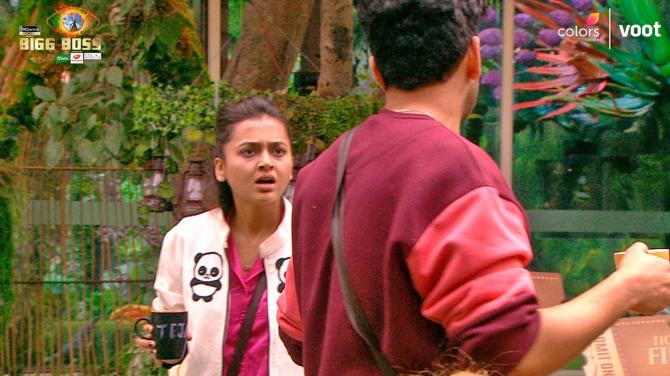 Tejasswi tries to have a conversation with Karan, but he doesn't entertain her. She confides in Nishant about her cold war with Karan.
The next morning, Shamita confronts Tejasswi as she feels Karan, Umar and Rakhi were biased towards her in the task with Pratik.
Karan gets annoyed and blasts Tejasswi for playing dirty.
She retaliates, and he loses his temper. He insults Tejasswi in front of everyone.
Shamita asks her to stop being so manipulative.
After the big fight, Tejasswi breaks down.
Back in the garden area, the task is still on with Devoleena and Rashami on the pole.
Things get heated between Pratik and Umar when the former throws water on the latter.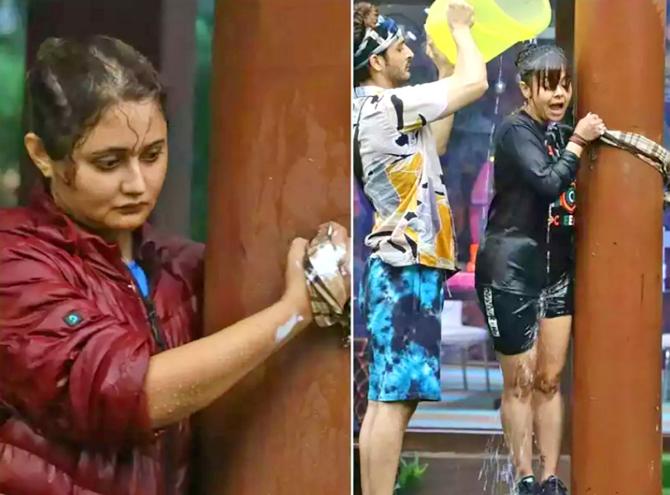 Umar gets irked and manhandles Pratik. They almost get into a physical fight. Karan and Nishant stop them.
Since Rashami and Devoleena continue to stand holding the pole without much trouble, Bigg Boss asks them to take off their shoes. This makes the task more difficult.
Nishant throws a bucket of water on Devoleena, making her angry.
Ultimately, Devoleena falls when Nishant throws water on her legs with full force. With that, Rashami wins the task.
Bigg Boss praises everyone for completing the task, but Umar is pulled up for getting aggressive.
Bigg Boss makes it clear that the audience will now decide if Umar deserves to stay or not.
Rakhi, Karan, Umar and Rashami are the winners of the Ticket to Finale task.