'Rishi Kapoor was a complete original.'
'He dazzled the screen and stayed a livewire off it as well,' remembers Sukanya Verma.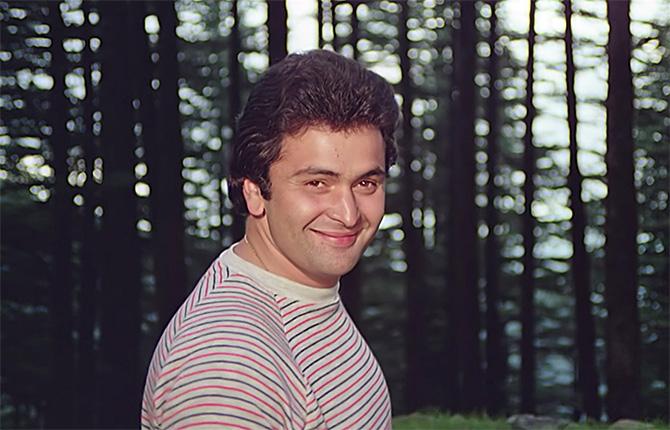 'Heyyy...'
'Tumne kabhi kisise pyaar kiya?'
'Tumne kabhi kisi ko dil diya?'
'Maine bhi diya...'
And with that one ardent admission Rishi Kapoor walked into my life.
This beautiful man wasn't just declaring his love.
He was it -- love, romance, ishq, mohabbat, incarnate.
The more I saw of that gorgeous face, the more I wanted to.
God knows how regularly I fantasised about shaking a leg with him on that giant LP record from Om Shanti Om in Karz.
His is the only tune I danced to, the only one I ever tried to play and somewhat succeeded -- Ek Haseena Thi.
Rishi Kapoor was born to face the camera. And not just because of his Kapoor legacy or undeniable good looks.
He never looked like he was aware of any of it.
He could be a gamut of emotions -- dramatic, whimsical, hysterical, childish, magnanimous, gregarious or sullen, but there wouldn't be a hint of artifice in his portrayal.
Though he was only a teenager in his debut Mera Naam Joker, Rishi conveyed the heartache of an adolescent infatuated by his teacher with touching innocence and set the stage for dad and director Raj Kapoor's enduring melancholy.
It won him a deserving National Award.
Though his introduction as leading man was accompanied by classic RK pomp and show, the limelight lingered a tad more on Dimple Kapadia in and as Bobby.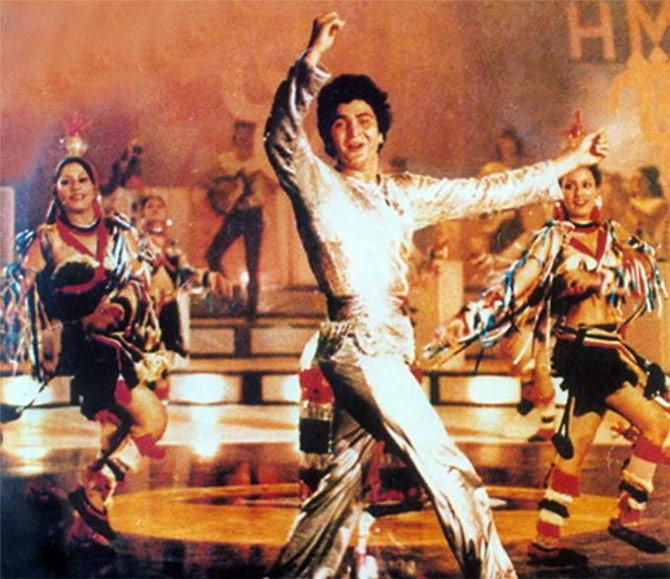 It was my first glimpse of Rishi's talent as well as grace.
Ever the gamely emotional anchor, he was happy to be the heroine's understanding cheer leader in films like Sargam, Prem Rog and Nagina or play second fiddle to Amitabh Bachchan-centric vehicles.
Personally though, I found Akbar Illahabadi as much if not more pleasurable as Anthony Gonsalves in Amar Akbar Anthony.
He got the get-up, body language, nuances down pat as the ebullient qawaali singer taking on his sweetheart's grumpy, disapproving daddy. Tayyab Ali, hai hai indeed.
As a kid, I was delighted by his songs, spontaneity and sweaters.
But the first time I saw him on the big screen, he wasn't wearing any.
It was a Muslim social called Tawaif directed by B R Chopra and best remembered for giving Rati Agnihotri the most memorable role of her career as a kothewali who finds love and legitimacy in do-gooder Rishi Kapoor's abode.
I saw Prem Rog soon after.
Here too he was standing up to a misogynistic society and supporting a widow's right to remarry.
Although he created a righteous impression, what I enjoyed a lot more was his sloshed singing Khullam Khulla Pyaar Karenge in Khel Khel Mein, scenic courtship of better half Neetu Singh again in Kabhi Kabhie, dynamic dance off to a medley in Hum Kisise Kum Nahin, train top serenade O Kaanchi in Zamane Ko Dikhana Hai, train compartment shimmy in Rafoo Chakkar, Dafliwale vigour in Sargam, Rishi Mera Naam verve in Naukar Biwi Ka's special appearance and Swiss themed rendezvous in Chandni.
My extent of serious concern was limited to 'Will he be able to win Pran's trust in Bade Dilwale, figure out Tina Munim is Poonam Dhillon in Yeh Vaada Raha, teach Simi Garewal a lesson in Karz, walk again in Chandni or get bitten by Sridevi in Nagina?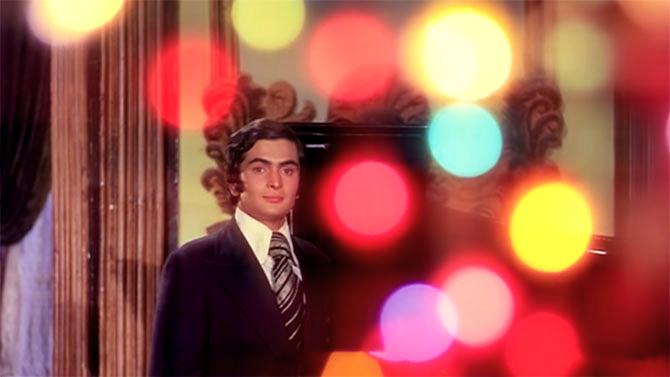 When I wasn't tormented by these burning questions, I drooled over his fashion.
That never-ending striped scarf in Humne Tumko Dekha (Khel Khel Mein), the insane bell bottoms and bold prints in Bobby, the denim jackets, the figure-hugging tees, the oversized sunglasses and his vibrant collection of knitwear.
So ardent was my observation, perhaps I was the only one to catch Saif Ali Khan wearing the same sweater in Imtihaan that Rishi Kapoor wore in Saajan Ki Baahon Mein.
Once I looked beyond his sartorial appeal, I appreciated how effortless and significant he made his art even in the absence of focus or novelty.
He worked in a number of movies and often collaborated with friend and music director Rahul Dev Burman to give their best shot to stale fare.
They have so many hit songs to their credit and quite often they belong to movies nobody remembers.
No matter how many young girls he romanced around trees, time wasn't running backwards.
Eventually, Rishi Kapoor too recognised the monotony his career had slipped in and worked consciously to change tracks.
It was a bumpy entry in the 2000s but by the end of the decade, Rishi had found his sweet spot by doing roles he wasn't expected to or associated with.
Luck By Chance's pitiful Bollywood producer Romi Rolly, a version of himself in the satirical Chintuji, a middle-class maths teacher trying to make some money in Do Dooni Chaar, the unyielding shuddh desi patriarch settled in the UK in Patiala House, the grisly, ruthless crime boss Rauf Lala in Agneepath, an irredeemably corrupt cop in Aurangzeb, a bawdy grandfather in Kapoor & Sons, a disgruntled senior citizen son of a 100 something loon in 102 Not Out, a Muslim lawyer engaged in a traumatic legal battle for his brother in Mulk -- second innings never looked this good.
Rishi Kapoor was a complete original.
He dazzled the screen and stayed a livewire off it as well.
His foodie ways fascinated me.
His delicious discussion and culinary insights with Aneesha Baig at Mumbai's Bombay Canteen compelled me to make multiple trips to the restaurant.
His loud, lively chatter around his siblings in one of the most precious episodes of Koffee With Karan reminded me of the typical flurry of a North Indian close knit, khaana loving, tana-giving family.
The man lived on his own terms and made no bones about it.
He said what was on his mind.
He did as he pleased.
Screamed when he wanted to, apologised if he felt like.
He couldn't care less if you judged him for his lifestyle or adored him just the same.
There is no one like him.
Read his autobiography Khullam Khulla, you will fall in love with him even more.
I remember reading it non-stop all night.
There is no fancy prose in there, but it is simply unputdownable.
He doesn't mince words whether it is family or fraternity and he shares his own blunders with equal honesty.
No disease can ever take him away from us. His smile, his short-fuse.
Rishi Kapoor, dard-e-dil forever.