'He was in form right to the very end.'
Memories of Rishi Kapoor come flooding in...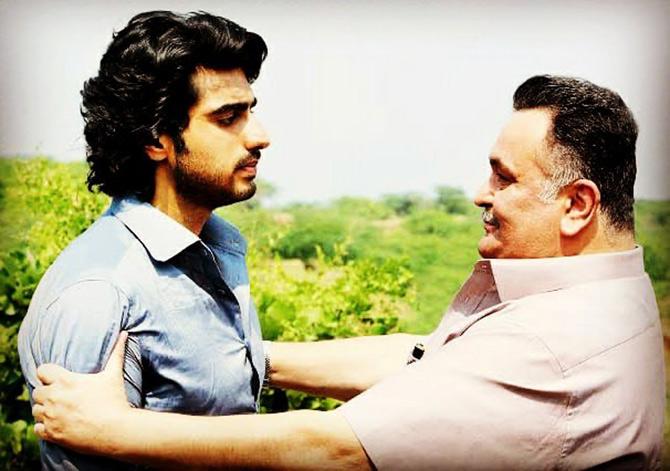 Arjun Kapoor worked with Rishi Kapoor in Aurangzeb:
He was my friend's father, my co-actor, a talent whose work I grew up watching and admiring.
What separates him from everyone else was one thing. Chintoo uncle had the most amazing way of showing warmth and love. It was different from anyone else.
I remember the first day I shot with him for Aurangzeb in Gurgaon.
Despite being nervous, we managed to go through day one without any hiccups.
I was relieved that I didn't screw up in front of him and went back to the hotel.
I got a call from my father later that night, saying Chintoo uncle had called him and spoken to him about working with me.
He told my dad something that meant the world to me.
'Boney tu tension mat le. Apna baccha achha actor hai. Yehi rahega achha kaam karega.'
To me, that was love, acceptance and recognition of the highest order.
Love you, Chintoo uncle.
Thank you for the memories from RK house to Raj Krishna to Ridhima's sangeet rehearsals to Aurangzeb to having spent a beautiful evening with you and Neetu Aunty in New York.
You shall live in my heart and mind forever. Cheers.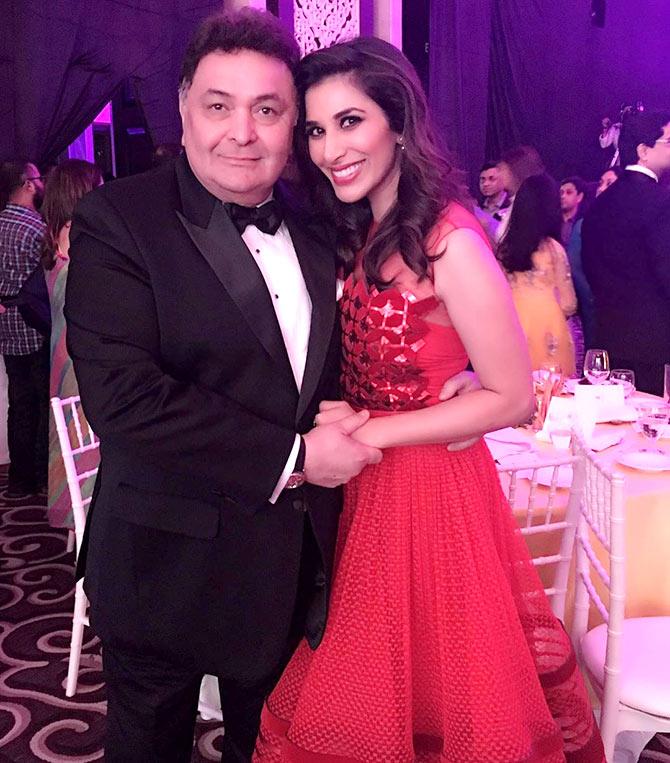 Sophie Choudry remembers her encounters with the legend:
The first time I met him in 2002, he came up to me and said, 'You are Sophia, right? I am Rishi Kapoor, a huge fan.' And rhen he sang my songs to me... Yeh dil sun raha hai and Le le mera dil. I nearly fainted.
I grew up watching every single one of his films and was his biggest fan girl and here he was singing to me!!!
From then on, I guess this unlikely friendship developed.
He would be the first to wish me a happy birthday, the first to send me wishes on a new song or a new project. And he still sang my songs to me whenever we met.
I asked him to launch my album Sound of Sophie and he didn't hesitate. He was there bang on time.
For Hungama Ho Gaya, he was out of town and said he would try and come. No call, no fanfare, nothing. He just arrived to give me a hug without telling anyone.
I did this mad fun film with him Chintuji only so I could feature in the same frame as him, do a song which featured us both.
He was to me the most incredible artist, someone who understood rhythm like few did, but above all, my friend forever encouraging me in all I did.
I am absolutely broken. He was one of my fave people in the world.
I cannot imagine what the family is going through. Sending all my love and prayers to the best life partner he could have had, to Ranbir and to my dearest Riddhima.
This loss is irreplaceable. I will forever remain your biggest fan girl RK and smile when I remember all our conversations.
You will cause a riot wherever you are. The heavens are lucky to have you.
The king of romance, eternal charmer, most boisterous and a love for life like no other.
Legend. There can never be another like him. Rest in Peace.
Ali Zafar worked with Rishi Kapoor in Chashme Baddoor:
My first childhood memory of Rishi Kapoor was the song Jeevan ke din. The lyrics resonated with me and I imagined myself singing it one day around a piano the same way he did.
I never thought I would one day be dancing with the great man himself on a film set.
I still remember the feeling I had when I was about to shoot my first scene with him in Chashme Baddoor.
We met in Goa on set. Given his stature, he had no airs and graces about him, a thorough gentleman and a professional.
We would chat about music and art and he was curious about Pakistan. One day he made me try Goan prawn curry that he was very fond of, which I love till today.
When I found out that I would get to dance shoulder to shoulder with the legendary dancer, in the title song of the movie, I could hardly believe it till I saw myself standing on a table dancing with Rishi Kapoor himself.
It was like being in a movie within a movie. At that age with an injured knee he danced like there was no tomorrow. That's how I remembered him for years to come.
One day I was most touched when he told me that somehow he saw his young self in me and would like me to play him in his youth in a movie he was considering.
Many years later, I found out he wasn't well. I reached out to him to check in on his health.
One night I saw him in my dream and told him so. He was most thrilled, most gracious and in high spirits and asked how grown up my children were now.
I can see him now just as I saw in my dream. Happy, healthy and dancing... and that's how I remember him.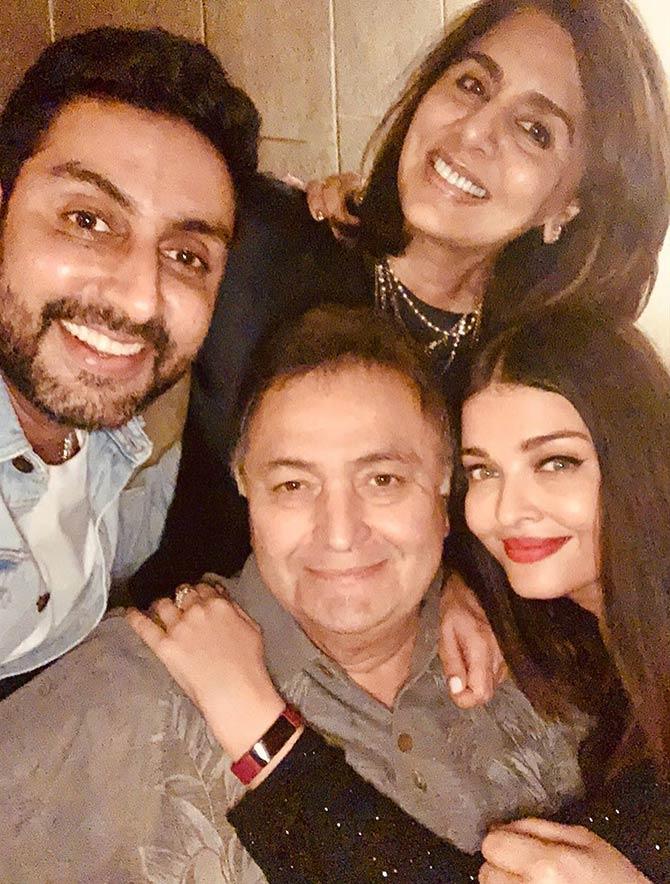 Aishwarya Rai Bachchan acted in Aa Ab Laut Chalen, the only film Rishi Kapoor directed:
So much love for you...and from you my dearest Chintu uncle...ALWAYS... so heartbroken...
May your Soul Rest in Peace God Bless.
There will never be another... just TOO SPECIAL.. and the memories... Precious... Miss you and Love you Forever'
Boman Irani:
Chintuji had decided, at his birth, that his life will be GREAT!
He worked, he loved, was loved and he enjoyed every minute of it. Right till the very end. And we have proof of it too.
There is much to see here. In these crazy times.
When I visited him during his treatment in New York he had the most to say, loud and clear. The most to plan, what comes next. The most to love, tight and strong.
If he grumbled aloud, it was only to lead you to a joke.
He would fire away then chuckle his entire body, making you forget that it was even a tirade.
When I invited him for my son's wedding, the first thing he asked about was the menu.
He cared and loved and he spoke like there was so much more to enjoy, so much more to do and that the rest of us were being simply lethargic about it.
When he tweeted about the liquor shops, I cheered, because I knew he was in form. That he was well.
He was in form right to the very end.
Loved you much Chintuji. Always will.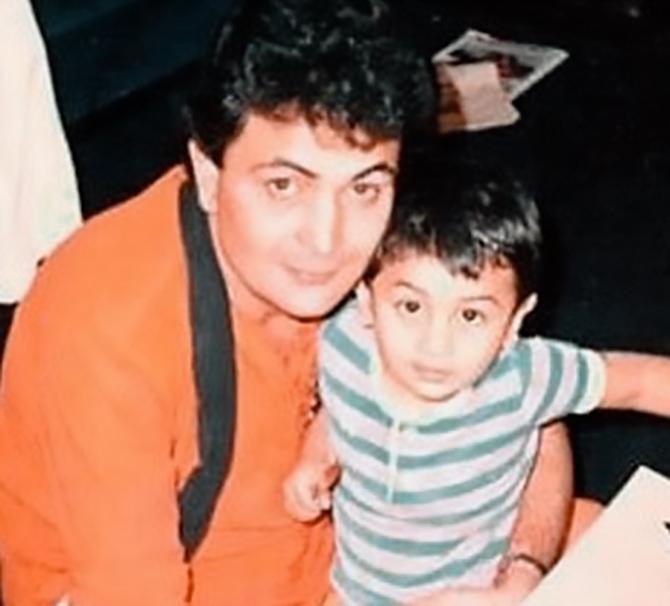 Alia Bhatt posted a picture of Rishi Kapoor and Ranbir Kapoor and titled it 'beautiful boys'.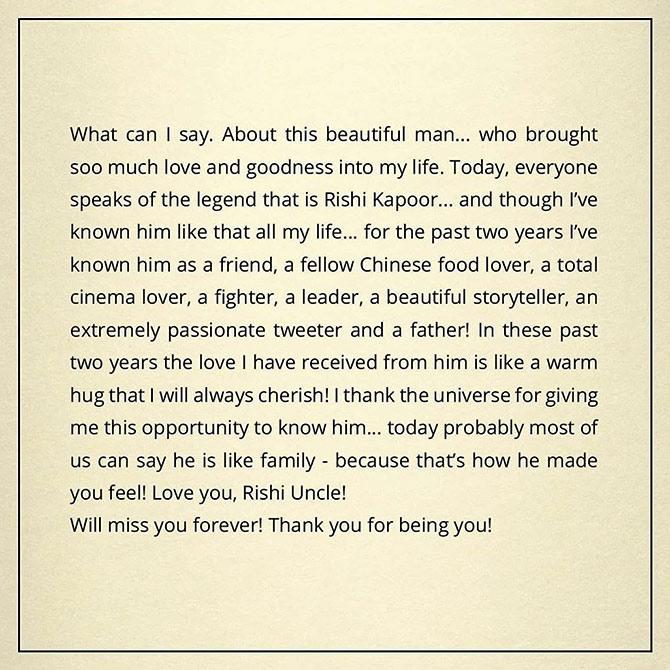 Alia calls Rishi Kapoor's love a warm hug in her post above.
Shraddha Kapoor:
I was awestruck whenever I watched Rishi uncle's movies. A legendary superstar heart-throb!
Whenever I met him, he would be really loving. The few times that I have been patted on the back by him, I'll always hold on to.
My dad would tell me the wonderful things he would say about me and it would be so overwhelming.
He rooted for me and that coming from him will always be too precious.
This is a huge devastating loss. Rest in peace Rishi uncle. You will be missed so so much.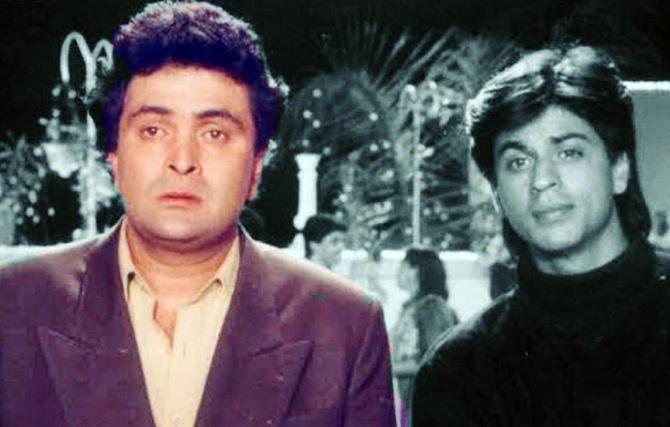 Shah Rukh Khan began his movie career with Rishi Kapoor in Deewana.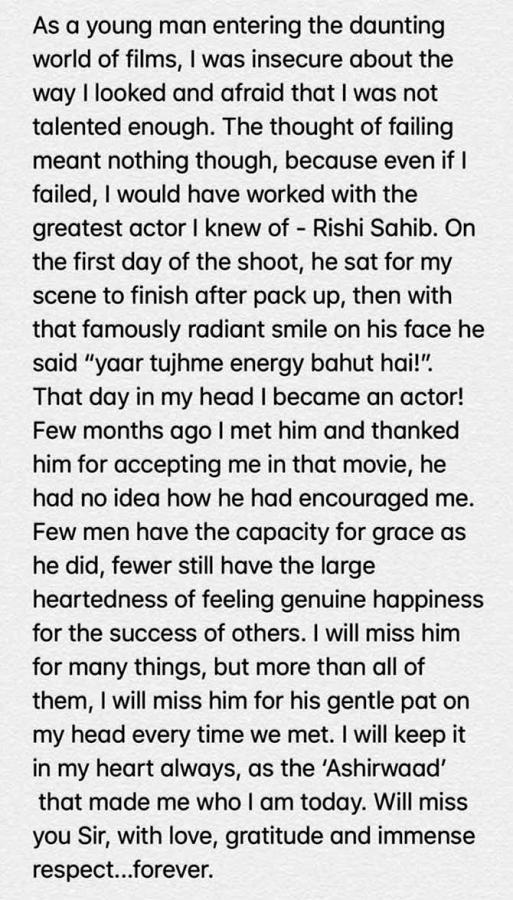 Shah Rukh remembers how Rishi encouraged him on the first day of the shoot.
Dia Mirza:
I grew up watching his films. Bobby, Sagar, Chandni, the list goes on.... and I loved him.
I loved him more as I got to know him personally. I will never forget receiving a message from him 12 years ago.
He had watched a film of mine and had asked me to call him. I will never forget that conversation. He had made time. One artist for another. That to me will always be one of his most endearing qualities.
He never treated people with any set of hierarchies, he was consistently generous.
Candid, honest, charming, humorous, grumpy, thoughtful, entertaining, the life of every space he occupied and owned with his presence.
And the stories! The stories he would tell... Thinking back to all the years I have had the privilege of spending time with him...
The only message that ever went unanswered was the one I sent him this last Sunday.
I love you and I will always miss you Sir.
My deepest condolences to @neetu54 Aunty, @riddhimakapoorsahniofficial, Ranbir and the whole Kapoor family.
Hope to be able to see you all soon so we can celebrate Rishi Sir just the way he would like us to.
Nothing feels worse than not being able to pay our respects in person.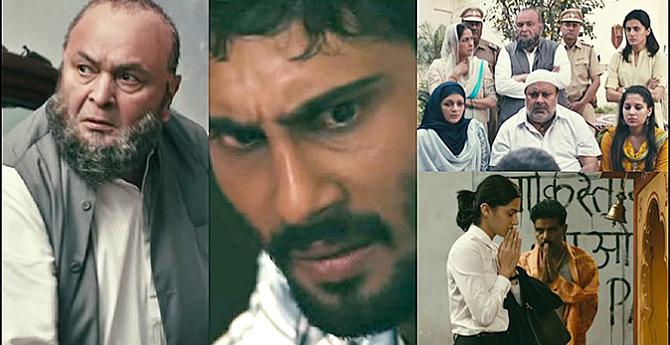 Prateik Babbar worked with Rishi Kapoor in Anubhav Sinha's Mulk:
'You've worked hard... you've picked yourself up... you've turned a new leaf... you've done so well in the film Prateik... now don't screw this up... I'm proud of you... keep doing what you are doing!' Then, Mr Rishi Kapoor smiles at me reassuringly, showing me a thumbs up!
These precious words are etched in my heart and memory.
He recognised, he acknowledged the effort, the struggle, the passion, the hunger.
He noticed.
These words will resonate deeply everytime I think of him. Smiling at me reassuringly... showing me a thumbs up!
I feel blessed to have been a small part of the journey of the legend of Rishi Kapoor.
May flights of angels sing thee to thy rest.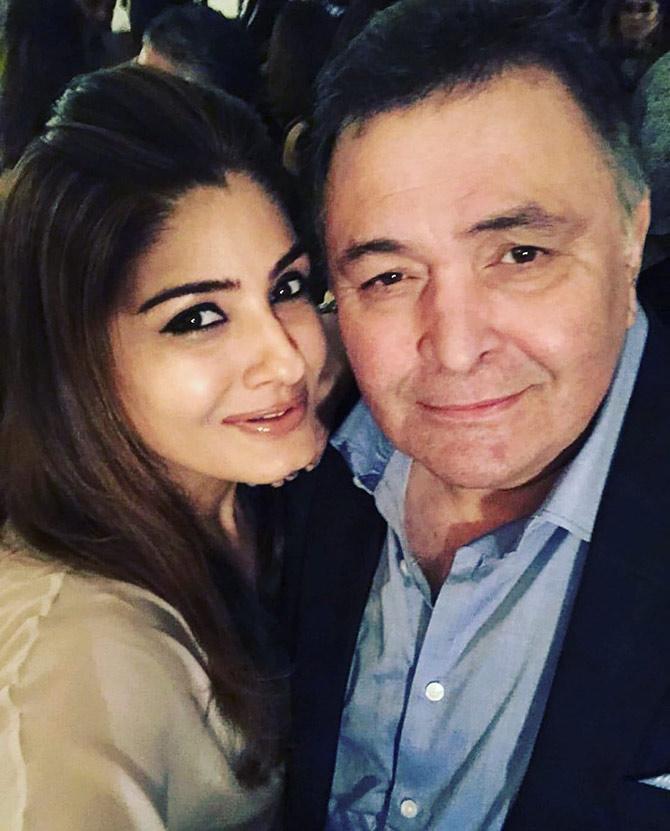 Raveena Tandon recalls receiving a walkie-talkie doll from Rishi Kapoor when she was 5:
My childhood memories all taken away so fast. Not fair, Chintu uncle. Not fair that we couldn't even say goodbye.
We will miss you terribly. Infectious laughter, wit even when you used to scold me on sets when working with you.
Still seeing me as the same 5 year old you knew, My first walkie talkie doll you bought from Paris, a make up gift for getting engaged to Neetu aunty without telling me.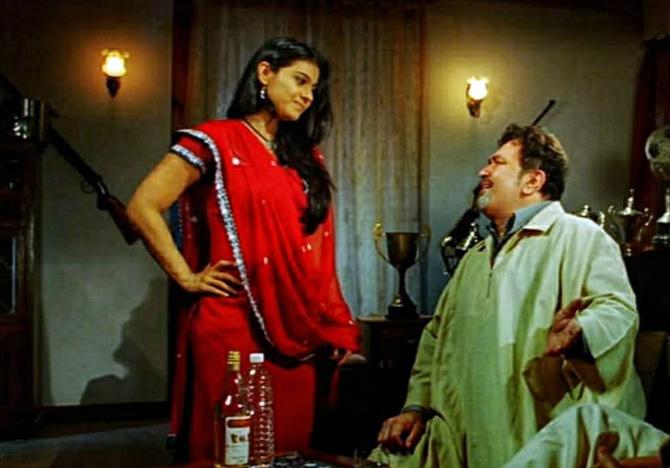 Kajol worked with Rishi Kapoor in several films:
The most amazing actor whose every performance blew me away!
From meeting him as a child to working with him in Kuch Khatti Kuch Meethi, Raju Chacha and then Fanaa and laughing with him at all the various award functions.
Mad, cool and funny. You will be missed.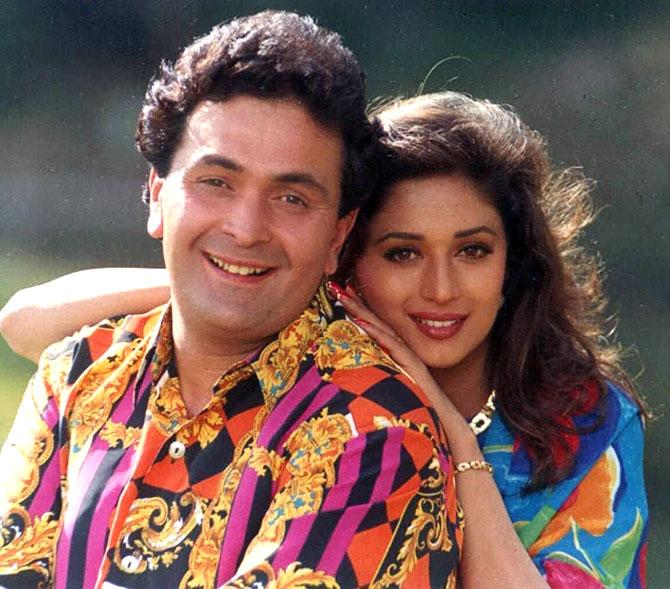 Madhuri Dixit worked with Rishi Kapoor in Yaarana, Sahibaan and Prem Granth:
I've had the honour of working with Rishiji. A larger than life person, so outspoken, yet so warm.
We have lost a brilliant actor today. I still can't believe it. Absolutely heartbroken.
My prayers are with the family during this tough time.