Why can't Salman end his self-praising screen time and play a good role instead, asks Rajesh Karkera.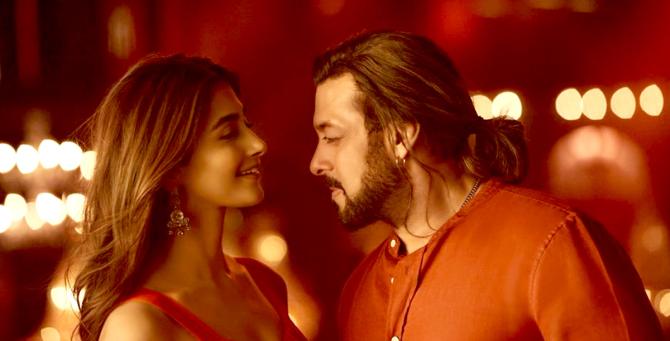 Who doesn't love Bhai?
It was for this love alone that I wanted to miss Salman Khan's Kisi Ka Bhai Kisi Ki Jaan.
After seeing the posters and trailer, I was sure it would be a let-down.
Bhai's pull eventually did lead me to a theatre nearby on a Monday evening, and it was almost empty!
I took my seat without any expectations and started enjoying the empty hall. It was like my own private theatre.
The movie starts.
Good fight sequences between a gang of goons and cops, and it's over before you know it.
What made me wince is Vijender Singh. He puts effort into his acting, but the words seem like he is reading from a script that has just been handed to him.
Salman's entry scene makes you smile.
The movie has a mix of everything, but the comedy stands out.
The scenes at the beginning made me laugh.
Ravi Basrur's background music is fantastic, and makes it worthwhile to watch the movie on the big screen.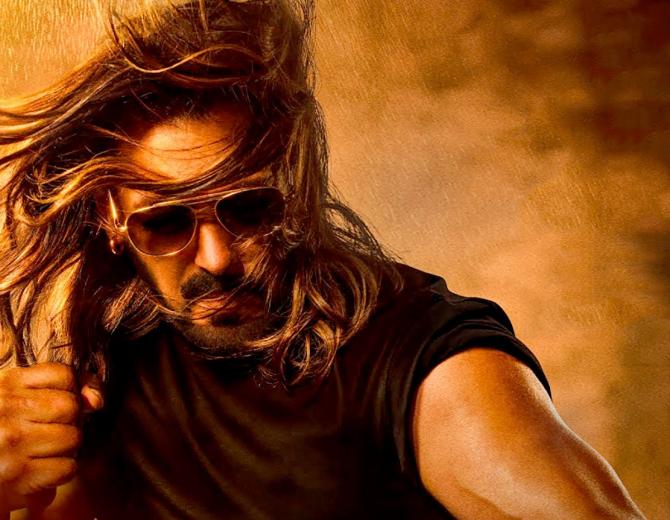 The beautiful Pooja Hegde brings jaan to the screen every time she emotes, but she does not have enough screen time, just like the rest of the cast.
Salman brings on mixed feelings.
Every time he comes on screen, I seem to like him. But almost immediately, I feel, 'Why does his face look like a beauty mode selfie, which clean out all the freckles?'
And just who told him that he would look good in that Goldilocks kind of hair?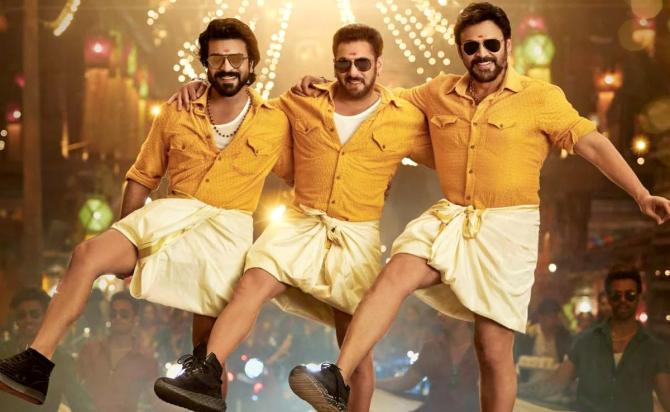 Venkatesh brings a blast from the South! The big screen suddenly turns into a scene from Zack Snyder's 300. And it does look good!
It's interval time, and I seem to have enjoyed myself!
As I step outside the theatre, I overhear a group of college students chatting, 'Yeh Salmanbhai ne baal kyun aise lambe rakhe hai? Kitna ajeeb lag raha hai.'
I couldn't agree more.
At the same moment, a boy from the group replied, 'Aage dekh. Ab baal katenge.'
Post interval, that is exactly what happened.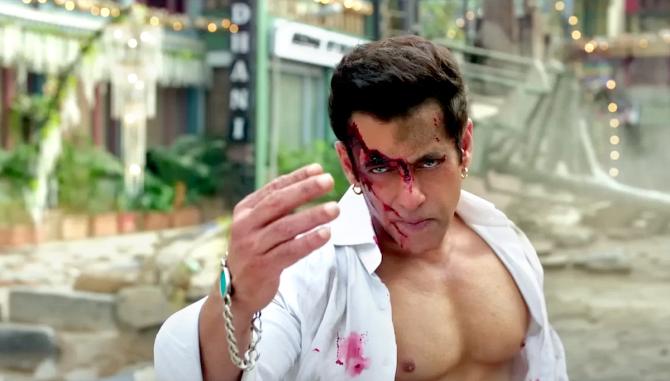 Now, dont get me wrong: You do NOT get bored in the movie.
It's fast-paced.
What is excruciating are the songs, which appear out of nowhere.
I quite liked Jee Rahe The Hum sung by Salman himself.
But the songs in the second half seem a major waste of time and effort.
The story is the same, since Wanted.
Salman's shirt comes off.
The supporting cast is there just to idolise Salman.
It seems Director Farhad Samji either had no say in what he should do or just wanted Bhai on screen, and wasted every other talent.
There is no point telling back stories if the characters have nothing interesting to do. Even a fine actor like Satish Kaushik is wasted.
Why can't Salman end to his self-praising screen time and play a good role instead?
We would love him anyway.