What is noticeable in both movies is the willingness with which both the ageing stars -- Kamal is 68 and Rajini, four years older at 72 with a kidney transplant that he has not shied away from acknowledging -- have learnt to respect their age and bodies, notes N Sathiya Moorthy.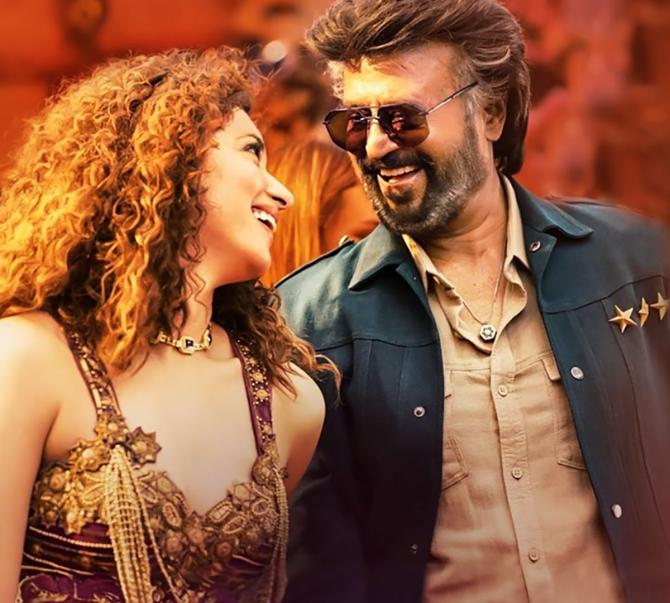 For the uninitiated, there is a term in the cinema industry: 'One-liner'.
It is the crux of the story, which the writer puts out to draw the attention of the film-maker (producer or director) and of course the hero/heroine, whoever is the centre-piece of his dream film.
Now, hold your breath, the one-liners of superstar Rajinikanth's recently released Jailer and super-actor Kamal Hassan's Vikram from last year, are one and the same.
Only that no one has told you as such, thus far.
There are the veterans from the uniformed services -- one an R&AW agent (Kamal) and the other a jailer in Delhi's infamous Tihar prison (Rajini).
Both stories have the protagonist's son, both police officers, killed by the chief antagonist, both of them crude and rude, beyond being cruel, for the kind of perceived sophistication associated with their trade at their level -- another commonality, drug-smuggling (Vijay Sethupathi in Vikram, and lesser-known long-term Malayalam actor Vinayakan in Jailer).
The similarities do not end there. Both protagonists are also shown as 'family men', with Vikram's wife deceased, who go violently after the antagonists to avenge their sons -- yes, both police officers.
There is then the son's wife and kid to care for -- an infant with a complicated medical problem in Kamal's case.
It is here that the crucial difference between the two films crop up.
Spoiler alert: In Vikram, Kamal's son, played by young Malayalam actor Kalidas Jayaram, gets killed -- and dies as a honest officer.
In the case of Jailer, the son is not actually killed though up to the point where the father meets the villain and is at the point of shooting him, the entire family is made to believe he was dead.
Then comes the crucial departure, if it is any.
Rajini ('Tiger' Muthuvel Pandian) finds out that his 'honest son', played tentatively by Vasanth Ravi, was not after all honest, but was ready to strike a deal with Varman, the antagonist, if only to make big money.
He also gets to know how the son wanted the father eliminated if the latter stood in their way.
The father ends up having his sharpshooters (loaned by an old acquaintance, played by Kannada matinee idol, Shivraj Kumar) kill his own dear son (who anyway was dead to the latter's wife and mother -- Ramya Krishnan, no match this docile housewife after her aggressive performance as Neelambari, in the last and only other joint venture with Rajini, Padayappa, way back in 1999.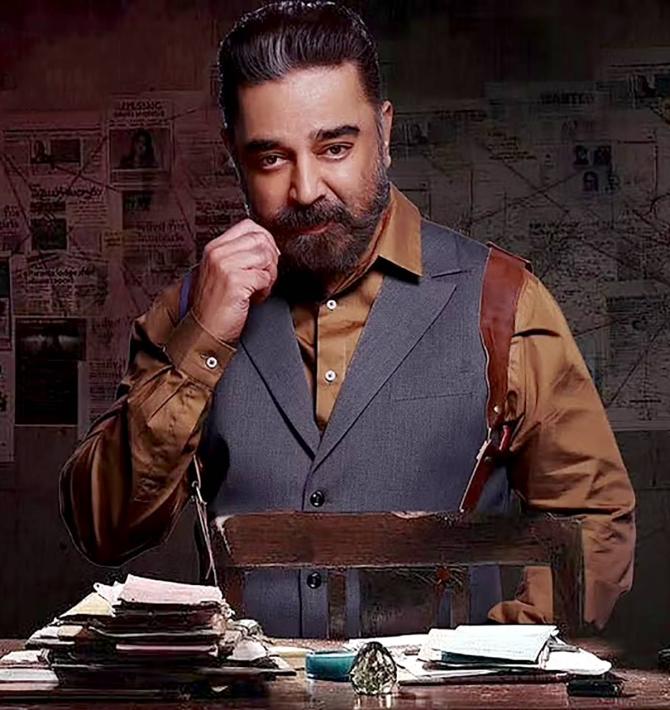 If Ramya Krishnan is one more wasted talent in Jailer, so are Shivraj Kumar, Malayalam superstar Mohanlal and Jackie Shroff from Bollywood, all doing cameo roles, which could have been handled by a second-grade actor, so to say.
From Tollywood, with an eye on a pan-India viewership and box-office collection, Jailer has Sunil.
A section of the Telugu film media has taken objection to his being used for cheap comic relief, much worse than the reigning Tamil film comedy star, Yogi Babu in the first half.
For the first time in Tamil cinema in recent times -- after Mani Ratnam's Roja(1992), Bombay (1995) and most of all that followed at regular intervals -- Kamal's Vikram generated the kind of reception across much of the country, becoming the first 'pan-Indian' film from Kollywood.
Possibly, the term 'pan-Indian' came to be known only with S S Rajamouli's multi-language Baahubali franchise a few years earlier.
Possibly, Team Kamal, including the star-actor and film-maker Lokesh Kanakaraj, did not have that vision for their film when made.
Hence, their product had only Tamil actors like Santhana Bharati and Elango Kumaravel doing those cameos, but doing more of it -- like wielding weapons more convincingly and dying of gunshot wounds, from the antagonist's group, yes, in the climax scene.
Malayalam actor Fahadh Faasil gave an impressive performance in a meaty role in Vikram, and thankfully, there is no comparable character in Jailer -- thank film-maker Nelson Dilip Kumar for it.
Likewise, Surya's cameo role Rolex in the last few screen minutes in Vikram was electrifying -- indicating that a sequel is on the cards.
In Jailer, the antagonist repeatedly says that there was a 'bigger gang' above him, and that they would not spare Rajini.
If that speaks of the open-end possibility of a second part, there is no other supporting element in Jailer.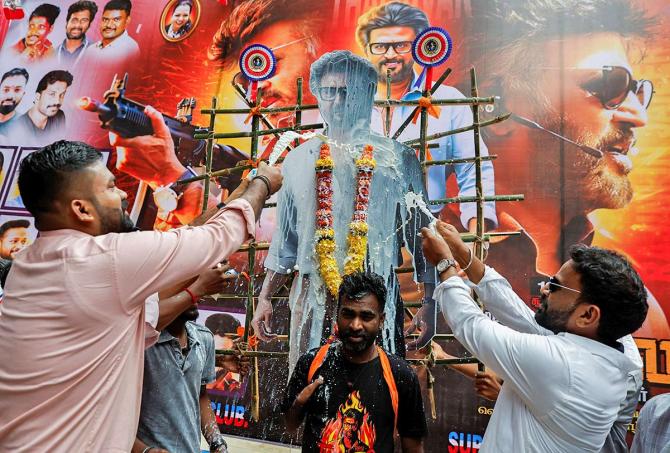 What is equally noticeable in both movies is the willingness with which both the ageing stars -- Kamal is 68 and Rajini, four years older at 72 with a kidney transplant that he has not shied away from acknowledging -- have learnt to respect their age and bodies.
The old agility and fire are not there, neither in the body, nor their deep-penetrating eyes.
Unlike their previous generation, with MGR and Sivaji Ganesan leading the flock, there is no off-screen attempt for the actors to look young on screen.
Hence, there is no prancing around trees, singing duets with lasses as old as their daughters, but then the heroes of those days were much younger than the present duo at the top.
Consciously, Rajini has also avoided all those famous punchlines that added heft to the film's narration and also to his own superstar image. 'Naan oru thadavai sonna nooru thadavai sonna maadhiri (If I say it once, it is as good as I have said it a hundred times)', his most famous one-liner from the all-time great Baashha (1995) is still repeated on-screen and off-screen by his fans and others.
The line gets a passing reference even in Jailer, but that is also where Rajini's one-liners have ended in his recent films.
In action scenes, thus, friends handling weapons has become a necessity, as the two cannot be seen as 'outsourcing' the traditional stunt scenes to other stars, like his friends in Rajini's Kabali and his son in Kaala.
The difference between all his other recent movies and Jailer is that the script supported it diligently without giving cause for fan complaints.
Thus, there are no fast-and-flashy fisticuffs of yesteryear Rajini in Jailer, for outsourcing.
The camera work and background score (Anirudh Ravichandran, as in Vikram) did the rest in in the commercial packaging, where Pa Ranjith and other film-makers failed the ubiquitous Rajini fans.
But not so, Nelson in Jailer.
The question did not arise in the case of Kamal, as Vikram was a first-time experience of the kind, so to say -- Lokesh's treatment of the script provided for that.
After all, he cannot be expected to do a repeat kind of the replayed and much-appreciated stunt scene in Viswaroopam (2013), after all.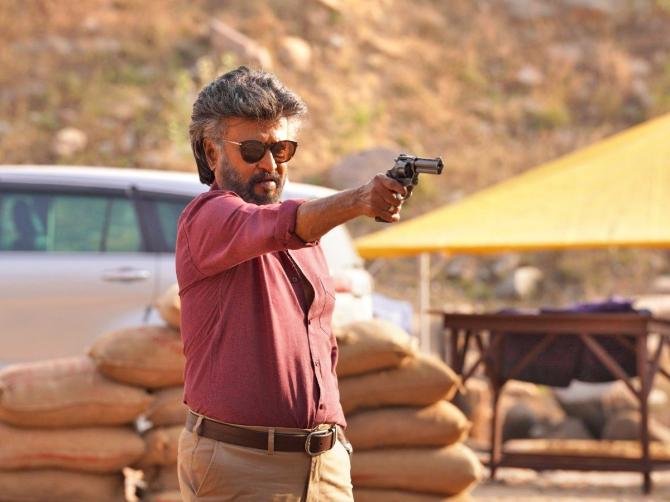 At the end of the day, on-screen, both films have a near-similar story-line, including all those characters.
It is pardonable, if one is required, as conventional wisdom says that there are only seven broad spectrum ways of story-telling and that the difference between one and the other and a third and fourth one, is the way they are packaged and presented.
Earlier, it used to be called 'screenplay'. It is 'treatment' now.
There is thus no resemblance on-screen between the two biggies unless you care to go deeper than dismiss them both as 'good entertainers' or 'mass movies', as the current Tamil lexicon has it.
Lokesh Kanagaraj created Vikram, and Kamal subjected himself to the diktats of the young film-maker, because he had given box-office hits like Kaithi (2019) and Master (2021) -- and Kamal could do with one.
Rajini could do with a box-office success more than Kamal and more than ever.
His recent outings, after 2.0 (2018) -- namely Petta (2019), Darbar (2020) and Annaathe (2021) == were at best moderate successes, and not certainly superstar material.
So were the films immediately prior to 2.0 of Shankar, one of the all-time great film-makers in Indian cinema.
Kabali (2016) and Kaala (2018), both with Pa Ranjith wielding the megaphone, were both heavy on social-messaging than super-star material.
Nelson has consciously packaged Jailer as a superstar movie, for the superstar's fans and audience the world over.
Truth be told, you don't see the Nelson of his first film Kolamavu Kokila (Nayanthara, 2018) and Doctor (Sivakarthikeyan, 2021).
In his first mega-budget Beast (2022) with Vijay, supposedly the highest-paid actor in Indian cinema, Nelson got caught in the identity crisis -- whether it was a director's film or star film
In Jailer, he has made the required corrections, readily conceding that it was Rajini's film for Rajini and Rajini fans.
It is reported to have grossed more than earlier Tamil films, and could be the reigning champion. And naturally so.
That is until possibly -- and only possibly -- Vijay's Leo (with Lokesh Kanagaraj) hits the screen later this year.
That may also be the real test for the film-maker, as he has had it easy with Kamal and the star's urbane audience, and will have to give a film for Vijay and Vijay fans.
N Sathiya Moorthy, veteran journalist and author, is a Chennai-based policy analyst & political commentator.
Feature Presentation: Aslam Hunani/Rediff.com