If you'd like to know more about Rajini the actor, Saisuresh Sivaswamy offers a wide selection.
Everybody knows Rajinikanth's fabled rise from the bottom of the rung to superstardom.
And even if you don't know Tamil, the titles of his films are legend. Kaala, Lingaa, Sivaji, Endhiran... They roll off tongues from Kanyakumari to Kashmir, Kurseong to Kutch.
What is lesser known, perhaps, are Rajini's early films, the baby steps he took before becoming the legend he is today.
Long before the superstar turned 70, there was the struggler who made his debut as an extra in Apoorva Raagangal (1975), but in between he also played the villain and the normal hero. And, of course, the character artiste.
Hard to believe?
In fact, the acting prowess he brought to screen early on rivals that of his contemporary Kamal Haasan; luckily for the latter, Rajini chose to bury the actor within at the altar of commercial success. Else the course of Tamil cinema, and politics, may well be different.
I was fortunate to see some of Rajinikanth's early films and marvelled at his performances.
Today, how much ever I enjoy seeing the superstar on screen, a corner of me longs for the artiste hiding there somewhere.
If you'd like to know more about Rajini the actor, here's a highly subjective selection.
Moondru Mudichu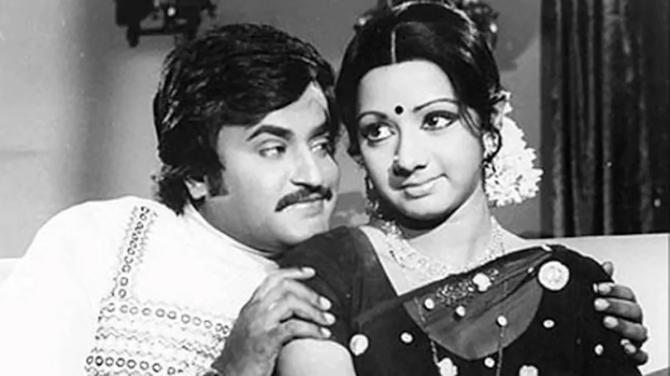 After casting Shivajirao Gaekwad in a bit, but significant, role in Apoorva Raagangal, Director K Balachander did the unthinkable in his next film, casting Kamal and him together in a love triangle involving Sridevi.
Rajini plays the negative role in the film, something he would go on to excel in before crossing the aisle as hero.
In his very second film, Rajinikanth showed that 'A' stood not only for acting, but also for attitude.
The bonus: M S Viswanathan's trademark music. The haunting song Vasanthakaala Nadhigaliley is a standout.
Avargal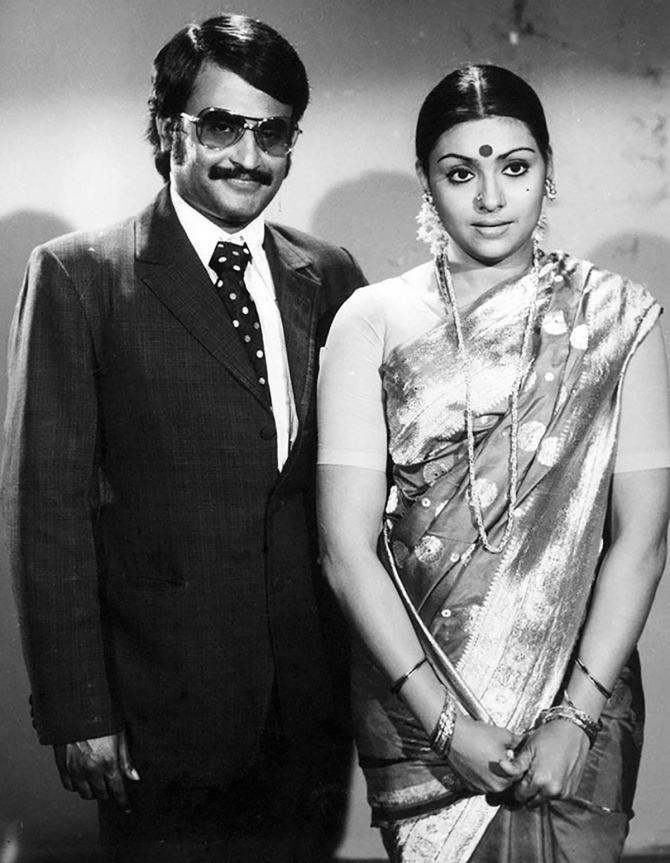 K Balachander kills it in this film, the story of a woman facing three choices in men.
His films have always portrayed women in a strong role, not the song and dance wonders you see today, and Avargal ranks right up there in striking a blow for women.
Despite having Kamal Haasan and Rajinikanth in pivotal roles, the latter with more than adequate shades of grey, it is the incomparable Sujatha who owns the character and the film.
Kamal as the silent lover, with his ventriloquist's toy through which he expresses his feelings, Rajini as the abusive turned contrite ex-husband, excel too.
And the songs under the baton of maestro MSV, situational and not forced, are memorable.
Kaatrukkenna Veli (Why does the wind need a fence?), sung by S Janaki -- has there been a stronger voice from mainstream cinema for women's rights?
Bhuvana Oru Kelvikkuri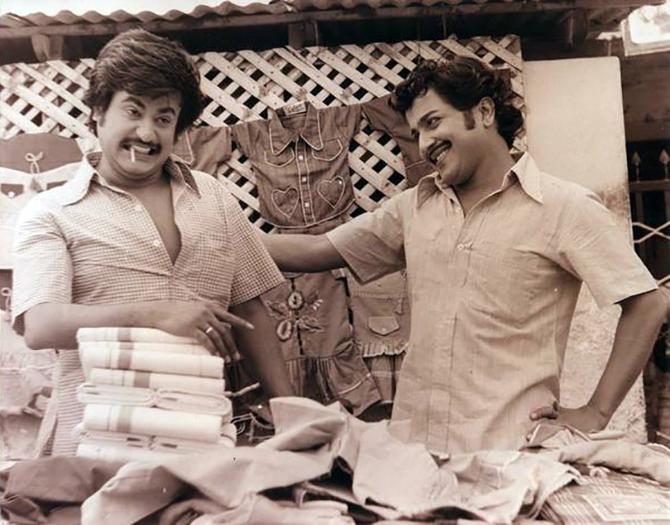 I think the first collaboration between Director S P Muthuraman and Rajini, this is the story of two friends.
One a playboy, the other righteous.
Sivakumar (actor Suriya's father, for those born after 2000) plays the former, and Rajini the latter.
When he finds that Sumithra has been seduced by his friend and abandoned, Rajni steps in to salvage her life.
Rajini drops his hither-to negative portrayals, mutes his mannerisms and dialogue delivery to present a sober, sensitive character, and wins hearts.
Sivakumar, who has only played positive roles so far, plays his first negative role. Ilayaraja produces some great tunes, and the song Raaja enbaar (They will call you a king) stands out.
16 Vayathiniley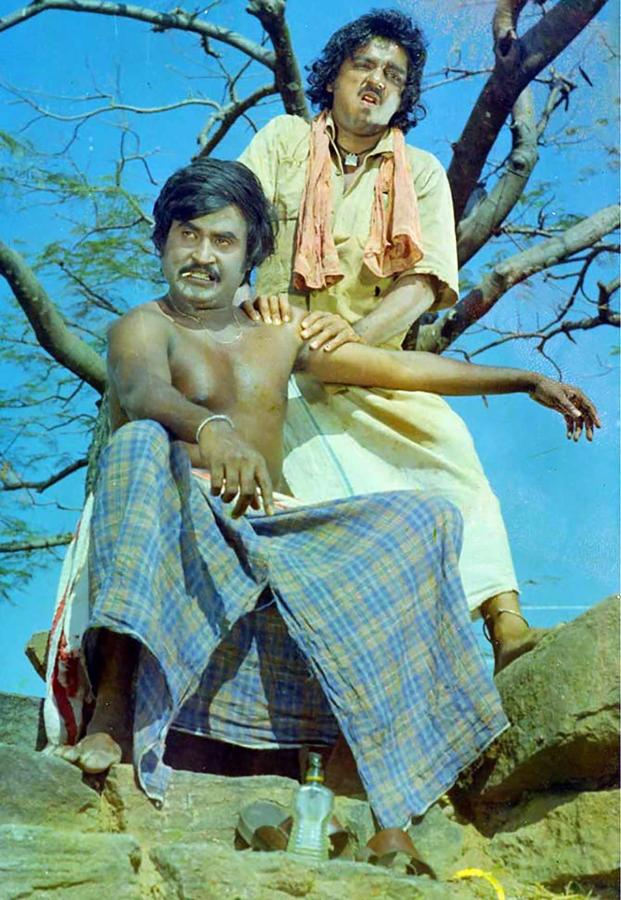 Probably the first colour film in this ranking.
While directors like Balachander chose to tell their stories in B&W, there was also the cost consideration of shooting in imported colour film that forced many to prefer B&W.
This was director Bharathiraja's first film, and what a debut it was!
Among the early Tamil films to move out of the studio environment and into the countryside, 16 Vayathiniley was the story of the village lass Mayilu, played by Sridevi, who turns 16 and begins attracting the male eye.
Kamal Haasan plays the lame Chappani in love with her but she doesn't consider him at par.
It was also the first time that the pretty Kamal disfigured himself for a role, something he would become famous for later on his career.
Also in the lineup is the by now established Rajinikanth, playing the village rowdy Parattai, whose line 'Idhu eppadi irukku (How's this?)' remains as green as Sholay's dialogues.
Rajini proves yet again that he and Kamal will remain the yin and yang of Tamil cinema for years to come.
Ilayaraja swept the awards with his countryside lilt, each and every song remaining hummable today.
Aadu Puli Aattam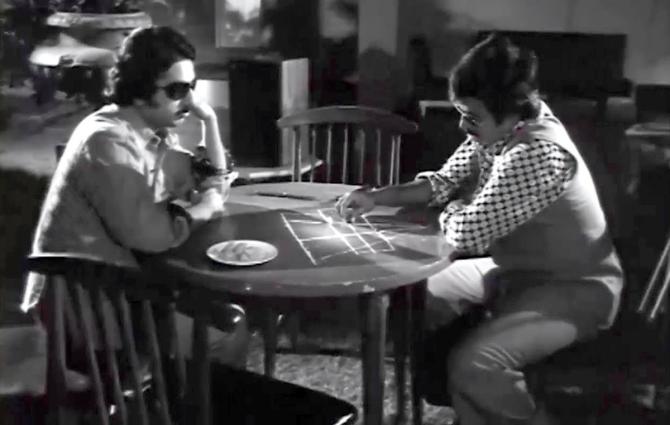 The title of S P Muthuraman's B&W film refers to Tamil Nadu's board game involving the tiger and a lamb.
Obviously, it is the hunt, which is what happens between Kamal Haasan and Rajinikanth, two buddies who are part of a criminal gang. Circumstances force Kamal to cross over to the police force, his original dream, and hunt his friend turned foe.
Rajinikanth plays Rajini, and his oft-repeated catchphrase, 'Idhudaan Rajini style (This is Rajini style)' has stayed with him.
Shankar Salim Simon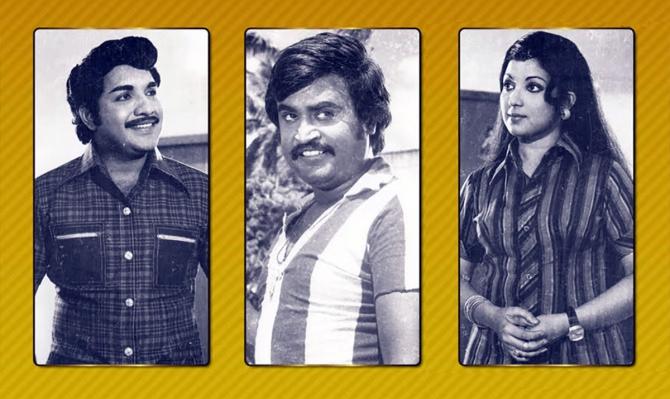 The title is inspired by the Hindi mega hit Amar Akbar Antony, but there the similarity ends.
Rajini (Simon), Shankar (Vijayakumar) and Jaiganesh (Saleem) play the three titular characters, there is an inter-religious marriage (so the film won't find a release in UP today), even a woman walking out of her marriage for love.
Vijayakumar was a bigger star than Rajini at the time, and in the 1995 blockbuster Baasha plays Rajini's father -- testifying to the superstar's longevity.
Ilamai Oonjalaadugiradhu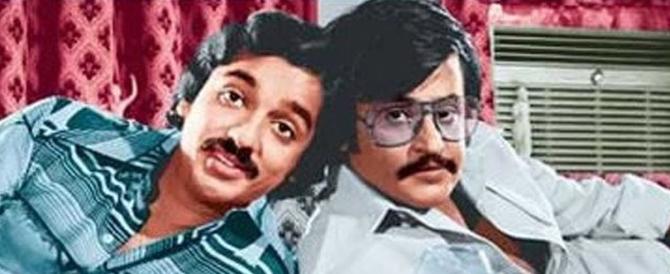 Another love triangle featuring Kamal Haasan and Rajinikanth, with actress Sripriya being the focus of both their affections.
The pendulum swings both their ways, as is bound to happen, there are mistakes galore, before all is forgiven and everyone goes home happy.
This was among the first metro-focused, youth-centric romances, and despite plot holes went on to become a huge hit.
Ilayaraja's soundtrack helped, too, the song Ennadi Meenakshi? topping the charts for weeks.
Mullum Malarum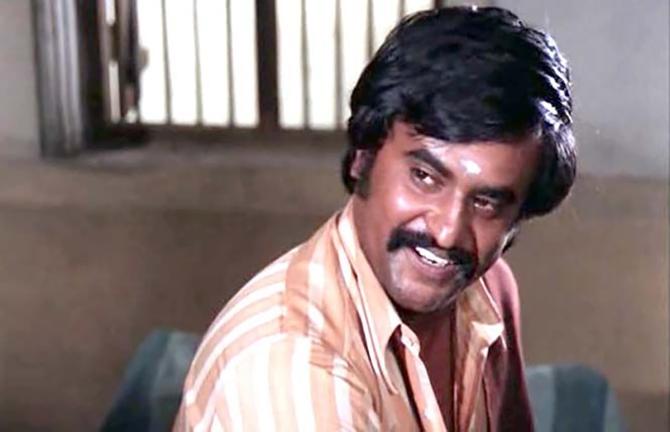 Perhaps Rajini's finest portrayal ever, the film was the directorial debut of screenplay writer J Mahendran who wanted to make a Tamil film sans all the melodrama.
Rajini plays the orphan Kali, while actress Shobha plays his sister Valli, the two close as peas in a pod.
A winch operator, local rowdy Kali falls foul of the new babu in town, played by Sarath Babu.
As fate would have it, Valli falls in love with him, overcomes his brother's opposition to go with him (does she?).
Everything about the film was top-notch: The performances, the screenplay, cinematography (Balu Mahendra's first in Tamil), the music (by Ilayaraja), and a smouldering yet sensitive turn by Rajinikanth.
Still, the film went against audience expectations and saw a tepid response, before word of mouth and positive reviews salvaged it at the box office.
Ninaithaaley Inikkum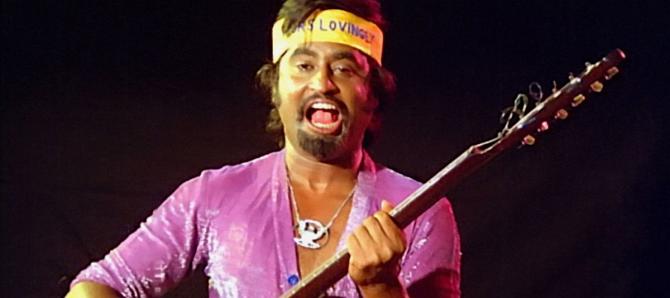 Director K Balachander now decides to go colour and do a youth-centric film, about a music band no less.
With proteges Kamal Haasan and Rajinikanth able and willing, the film traces the band as they travel to Singapore for performances and their romantic entanglements not all of which ends well.
Since the plot revolves around the troupe, veteran M S Viswanathan sets out to prove a point with the songs, even belting out the chart-topper Sambo, Sivasambo, pictured on Rajinikanth.
Sweet memories are made of these, yes.
Aarilirindhu Arubadhu Varai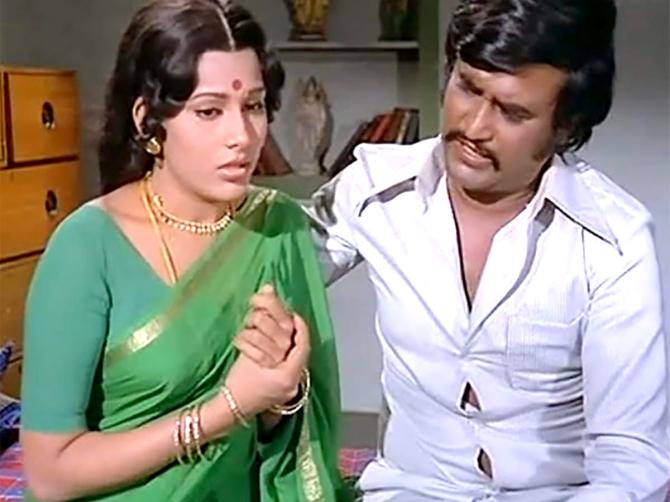 If you saw the Hindi film Baghban (2003), then this is the Tamil version -- but made almost 25 years earlier.
Rajini plays the eldest son who at an early age is tasked with bringing up his siblings.
Against all odds he puts them through school and college, and realises that when they become successful they mock his poverty and have no use for him.
In his old age (Rajini's character goes from six to 60, as the title says) he turns a writer, becomes successful and finds his siblings gravitating back to him.
The film ends with the old Rajini in his easy chair, staring at his deceased wife's photograph with a wry smile at life's lessons.
Nettrikkan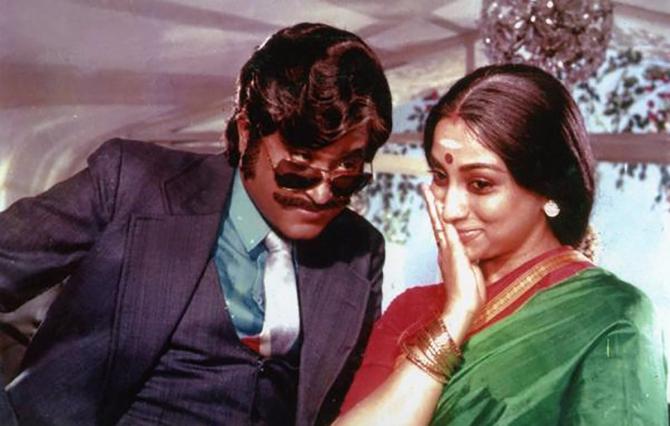 This was Rajinikanth's first double role, and aptly so in mentor Balachander's home production.
He plays the father and son, nothing new about that.
What was new, however, was that the father is a sex addict, who the righteous son hopes to correct. Actress Saritha plays a girl seduced by the father who teams up with the son to set him right.
As the audiences were getting used to Rajini playing positive characters, he reminds them with the senior role that he is more at home playing negative roles.
And what a blast he has!
Thappu Thaalangal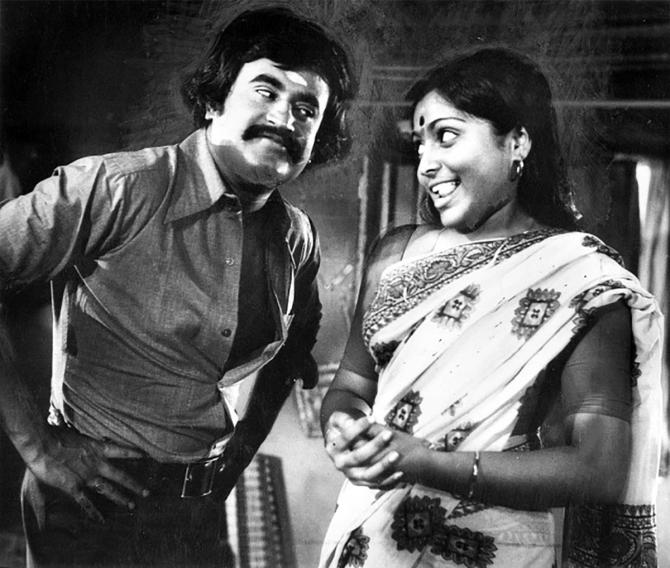 I began the list with Balachander's film and it is only right to end the list with his film as well; after all, without him keeping the faith, where would Rajinikanth be!
Rajini plays the local goonda who runs into the local prostitute, brilliantly essayed by Saritha. As love blossoms, they decide to give up their past ways and turn over a new leaf.
But the past, they realise, doesn't let go all that easily.
The ones who Rajini once terrorised now return to terrorise him; and Saritha's former clients don't let her forget her past either.
Things take a grim turn, and the couple realise that society will never let them lead a normal life.
Of the songs, Ennada, polladha vaazhkai> is a standout in this B&W film.