'Irrfan transcended celluloid and gave us a taste of his humility and humanity,' observes Sukanya Verma.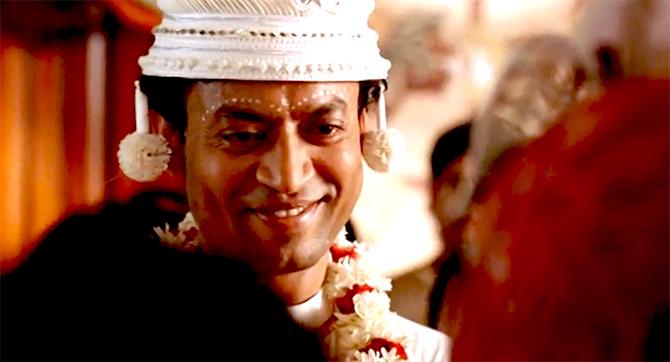 In my profession, we are continuously celebrating cinema, writing doting details, harsh truths too and sharing all kinds of wonderful trivia. But nothing makes our fingers tremble like when writing a tribute piece about a dear, departed artist.
Today when I typed late actor in Irrfan's context, I felt an indescribable pain engulf me.
I felt lousy.
I felt like a liar.
How can it be?
How can someone so gentle and gifted be no more?
He hadn't been in the pinkest of health for a while now, but I was still hopeful he would make it.
Irrfan's warm smile lighting up the final scene of Angrezi Medium is still fresh in my mind.
It's the last movie I watched on the big screen before coronavirus forced us into an indoor existence.
Now when I see the same smile, it looks like that of a man who has made his peace, a man bidding goodbye.
It is this intrinsic perceptivity and wisdom in Irrfan's disposition that made him ideal for thoughtful parts high on philosophical, prescient eloquence.
Be it as Pi Patel ('I suppose in the end, the whole of life becomes an act of letting go, but what always hurts the most is not taking a moment to say goodbye'), Ashoke Ganguli ('Remember that you and I made the journey and went together to a place where there was nowhere left to go') or Roohdar ('Darya bhi main, darakht bhi main. Jhelum bhi main, chinar bhi main. Dair bhi hoon, haram bhi hoon. Shia bhi hoon, Sunni bhi hoon, main hoon pandit. Main tha, main hoon aur main hi rahoonga').
When he spoke, words automatically acquired heft.
Many an undeserving, ordinarily written role and dialogues are indebted to his oratory finesse, a perennial contender for 'rose above the script'.
Even Sanjay Leela Bhansali couldn't resist its splendour and roped him in to do a voiceover for Bajirao Mastani.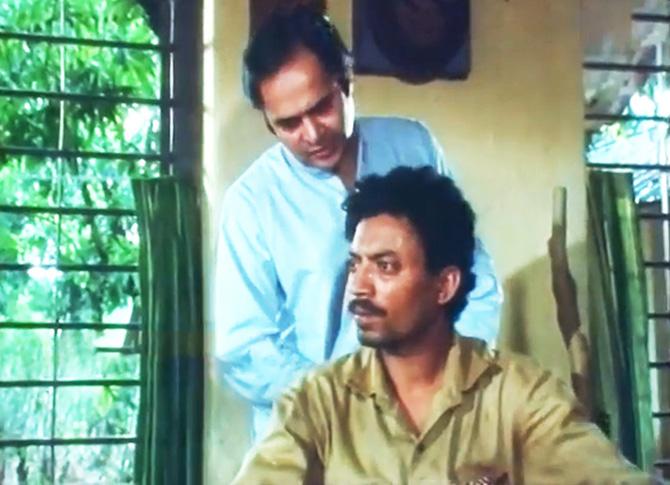 I don't have a specific first memory of Irrfan.
Was it an adaptation of Anton Chekov's short story on existentialism in Katha Sagar?
Was it sharing frame with another favourite Farooque Shaikh in Shrikant?
Was it as Rituraj's stern looking father in Banegi Apni Baat?
Was it one of the heavily costumed twins in Chandrakanta?
I simply remember seeing him all along and growing bigger in stature.
Like walking towards the sun, the closer you get the bigger and brighter he seems.
While the 1980s and 1990s were characterised by minor roles or small screen presence, its post millennium Irrfan, the world sat up and took notice of.
Although he had appeared briefly in Mira Nair's Salaam Bombay and as Dimple Kapadia's romantic fling in Govind Nihalani's Drishti, it was only after Asif Kapadia's The Warrior, Tigmanshu Dhulia's Haasil and Vishal Bhardwaj's Maqbool, where he played the titular role, that the audience would discover the mesmerising charisma of Irrfan.
The scrawny, awkward young man had blossomed into a confident, poised presence.
Irrfan's thairav became his instrument and composed his characters accordingly... every character like a song carried its own rhythm and metre.
His control over his art without making it look like a big deal lend him lasting credibility and coloured some of the strangest scenes with irresistible grace.
In Mira Nair's short segment of New York, I Love You, he plays a Jain diamond dealer engaged in a charming culture conversation with Natalie Portman's Hasidic broker.
At the end of which, he proceeds to embrace her, kiss her bald head and whisper, 'While we are waiting for the messiah, while we are waiting for the Mahavir, your eyes will suffice to give tired men hope.'
Only Irrfan could make moments out of such quaintness.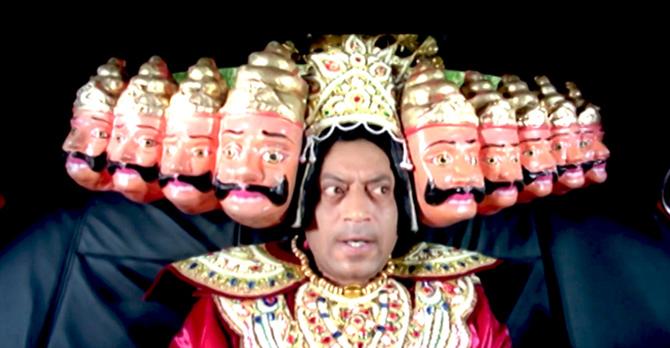 In a oeuvre filled with one career best act after another, including big-ticket international fare like The Amazing Spider Man and Jurassic Park, it Is his quiet portrayal as Saajan Fernandes in Ritesh Batra's The Lunchbox that affected me the most.
On rare -- extremely rare -- occasions, the screen that separates us (viewers) from them (actors playing characters) momentarily vanishes.
'During one such surreal moment of accessibility, I reached out to Saajan Fernandes and gave him a hug. The part where he acknowledges, "I don't know when I became old." It wasn't out of pity, but the inevitability of his straightforward words, the degree of loneliness it conveyed to 'Dear Ila' that hurt me more than I was prepared for and because Saajan's soul belongs to Irrfan -- a marvellously perceptive, pure and precise Irrfan,' is how I explained it in my list of best performances that year.
I don't know when Irrfan became old either.
He began doing aged parts right from his 20s. Yet numbers or nationality never became his identity.
Rather it was the lyrical fervour of his big brown eyes and beatific smile that highlighted his uniqueness.
I noticed their impact in the best of movies and the worst of movies.
I enjoyed his enthusiasm for playing along.
I loved his willingness to work for untried talent.
I enjoyed his range under everyone from Shyam Benegal to Danny Boyle to Rohit Shetty.
I adored his unassuming, cool attitude towards worldwide fame and recognition.
I marvelled at his ability to stay unpredictable.
He could be the most mysterious man in the room.
He could be the simplest too.
I was awe struck by his versatility every time he made me cry or laugh with him.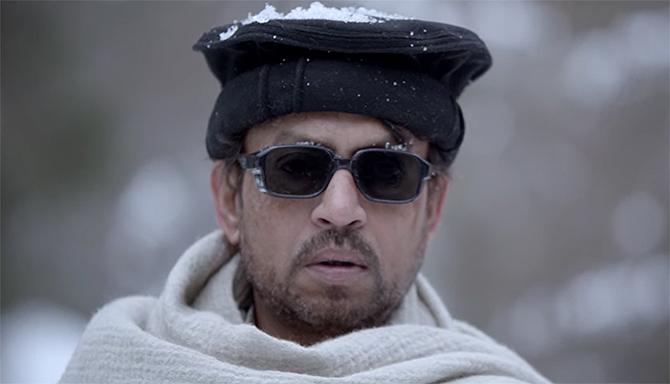 It is extraordinary how well he alternated between serious and fun.
Irrfan wore wit like second skin.
The drier the humour, the more deliciously it landed.
That scene in Talvar where his colleague gets carried away reciting a folk song until Irrfan jokingly rebukes him, 'Arre Basuji, kahin A R Rahman aapko humse cheen ke na le jaaye dhyan rakhiyega!'
Or that hilarious quip from Piku, 'Sab cheezein Bengali ka copyright nahi hai.'
I have a soft spot for Piku.
I loved the film wholeheartedly and wrote a glowing review in the form of an open letter.
A lot of people read it and appreciated its candour.
Irrfan did too.
As did his significant other, Sutapa Sikdar.
They made it a point to let me know.
It felt nice coming from someone I admire and respect for their creativity.
It is easy to adore somebody in this industry but respect is hard to earn.
Irrfan had tons of it and our love.
The outpour of affection coming from every single direction -- ever since the news of his demise -- people he knew, people he didn't, is a testament to his significance.
Irrfan transcended celluloid and gave us a taste of his humility and humanity.
A powerhouse, an ustaad, a yaar, a romantic, a cricket aficionado, he left me speechless with his artistry.
He has left me speechless again.