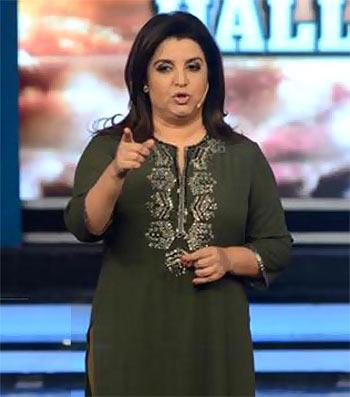 'She's chatty, accessible and gregarious but doesn't exude the command and charisma required to attract the viewer's attention or contestant's anxiety'

Sukanya Verma on why she is unimpressed with the Happy New Year director's hosting stint on Bigg Boss Halla Bol.
What's a Bigg Boss season without sizzle, scandal and speculation?
This one too, in its eight edition now, witnessed plenty of action, romance and drama from the housemates trying every trick in the book to oust one another for prize and TRPs.
Always though, it's the summary of the episodes and Salman Khan's alternately grilling and ragging session during the weekend that made for the most fun.
Hosting the reality television show since season 4, the Dabangg hero proved to be its most successful star anchor with his spontaneous, aweless display.
If he would berate a contestant for his/her misdemeanour, he'd also share his own misadventures without a tinge of embarrassment.

If he would rib a contestant incessantly, he'd also appreciate their ability to take a joke and strongly express his disappointment if otherwise.
There were times when the viewer found his rebuke misplaced and extreme triggering a spate of #unfairSalman hashtags or angry open letters but even the ones constantly on Bhai's receiving end could hardly refute this show is right up his street.
But a month's extension for Bigg Boss changed it all.

Salman's dates were already reserved for Kabir Khan's Bhaijaan Bajrangi and he had no option but to bow out of presenting the spin off, Halla Bol wherein five challengers from previous seasons take on the final five champions of the current one.
Now, earlier this year, we had suggested filmmaker Farah Khan as one of the potential contenders to step in Salman's shoes.

Blunt and witty, the Happy New Year director felt like a good fit for the part. But so far, so meh.
It was never going to be an easy task. To begin with, the premise itself is so unfair.

Why should housemates have to compete with a fresh batch of contestants after a long, arduous journey in a confined space?
There's no doubt about Farah's dedication to Bigg Boss as a fan and dedicated follower of the show.

But Salman's left too much of an aura to decline this easily. Farah's chatty, accessible and gregarious but doesn't exude the command and charisma required to attract the viewer's attention or contestant's anxiety.
No amount of changing into those funky colourful glasses can render Farah intimidating.

We have thought she'd be level-headed and balanced as opposed to mercurial stars and lay her point of view with logic and humour.

No such luck.
With barely a month's hosting to do; it calls for something truly substantial to become noteworthy.

And rechristening Gautam 'Gullu' or playing mute spectator as Ajaz, Sambhavna, Ali, Dimpy, Karishma loudly quarrel certainly doesn't accomplish that.
Last weekend, however, proved to be the greatest dampener.
Karishma Tanna getting hammered by the host is nothing new.

All through season 8, her low IQ, make-up obsession, selfish behaviour and refusal to accept her mistakes didn't get any love from Salman.

And now her romantic rendezvous with Upen Patel is fodder for hot gossip in Halla Bol.
Especially since it led to slamming challenger Rahul Mahajan during a task for trying to woo her and pass loose comments in front of his estranged wife Dimpy.

Dimpy sobbed to all and sundry about the same but when Karishma took his case about it, she did a complete volte-face.
I felt disappointed when Farah singled out Karishma for the blame, completely ignoring Dimpy's deviousness and backbiting while painting Rahul into some sort of a saint.

Clearly, Farah's decision lacked conviction prompting her to explain it with a 'I don't know Rahul personally' stance.
This is one time Farah could have shown she's different from Salman who but took offence when Kushal Tandon made disparaging remarks about Tanishaa but shrugged off Ali's loose talk about Sonali as a guy thing.
What's even more disturbing is her punishment for Karishma -- to stay handcuffed with Rahul for an entire day -- even as she joked, "Lottery lagi hai lottery, Rahul." Just because Karishma is comfortable with Upen's physical closeness doesn't entitle every man to the same privilege.
Had Farah told off Karishma for the excessively aggressive tone but also taken Rahul and Dimpy to task for their never-ending marital tamasha, I'd be only too happy to applaud.
But if famous, feisty, no-nonsense women who are in the position to be heard and make a difference endorse such discriminating view, what better are we to expect?
Guess what then, Farah?

The boss is not always right.