'It is very close to Puma's deal with Kohli in terms of yearly sponsorship.'
'Sindhu will get Rs 40 crore as sponsorship while the rest will be for equipment.'
T E Narasimhan reports.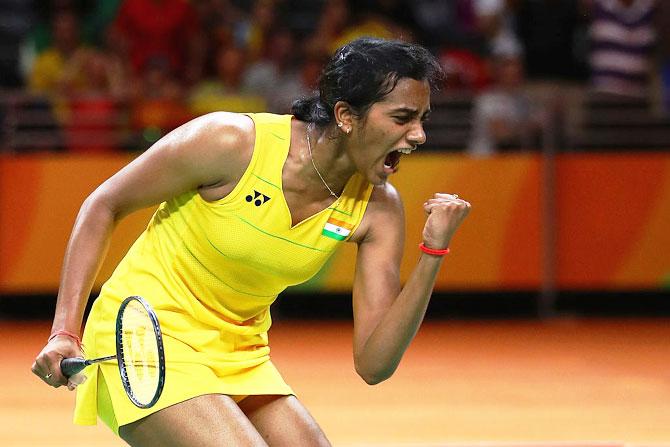 It has taken the Chinese sports brand a long time to train its sights on India.
Named after the country's first Olympic medallist (gymnastics) Li Ning, the company tapped into American and European markets more than a decade ago, leaving India largely out of its portfolio, until recently.
But having finally done that, the brand is now looking for a big splash, signing two big endorsement deals in the span of a few months -- P V Sindhu last week for Rs 50 crore and Kidambi Srikanth before that for Rs 35 crore.
Also in its fold are doubles duo Manu Attri and B Sumeeth (Rs 4 crore each for two years) and Parupalli Kashyap (Rs 8 crore for two years).
Badminton, the company says, is a good fit given that it makes racquets and also because of the strong Chinese connection with the sport.
It is also a relatively inexpensive entry into sports endorsements.
Cricket is a far more expensive opportunity, for instance, in 2017 it was reported that sports brand Puma signed Virat Kohli for Rs 100 crore for eight years.
However Li Ning has a tough climb ahead.
For one, it has had a rough tumble in global markets where it struggled with its positioning -- wavering between the image of being a knock-off and a credible rival to brands such as Nike and Adidas.
Last year, the brand launched a line of premium sportswear and gear, which could push it on to a different positioning track altogether.
So what will it do in India? And can badminton deliver the appeal it seeks?
"Our USP will be affordability and quality," says Mahender Kapoor, director, Sunlight Sports, Li Ning's distribution partner in India.
The brand wants to be an affordable contender to not just the global brands, but also to local labels that comprise nearly 50% of the market.
Nearly 30% to 40% of Li Ning products will be made in India, which Kapoor says, will bestow significant cost advantages.
Harish Bijoor, founder, Bijoor Consults, says Li Ning has recognised that P V Sindhu is the next big name and the move to sign her on is clutter breaking.
It will help counter any negative connotation that the market may have about Chinese brands.
The company plans to open 200 to 250 stores across the country, of which around 30 to 40 would be owned stores and the rest would be via franchisees.
E-commerce is also expected to play a big part in the sales strategy for the country.
Li Ning had Sindhu as ambassador for 2014-2015 (Rs 1.25 crore a year) but she switched to competing brand Yonex with a Rs 3.5 crore deal.
Li Ning has won her back with a Rs 50 crore whopper.
"It is very close to Puma's deal with Kohli in terms of yearly sponsorship. Sindhu will get Rs 40 crore as sponsorship while the rest will be for equipment," Kapoor said.
Sindhu was ranked 15 in the top 100 celebrity endorsers list for 2018 by Duff and Phelps.
Srikanth's deal is worth Rs 35 crore over four years.
The endorsement deals are part of the company's Rs 600 crore investment plan for India.
It expects to turn in a revenue of nearly Rs 1,000 crore from this market over the next 4 or 5 years, Kapoor reveals.
He is confident the badminton will give the brand the visibility it needs in India, which is still not as big a market for sports equipment as other Asian markets such as China, Japan, Korea etc.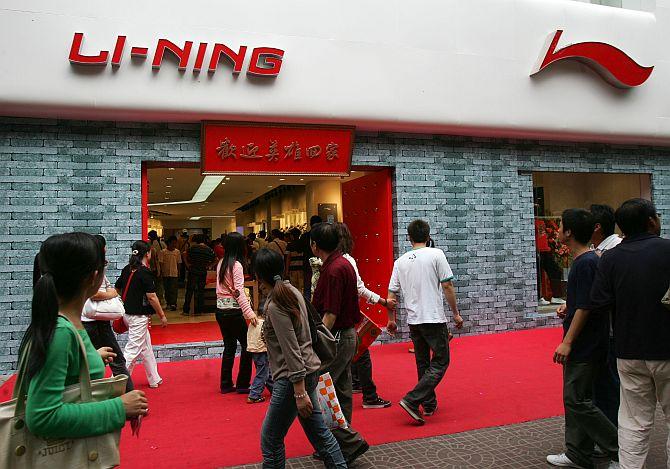 However the market is growing rapidly and Li Ning estimates the market for footwear and equipment to be close to $2 billion and expects it to double in the next 3 to 4 years.
The company plans to introduce shoes for running, walking and other sports and apparels and will cater to middle and premium markets.
Currently badminton equipment accounts for around 90% of its sales in India and it claims, a 15% share of the market.
As other products are launched, the share of badminton will come down to 15% to 20% in its portfolio, the company says.