The third highest paid endorser after Virat Kohli and MS Dhoni, Sindhu is the highest paid among woman athletes and non-cricket sportspersons in the country, says Urvi Malvania.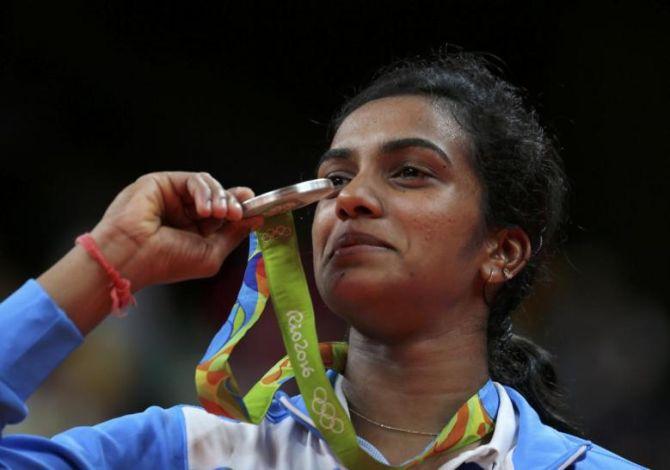 From one brand to 11 and a three-fold increase in endorsement fees, P V Sindhu's rise through the brand tables in the year since her win at the Rio Olympics has been meteoric.
Today, she is the third highest paid endorser after Virat Kohli and MS Dhoni, and the highest paid among woman athletes and non-cricket sportspersons in the country.
Industry estimates peg Sindhu's annual brand fees at anything between Rs 2.5 and 3 crore.
The per-day remuneration for endorsements would be close to Rs 75 lakh, per brand.
She stands behind Virat Kohli (Rs 12-15 crore) and M S Dhoni (Rs 8-10 crore) and is ahead of established cricketers such as Rohit Sharma and Suresh Raina and well above the mark set for non-cricket sports endorsers.
"Today, Sindhu is in the top three. She's had a good run on the court and brands have recognised her controlled aggression during the games as a valuable quality.
"Sindhu is positioned as a player with grit, determination and doggedness. These are the qualities we, as marketers, position her around.
"Moreover, brands are now aware she is no longer playing for 'a medal', but is playing for 'the gold' having reached the final four in most of the tournaments," says Ramakrishnan R, co-founder and director at Baseline Ventures, the agency that manages Sindhu's brand endorsements.
She is one of the most sought after celebrity endorsers today, transcending age, gender and geographies, according to many.
And she has steadily built her portfolio of brands to 11, including names like Nokia, Bank of Baroda and, most recently, Bridgestone.
In fact a true glimpse of her popularity came, ironically, after a match she lost last week to Japan's Nozomi Okuhara at the World Badminton Championships when social media overflowed with emotional responses from fans to celebrities and political leaders.
Sindhu's silver at the Olympics last year and her performance in consequent series has ensured that she remains in the viewers'/consumers' psyche, helped immensely by the chatter created on social media.
What it has done is made her a household name, and present her as a viable option to the hugely expensive cricket and Bollywood stars.
Sindhu also transcends the gender barriers when it comes to endorsements because brands do not seek her out for her appeal to women or to promote products believed to appeal to women only.
Bank of Baroda (BoB) that has Kidambi Srikanth and P V Sindhu as endorsers says that they were drawn to them because they fit into the bank's three core values.
The bank is particularly pleased that it spotted the talent early on.
"We signed the two because they fit our bank's values of care, concern and competence," says Rakesh Bhatia, general manager, head marketing, Bank of Baroda.
And given Sindhu's tremendous run since the deal with BoB, the bank has moved around the world with the players.
"Our tagline 'India's international bank' went perfectly with the kind of international exposure brought to the bank by the matches that Sindhu and Srikanth compete in.
"You cannot put a figure on the monetisation of that kind of visibility," adds Bhatia.
Still, the money that brands are willing to put down on the table for Sindhu rivals the best in the field.
"It's actually a very unique place that Sindhu is in when it comes to fees. So yes, her fees have tripled since the Olympics. But what's more commendable is that today, she is charging almost as much as some of the Bollywood actors.
The issue is, if they (her managers) increase the fees beyond this right now, brands may as well opt for a Bollywood celebrity.
However, if her performance continues as such, she definitely has headroom to increase (the fees)," says a brand manager.
The only negative here is that Sindhu cannot commit as many days as actors usually do, to the brands.
Apart from the big brands, Sindhu has also signed on the dotted line with a number of online fashion labels and nutrition drinks.
She has signed on two brands recently, one of them being an FMCG brand, but these associations are yet to be announced.
While she seems to be ruling the endorsement game among her peers, brand experts believe there are challenges ahead.
For one, playing a non-cricket sport reduces visibility which in turn affects brand value.
"Also, while she is still young, badminton players tend to have a shorter career. Sania (Mirza) is still playing past 30 (age), while Saina who's 27, is considered a veteran. The active years for badminton players are much less. Also, while badminton is more mass in its appeal, it has fewer tent-pole events," says Indranil Das, COO and partner at CAA KWAN, a sports marketing and celebrity management firm.
Sindhu's managers at Baseline say they are aware of these challenges. The solution is going slow and choosing carefully.
"We don't want (her) to endorse in cluttered categories or reach a point where she is over-exposed as a brand. That will not do any good for her or the brands. So from here on, it may not be a blaze of signings, but we'll be sure to look for opportunities where the brand fits and both can do justice to each other," Ramakrishnan says.
Photograph: Marcelo del Pozo/Reuters.