Analysts said even though the Indian economy is expected to slow down to 7.2 per cent in fiscal 2020, it is still the best bet for investment for foreign investors.
Illustration: Uttam Ghosh/Rediff.com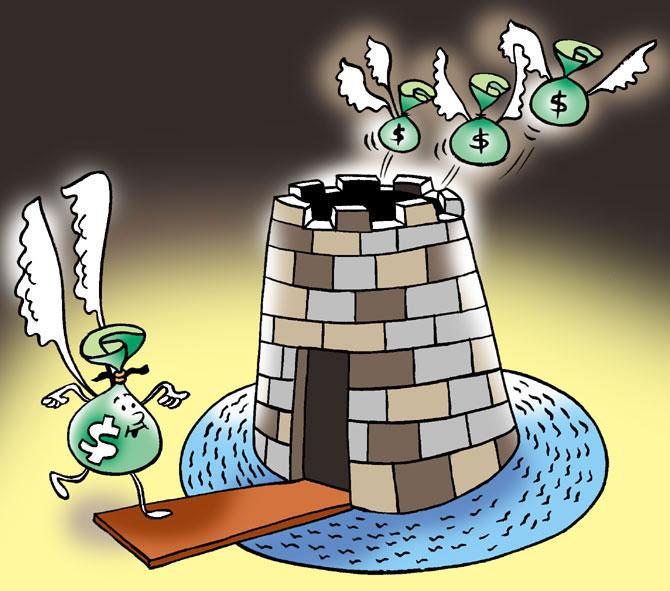 It's raining foreign exchange in the Indian economy with foreign players investing heavily in the debt and equity instruments of home-grown firms.
Statistics collated by Business Standard suggest that $18.5 billion would make its way through these deals in the next few months.
These will follow robust foreign portfolio investor (FPI) interest seen in the fourth quarter of 2018-19.
FPIs have brought in net investments of $7.3 billion through debt and equity instruments in the first quarter of calendar 2019, against $2.3 billion raised in the same period of 2018.
Bankers said the good news was that more such investments were planned by companies which would give a boost to the Indian currency and bring forex to the country's kitty.
Topping the list is ArcelorMittal's Rs 42,000-crore upfront payment to banks to take over Essar Steel.
The funds are not in yet due to litigation but, bankers said, the insolvency resolution process is going in the right direction.
Reliance Industries, the country's largest private sector firm, is also tapping the overseas markets to raise $1.5 billion by May.
Mining and metal giant Vedanta raised a billion dollars to retire its old loans. JSW Steel has raised $500 million last week to retire old loans and use the funds to acquire Bhushan Power and Steel.
"The capex cycle is few months away," said Parthasarathi Mukherjee, managing director and chief executive, Lakshmi Vilas Bank.
Bankers said the rights issues by Vodafone Idea and Bharti Airtel would see significant investments coming in from overseas by the existing promoters.
Vodafone and the Birlas are expected to invest Rs 20,000 crore in the rights issue, which aims to raise Rs 25,000 crore from existing shareholders.
"We can expect another $3-billion investment into India from Vodafone and Birla due to this rights issue as many existing shareholders have decided not to participate as they incurred huge losses due to recent share price fall," said an investment banker.
The Bharti Airtel rights issue will also see participation from its Singapore-based investor GIC of up to $700 million.
Among financial firms, the State Bank of India is planning to launch a qualified institutional placement of shares, which is expected to raise $3 billion, and the majority is expected from overseas investors.
The date has not been decided.
So, what is driving the optimism, that too at a time when the index of industrial production contracted for a second month in a row in February, and with manufacturing, consumer non-durables, capital goods, and infrastructure and construction goods growing slower?
Analysts said even though the Indian economy is expected to slow to 7.2 per cent in fiscal 2020, it is still the best bet for foreign investors.
"Despite the uncertainty over the elections, investors are quite sure that the next government will continue to be investor friendly and encourage foreign investment," said the head of a financial services firm.
In 2018, Naspers invested $1 billion in new age firms in India and plans to deploy more funds in the current year.
The private equities are the most bullish lot - acquiring office buildings and stakes in technology companies.