'What will this supposedly more business-friendly government do if it gets a second term?'
'Important labour law and land reforms remain off the table.'
'Witness the arm-twisting of foreign players in e-commerce and all but one player in telecom -- and it is very hard to justify this perception that the BJP is business friendly.'
'There will also remain the real risk of ideas seemingly gleaned from the pages of Amar Chitra Katha, overlaid with PowerPoint presentations,' predicts Rahul Jacob.
Illustration: Dominic Xavier/Rediff.com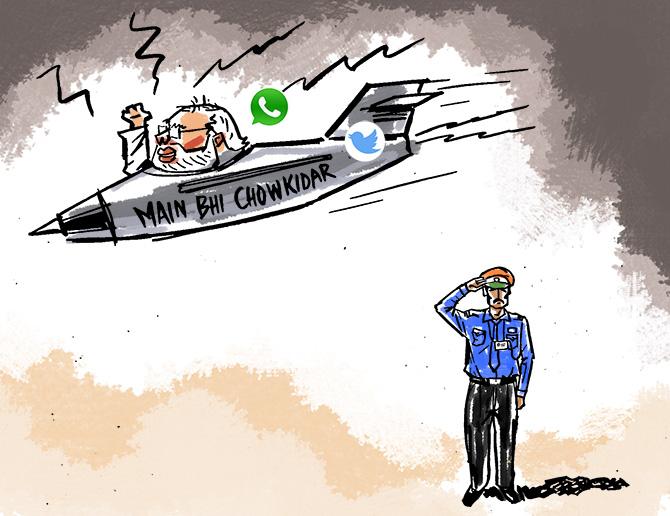 'There was lying on Facebook, Twitter and WhatsApp; there was lying on TV... doctored pictures were aired and shared, and real pictures were dismissed as doctored... On both sides (the lies) suggested a society that had slipped the bonds of rationality and fallen completely into the post-fact order.'
Farhad Manjoo, tech columnist for The New York Times on the coverage of the India-Pakistan conflict.
Given all the fake news proliferating in the world today from sources as varied as the Trump White House and the people who pushed for Brexit in Britain, it is worrying when a lead commentator on the digital zeitgeist singles out India and Pakistan as the global exemplar of how social apps infect the media.
What makes the subcontinent remarkable is that the fake news of WhatsApp forwards is enthusiastically taken up by so many of India (and Pakistan's) irresponsible TV anchors -- in this case calling for war as if watching a cricket match.
With the hotly disputed stealth strike of Balakot as messy prologue, the elections of 2019 are shaping up as arguably the most significant in India's history and paradoxically the most trivial.
The hashtag triumph of the prime minister's 'Main Bhi Chowkidar' campaign on Twitter over the equally silly Congress Chowkidar Chor Hai' sloganeering reads like a TV soap about politics.
The Bharatiya Janata Party spokesmen argue the prime minister's tweet is the beginning of a social movement -- and perhaps it is.
'With every Indian opposing corruption at every level, India's rise as an economic superpower is imminent,' Anil Baluni, a BJP MP, wrote in The Indian Express.
The irony is that over the past decade or so the huge rise in the number of security guards -- who are more visible today than any other segment of the Indian workforce in the nation's pampered capital and seem more ubiquitous than potholes -- is a reminder also of the country's inability to create productive, well-paying jobs in manufacturing.
The release of data that showed that 32 million casual labourers in rural areas lost their jobs between 2011-2012 and 2017-2018 underlines what a catastrophe demonetisation was for the cash-dependent village economy.
Add to that, the loss of remittance income from casual labourers in the urban economy who lost their jobs as small and medium enterprises retrenched in the wake of the goods and services tax and the damage to the village economy seems akin to choking somebody violently and then congratulating them for deep yogic breathing.
One of the misfortunes of being a business journalist is that this pseudo-socialist/profoundly oligopolistic country often seems a nuthouse writ large, from its hysterical media to its hypocritical posturing politicians.
Rahul Gandhi's big economic idea appears to be a universal basic income in response to the government's rollout of a similar rural scheme.
It does not take a genius to guess that as these ideas proliferate, few attempts will be made to cut back on existing subsidies in electricity, water and fertiliser.
Rahul's rhetoric only confirms what we already knew: That mother and son are Socialists through and through.
The run-up in the stock market recently -- partly a global emerging market phenomenon -- suggests a second term for the Modi government is preferred.
Pushing through of GST, albeit a version world-beating in its complexity, and the bankruptcy court stand as achievements.
But what will this supposedly more business-friendly government do if it gets a second term? Important labour law and land reforms remain off the table.
Reforming the bureaucracy and adding more judges and courts seem beyond its bandwidth.
In its tendency to alter or, erm, clarify rules midcourse -- witness the arm-twisting of foreign players in e-commerce and all but one player in telecom -- and it is very hard to justify this perception that the BJP is business friendly.
There will also remain the real risk of ideas seemingly gleaned from the pages of Amar Chitra Katha, overlaid with PowerPoint presentations.
What is self-evident in the past few years of a prolonged export slowdown amid the overhang of cleaning up non-performing loans among State-owned banks is that India's leaders and businessmen are not a storehouse of economic wisdom or best practices.
It is bad enough to be lapped by China on every yardstick of economic development.
By our next election in 2024, Vietnam, a country of less than 100 million, will likely see its manufactured exports rise past ours to $400 billion at a projected growth rate of 10% a year, which is conservative by comparison to its growth over the past five years.
They now have a huge lead over us in the mobile phone supply chain while also seeing huge transfers of labour-intensive work from China in footwear and garments.
The stark reality is we have likely missed the labour-intensive jobs growth spurt in perpetuity.
An Asian Development Bank report suggests robots are making larger inroads even into labour-intensive sectors such as garments.
Abusing each other on Twitter will have to count as a job along with other more useful work.
Repeat slowly: Main bhi small businessmen, main bhi teacher, main bhi exporter, main bhi fitness professional.
It's a mantra for global domination.