Market leader Maruti Suzuki is putting finishing touches to its plan of finding its feet in what is being hailed as a battle of epic proportions in India's fastest-growing passenger vehicle segment, reports Arindam Majumder.

India's sport utility vehicle market share is gearing up for a hot pursuit race.
Although South Korean carmaker Hyundai made a podium finish in 2021, market leader Maruti Suzuki India (MSIL) is putting finishing touches to its plan of finding its feet in what is being hailed as a battle of epic proportions in India's fastest-growing passenger vehicle (PV) segment.
For MSIL, it will be the most important battle this year. It has seen its market share consistently erode due to weakness in this space.
Intensifying the fight is a rejuvenated and well-funded Tata Motors, raising the ante in a segment which has propelled it to clock the highest annual sales in 2021 since inception.
The growth of the SUV segment has been phenomenal.
In 2016, hatchbacks' share in India's PV sales was at 51 per cent, compared to SUVs' 16 per cent.
Compare that to 2021. SUVs contributed around 38 per cent, growing from 29 per cent in 2020.
This is almost equal to the hatchback segment, which now commands a 40 per cent share.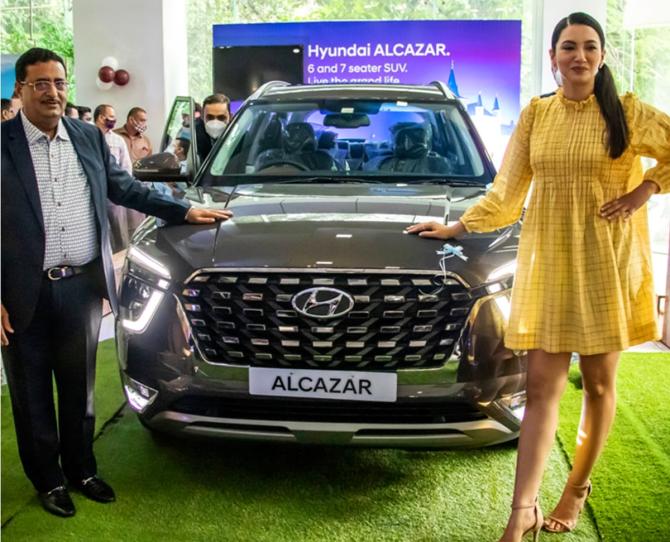 Hyundai's India unit has become one of the star performers, riding on the leadership in the SUV segment.
The company, which now gets half its volumes from SUVs, plans to launch a new version of the premium SUV Tucson and an electric SUV, adding to its existing portfolio of five -- Venue, Creta, Alcazar, Tucson, and Kona EV -- to further solidify its position.
"We have been focused on giving our products packed with features like front roof, connected cars, more space, and convenience. In 2021, Hyundai was again the No. 1 SUV maker," says Tarun Garg, director (sales and marketing), Hyundai India.
In a segment where there has been more than 50 new launches in the past three years, the Creta from the Hyundai stable has been a bestseller, with sales of 125,437 units.
"So many SUVs have been launched in the market, including in the sub-4 metre and 4-metre-plus segments. Yet, the Creta has retained leadership position. We have also continuously padded up our portfolio by adding the Alcazar," says Garg, indicating that customers now clearly consider Hyundai as the first option in the SUV space.
Hyundai's sister unit Kia, which has broken into India's top five automaker club, relying on the popularity of the Seltos and the Sonet, said it would exclusively focus on the SUV segment and not look at entering the sedan and hatchback space.
"We have no plans for a hatchback or a sedan right now. We want to stick to the recreational category, where SUVs and multi-purpose vehicles are present. Customers identify Kia as an SUV maker. We want to make ourselves stronger in that segment, rather than spreading ourselves too thin," says Hardeep Singh Brar, the company's head of sales and marketing in India.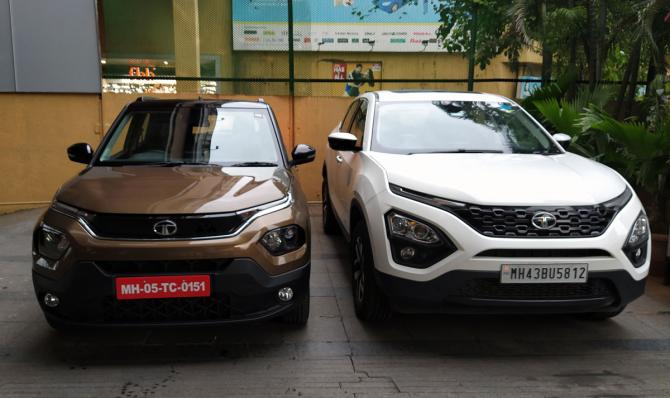 Tata Motors has raised the bar in this space, with a mix of SUVs in its portfolio increasing to 52 per cent in 2021, against 37 per cent in 2020.
The company took pole position in the SUV market in October with the Nexon and the Punch collectively selling 18,549 units.
"The SUV space will see an epic fight. Because of the higher driving position, which gives a sense of more safety while driving, higher ground clearance, and aggressive design, they are definitely more appealing. Korean carmakers have done well in this segment since SUVs are their focus," says Ravi Bhatia, president of analytics firm JATO Dynamics.
The onslaught of competition in the SUV space has hurt the prospects of MSIL, which has struggled to push its market share past 43 per cent- lesser than the coveted 50 per cent.
Moreover, the company's weak product mix in the profitable SUV segment has lagged behind rivals with lesser volumes as profitability in SUVs is higher.
Shashank Srivastava, senior executive director of sales at MSIL, is not fighting shy of this challenge and says MSIL's weakness has been pronounced in the mid-SUV level, where it is entirely absent.
MSIL has a very thin SUV portfolio. It only has the Vitara Brezza in the sub-4 metre segment and the S-Cross, which is perceived as a crossover by most buyers.
"While we have the Brezza, which has consistently been the top entry-level SUV model, we are concerned about the mid-SUV level segment, where there have been many new models by competition. To increase market share, we need to do well in all segments," says Srivastava.
"The company has lost 540-basis point market share in the PV segment due to strong consumer preference for compact SUVs and successful new launches by MSIL's competitors. We expect it to regain its market share through aggressively launching products from the next quarter onwards," said brokerage firm Sharekhan in a recent report, while retaining a 'Buy' rating on the stock.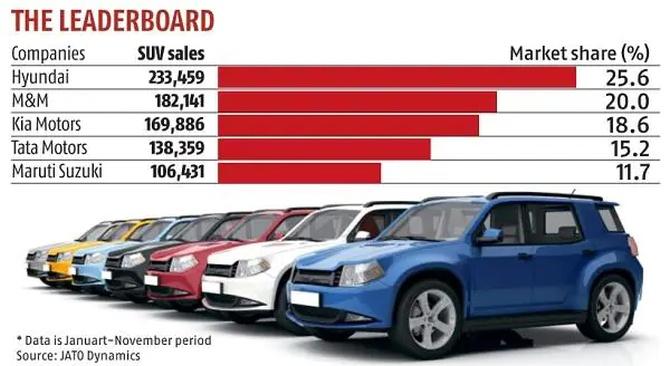 Industry sources say MSIL has prepared an aggressive pipeline of SUV launches to bring back market share in the segment.
"Maruti will start its SUV plan with the launch of a face-lifted Brezza. This will be the first SUV from MSIL's new model offensive to be launched in India in 2022, followed by at least three other products, one of which will be a second compact SUV -- a more premium alternative to the Brezza," says a source.
Srivastava refused to talk about future product launches, but confirmed that the SUV would be the company's focus segment in 2022.
Bhatia of JATO says MSIL, with its wide understanding of the Indian market and a joint venture with Toyota, has the moat to fight this SUV battle.
"Maruti now clearly knows that it needs more offerings in this segment. It has a large volume capability, which gives it the cost advantage with suppliers.
"The company has a war chest and the wherewithal to develop products, including the Toyota memorandum of understanding, which gives it the capability and access to new technologies," he adds.
Feature Presentation: Rajesh Alva/Rediff.com