Kia, which currently sells three products in India -- Seltos, Sonet and Carnival--recently did the global premiere of the three-row Carens.
Arindam Majumder reports.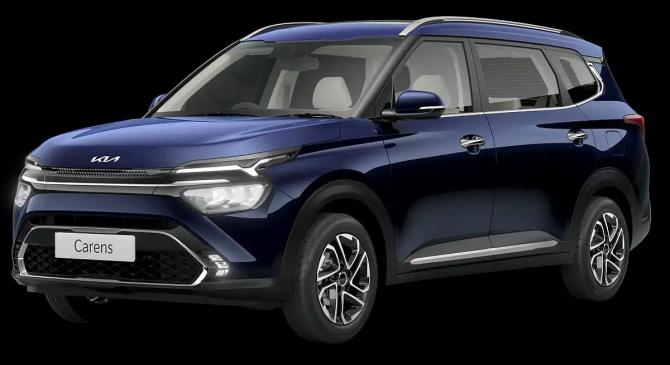 South Korean automaker Kia Motors says it will look to be a premium only brand and stay away from the entry level segment like sedans and hatchbacks.
Hardeep Singh Brar, the company's India vice-president and head (sales and marketing), said that customers have accepted Kia as a premium brand.
In the mass market Kia is considered to be the most premium brand.
"Customers like the features and they are willing to pay for them.
"So, we have consciously decided that if customers like us a premium brand, let's stick to that.
"It is a conscious decision to stay premium and operate in that segment of the mass market," Brar said.
Kia will focus on the SUV segment and not look to enter the sedan and hatchback space to continue with its premium image.
"We have no plans as of now for a hatchback or a sedan.
"We want to stick to the recreational vehicle where SUV, MPV both are present.
"Customers identify Kia as a SUV maker.
"So we want to make ourselves stronger in that segment, rather than spreading too thin," Brar said.
The company, which currently sells three products in India -- Seltos, Sonet and Carnival--recently did the global premiere of the Carens.
The three-row Carens from Kia India is looking at finding favour with larger families who would still prefer an SUV body type in a vehicle that is loaded with features.
Explaining the market research behind launching six- and seven-seater space, Brar said even people with small families are looking for more space at the back of the car so that they can plan travel in a group.
"That is what I think is fuelling the six-seater, seven-seater demand because when you look at some of the SUV players, they have started with a five seater and then moved to six and seven," he said.
Multi Purpose Vehicle (MPV) today contributes about 8-9 per cent.
SUVs with six and seven seats are another 5-6 per cent.
So overall the 14-15 per cent market is moving towards the six- to seven-seater space.
"CNG is mostly present in the lower end of the segment.
"So, at our price point CNG is not that prevalent," said Brar.
Kia is aiming at 30 per cent year-on-year growth next year as it plans to increase production by over 75,000 units.
The company has plans to expand its footprint from current 198 cities with 339 touch points to 225 cities and 400 touch points.
Photograph: Courtesy Kia