It's a zippy, well-engineered ride that offers comfort, quality, low cost of ownership and fuel efficiency at affordable prices, says Pavan Lall.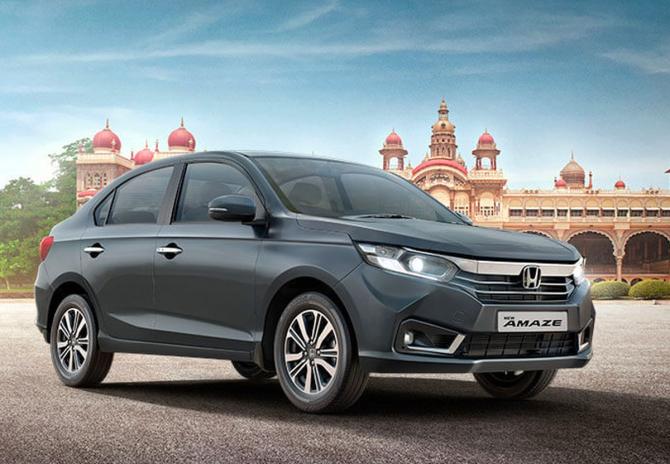 Over the years, Honda has burnished a reputation for itself that sits on three core pillars.
Its cars are reliable, exciting to drive and will not burn a hole in the pocket when it comes to repairs, trouble-shooting and maintenance.
In the subcontinent where Honda's ride over the last two decades has been a mixed bag of hits and misses, the Japanese company that's famed for its prowess in engineering has managed to get at least two things right every time.
Its most recent launch, the Amaze -- a compact sedan that is priced competitively and is perfect for busy cities -- looks like it has been modified since its last launch in 2018.
With a few tweaks, the Amaze looks like a brand new car, something Honda is adept at achieving.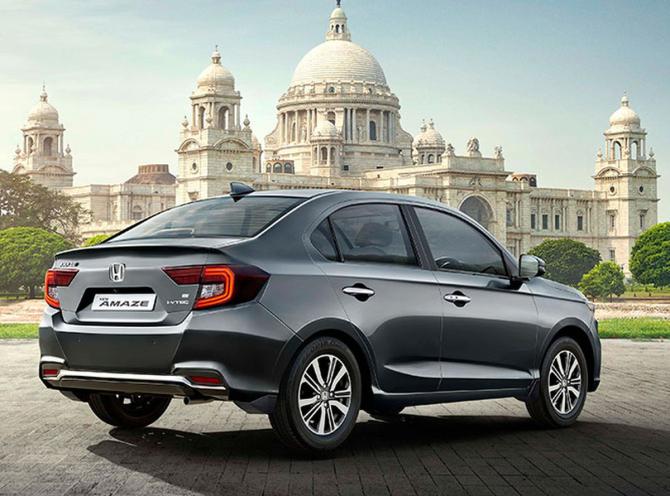 The front is stronger, more square-jawed and bears a strong resemblance to its elder sibling -- the Honda City.
This is a good thing given that its cost at the entry level is almost half of the City.
The rear, too, has been carved into a more sculpted and definite shape, giving the Amaze a truly sedan-like identity of its own, a departure from the old Amaze that looked too much of a cross between a hatchback and a sedan.
Once inside, the Amaze feels larger than it is owing to its features and gadgetry.
An infotainment screen, steering-mounted controls, well-designed air vents, storage, and compartments for cups and water bottles are all thoughtfully in place.
The car's dashboard is reminiscent of the Old City or even the Civic.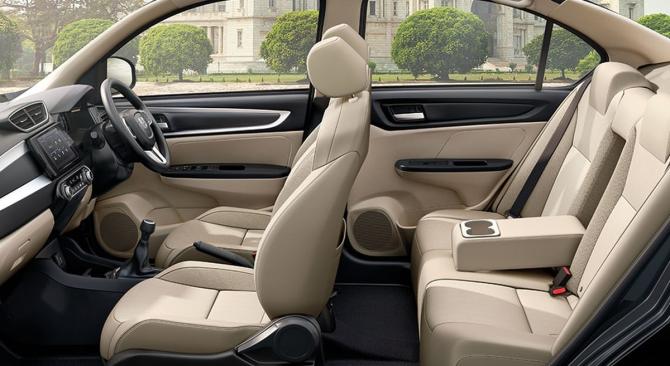 However, Honda ought to be focusing on one area to improve -- the gearshift.
A manual stick shift placed in a faux-leather-like bag is outdated by at least five years and could do with a modern replacement for at least two reasons: that it feels light and toy-like; and that it does not age well and its numbers get scratched off very easily with time. In addition, the feeling of being locked into gear is not substantial.
The seating, both front and rear, is comfortable, thanks to ample legroom and high-quality materials. The Honda could, however, throw in air-con vents at the back, too.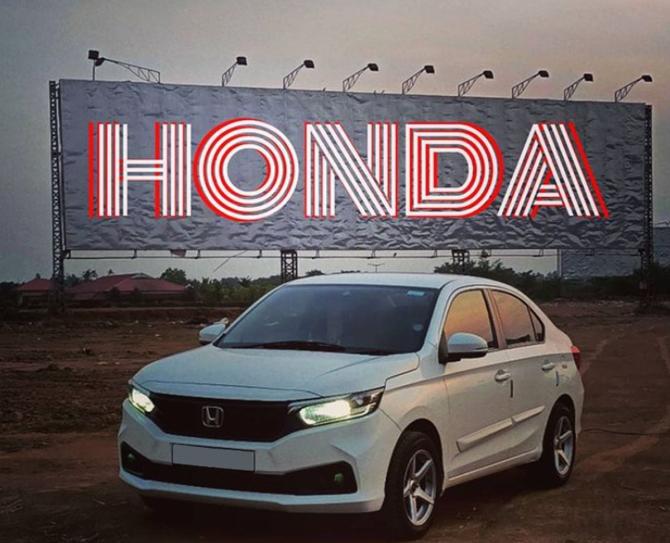 The car is powered by Honda's 1.2L i-VTEC petrol engine and 1.5L i-DTEC diesel engine, available in manual and CVT versions for both fuel options.
It is key to note that the Amaze is Honda's strategic entry model, specially developed for the Indian consumer.
Honda claims to have achieved 95 per cent localisation for the Amaze in terms of local parts and components, which goes to say that the cost of ownership is likely to be more affordable as compared to its foreign competitors.
That's also a reason why close to half a million cars have sold since it was first introduced in 2013.
The bottom-line: it's a zippy, well-engineered ride that offers comfort, quality, low cost of ownership and fuel efficiency at affordable prices.
Honda would be well served to use the same philosophy to churn out a few SUVs that straddle the mid- and large-range segments if it is truly to capture the hearts and minds of car lovers as also substantial market share.
Feature Presentation: Rajesh Alva/Rediff.com