'We will be looking to prune our portfolio to make GIC Re a healthier entity.'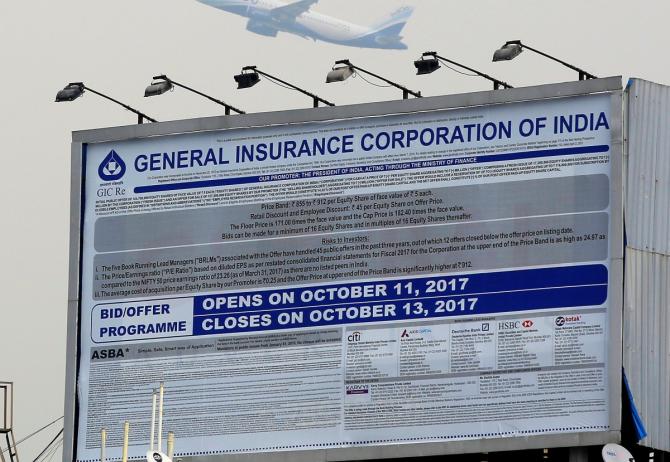 With reports of privatisation doing the rounds, shares of GIC Re have gained more than 40 per cent in a fortnight.
Devesh Srivastava, chairman and managing director, GIC Re, in conversation with Subrata Panda speaks about how the company is consolidating its business to achieve a combined ratio of close to 100 per cent.
Reinsurers have raised rates on term plans. Has GIC Re also raised rates in the term portfolio?
We are not rate drivers. Life insurance is a very small fraction of our business -- it is about 1 per cent.
For life portfolio, there are enough players in the market well ensconced in this business for many years.
When a term insurance proposal comes in, there is intense competition.
Our rates will be commensurate with the market rates and risks.
If we go by the trends we see in the West, term insurance is the future.
Earlier, people opted for tax benefits and money-back policies and term insurance never caught on.
Reports say the government wants to divest some of its stake in GIC Re, after which the shares of GIC Re jumped significantly. Have you received any such communication from the government?
I have not heard a word. These decisions are taken by the government.
Brokerage reports have said the company is looking to exit some of the weak portfolios.
You never exit a portfolio. The basic tenet of reinsurance is diversification. How does one diversify?. By ensuring it is not a monoline company.
You would want to have health, property, motor, agriculture, and other businesses in the portfolio.
The second way of diversifying is by writing across the world. But one has to consolidate continuously.
In the process of consolidation, one weeds out the treaties that are not doing well and concentrate on getting good business.
This is exactly what we have been doing in the past few years. We are working towards achieving a combined ratio of close to 100 per cent.
We will be looking to prune our portfolio to make GIC Re a healthier entity.
This is only possible when we start making a profit in the business we are in.
For years, we have had our investment income to bail us out.
Despite having a healthy rate of return of 12-13 per cent from our investments, the question that arises is whether this is sustainable. That is why we have to make underwriting profits.
Has there been any pressure on the debt portfolio due to Covid?
A large part of our investment book is in government securities (G-Secs). We are more and more into G-Secs because that gives us stability.
The days of Infrastructure Leasing & Financial Services, Dewan Housing Finance Corporation are behind us.
Our equity portfolio is small -- approximately 18-19 per cent. When the market is in turmoil, that is when you churn your portfolio. And that is what we did.
The crop insurance portfolio is a cause for worry. What is the strategy to cut losses?
We have done some heavy pruning in the crop portfolio. We have shed almost 35-38 per cent of our market and this has made the portfolio very healthy.
We did a full dissection of all the insurance companies and evaluated the insurance companies that were using GIC Re's capacity most judiciously.
We are happy where we are, as far as our crop portfolio is concerned.
Which are the segments the company is focusing on to bring down its underwriting losses?
Property has done well in the domestic market, driven by rate increase.
The international book, which is about 30 per cent of our overall book, has been bad in the past few years.
This has resulted in a hardening of rates as capacity shrunk. We are looking at better rates in that segment. Hence, the portfolio will remain stable.
Motor and health are mostly retail. A large portion of our portfolio consists of obligatory cessions.
In agriculture, we have done heavy pruning. With the property segment, because of the insurance information bureau rates, GIC Re has done well.
We are on a strong footing right now; we just have to build upon that.
What is the status of the pandemic pool that the Insurance Regulatory and Development Authority of India working group had suggested?
There is no progress on this proposal. Since GIC Re has a lot of expertise in pools, the terrorism pool being one, the natural catastrophe pool being the other, and nuclear being the third, we are happy to be a part of the pool and be a manager in it.
Feature Presentation: Rajesh Alva/Rediff.com