Some of these plans will weigh on your pocket.
The increase in premium could also be large as you grow older, alerts Bindisa Sarang.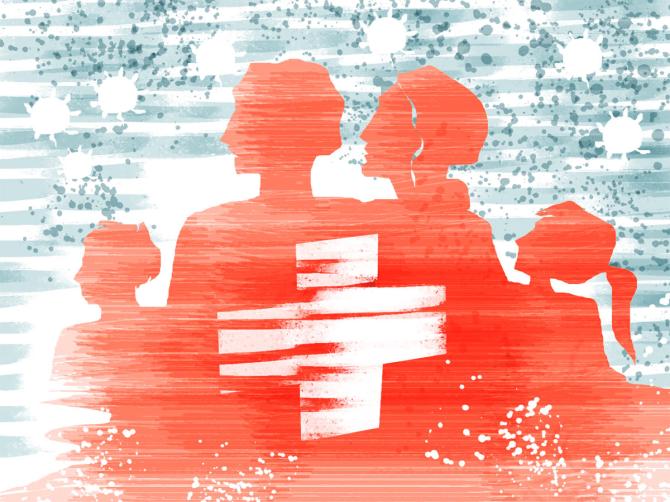 Owing to the pandemic, there is a newfound urgency among buyers to purchase adequate health insurance.
Not only are financial advisors recommending higher covers, buyers themselves are prepared to go beyond the Rs 5 lakh cover that was the norm earlier.
High sum insured plans range from Rs 25 lakh and Rs 1 crore. Over the past two months, web aggregator Policybazaar saw 35 per cent of first-time buyers go for high sum insured policies, compared to less than 2 per cent a year earlier.
The pandemic has clearly led to a drastic change in attitudes. Amjad Khan, director and business head of employee benefits practice at Anand Rathi Insurance Broking, says: "Those in the age group of 35-45, who have both young children and ageing parents within the family, are especially keen to buy high-value policies."
Enjoy comprehensive coverage
These policies offer a number of advantages. Naval Goel, CEO, PolicyX.com, says, "They offer wider coverage compared to low-value plans."
Apart from hospitalisation costs, these policies also cover maternity, baby care, post-treatment, out-patient department and day-care procedures.
They also pay for organ donation and alternative treatments, and cover many critical care illnesses.
They also come without sub-limits on room rent. Goel adds that claiming reimbursement is also easier if you have a high-value policy.
Be prepared for stringent underwriting
Some of these plans will weigh on your pocket. The increase in premium could also be large as you grow older.
A waiting period will apply even in these policies. Also, be prepared to undergo a pre-entrance health checkup.
Goel says, "All health policies are issued only after strict underwriting (like medical screening). But when it comes to high-value health policies, the underwriting norms are even more stringent."
Senior citizens buying them should even be prepared for co-payment of about 20 per cent.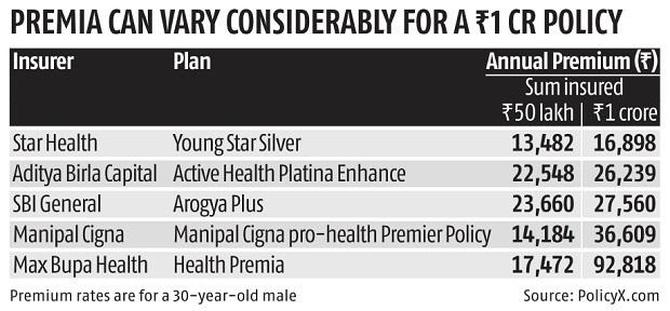 Useful for treatment abroad
High medical inflation is certain to drive treatment costs higher in the future, so one should buy as much health insurance as one can afford.
Medical treatment is extremely expensive abroad. Khan says, "These covers are especially advantageous for those who may want to go abroad for treatment."
Given the strict underwriting involved, anyone planning to buy a high-value policy should get it at the earliest.
Mumbai-based certified financial planner Kiran Telang says, "You could get a lifestyle disease after a certain age. Insurers could then refuse to cover you."
Premium rates can vary widely from one company to another. "Pricing depends on the plan's features, insurer's reputation, underwriting process, claim ratio, and so on."
Instead of only comparing prices, compare policies from various insurers on these parameters as well before deciding which one to go for.
Super top-ups are an alternative
How much health insurance you buy should be determined by several factors like rising medical cost, age, your city, medical history, family's medical history, etc.
Harshad Chetanwala, co-founder of MyWealthGrowth, says, "On an average you need a family floater of at least Rs 25 lakh."
Those who already have a personal cover need not go for a high-value cover.
Telang says, "Super top-up plans are a great way to increase the cover while keeping cost in check."
A Rs 5 lakh cover will no longer suffice. Buy at least a Rs 25-50 lakh policy if your pocket allows.
If you can't, get a base policy of Rs 10 lakh and then augment it with a super top-up.
Feature Presentation: Rajesh Alva/Rediff.com