The coverage for coronavirus infection will be available from Day One of the infection in all health insurance policies, says Amit Chhabra.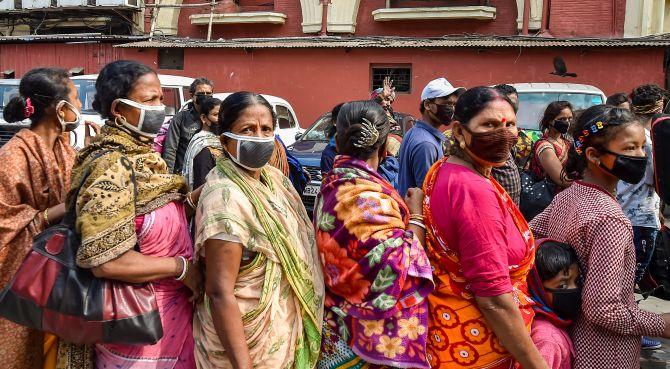 The coronavirus has infected people across 170 countries.
While its impact has been the most in China and Italy, the next few days are crucial for India.
With the number of infected cases increasing by the day, being covered under a comprehensive health insurance policy is an important precautionary measure.
A health insurance plan is designed to cover hospitalisation expenses of the policy holder up to the total sum insured irrespective of the illness that is diagnosed.
Usually, all health insurance policies cover hospitalisation expenses incurred on the treatment of infections caused due to viruses with coronavirus being one such viral infection.
Here are some things to bear in mind while buying a health plan:
1. Choose a comprehensive policy
A comprehensive health insurance policy (indemnity based health plan and not disease specific health insurance plan) pays off for the hospitalisation expenses including in-patient and out-patient expenses, including the cost of test for coronavirus irrespective of the disease that is diagnosed.
The coverage for coronavirus infection will be available from Day One of the infection in all the health insurance policies.
Though one must remember that the claim will also be limited by the maximum sum insured by your health insurance policy.
2. 24 hour hospitalisation is important
It is equally important to know that health insurance claim due to coronavirus will only be payable if the policyholder is hospitalised for at least 24 hours.
The subsequent claims will be processed as per regular norm and will be covered as any other illness.
However, if you the policyholder is not hospitalised, then the policy may not cover the claim as most of the indemnity type health insurance policies in India do not cover outpatient treatment without minimum 24 hours of hospitalisation.
3. Know that your insurance policy covers Covid-19
Infections caused due to COVID-19 do not fall under the category of pre-existing illness and hence they are covered by the basic health insurance policy from day one.
Your basic health insurance plan will compensate you for expenses incurred on pre-hospitalization, post-hospitalization, in-patient treatment, OPD and ambulance expenses should you seek treatment for COVID-19 infection.
However, people who are seeking dedicated plans for coronavirus treatment can invest in Digit Insurance's newly launched fixed benefit health insurance plan -- Health Care Plus -- for COVID-19 which is a fixed benefit plan.
4. Have adequate sum insurance
People who are yet not covered under a health insurance plan and are planning to buy a health insurance plan soon must keep in mind various factors to have adequate coverage.
The most important thing to consider is having adequate sum insured.
You must know that treatment for COVID-19 requires expensive medical care.
The test for coronavirus infection is itself quite costly followed by high medical expenses for the treatment.
Also, the medical inflation rate is quite high these days and it is important that one must have adequate sum insured to have best possible treatment.
5. Ensure there is no waiting period
You must also make sure that there is no waiting period for infections through viruses like COVID-19.
While pre-existing diseases do come with a defined waiting period, there must not be any waiting period for other regular illnesses.
6. The right way to claim insurance
For people who are already infected with COVID-19 and are planning to file a claim, there are two ways of filing a health insurance claim
1. Reimbursement (wherein your hospital bills get reimbursed up to the total sum insured) and
2. Cashless (where the insurer settles the payment directly with the network hospital).
It is always advised to avail treatment at a network hospital so that you can enjoy cashless treatment facility.
Under a cashless facility, the policyholder does not need to make any payment and then file the reimbursement.
If the treatment is taken at a network hospital, then the hospital claims are settled cashless. However, if you take treatment for coronavirus infection at a non-network hospital, you will have to pay the entire treatment cost at the time of treatment. You would later need to fill the reimbursement form and claim for the bills.
The focus of every individual right now must be to avoid the risk factors of this disease and take precautionary measures to stop coronavirus from spreading.
It is very important to keep the immune system strong and take simple health precautions like washing hands regularly, using face masks, covering a cough or sneeze with using disposable tissues only.
At the same time, having the support of a comprehensive medical insurance plans is always recommended.
---
Amit Chhabra is head-health insurance, Policybazaar.com. He can be contacted on ga@rediff-inc.com.
---