Women dominate Indian banks's clerical and officer rolls, but few make it to the executive office these days, notes Tamal Bandyopadhyay.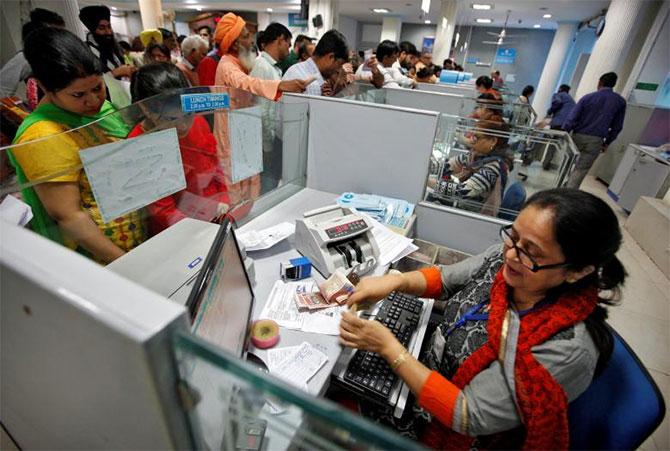 In the run-up to Business Standard's annual banking forum in Mumbai last month, many took to microblogging site Twitter to express their disappointment at not finding a single woman banker on any of the panels.
Gender diversity is always welcome, but at the moment there aren't too many women in this space.
Zarin Daruwala, CEO of Standard Chartered Bank; Kaku Nakhate, president and country head of Bank of America India; and Kalpana Morparia, CEO of JP Morgan India; are exceptions in an industry in which women CEOs were bossing over banks with at least 40% share of the total assets till just a few years ago.
There were Chanda Kochhar, a Padma awardee, heading ICICI Bank Ltd; Shikha Sharma, CEO and MD at Axis Bank Ltd; Arundhati Bhattacharya in the corner room of the country's largest lender, the State Bank of India; and Usha Ananthasubramanian, chief of Punjab National Bank; among others.
Bhattacharya retired after a one-year extension while Sharma stepped down after the Reserve Bank of India did not grant her a fresh three-year term, that was cleared by the bank's board.
Ananthasubramanian, named in the chargesheet of the Central Bureau of Investigation for her alleged role in the $2 billion fraud in Punjab National Bank perpetrated by diamantaires Nirav Modi and his uncle Mehul Choksi, was first transferred to Allahabad Bank and later stripped of her executive powers.
Kochhar's is the most interesting story: She moved the Bombay high court challenging ICICI Bank's decision to terminate her after the bank had approved her request for early retirement.
Meanwhile, a Delhi court has recently stayed the screening of an upcoming Bollywood film Chanda: A Signature that Ruined a Career, based allegedly on her life.
In sum, some of the women bankers are in the news for the wrong reasons and there aren't any takers for the space vacated by them.
Tarjani Vakil was the first woman to reach the top at the Export-Import Bank of India in 1996.
Ranjana Kumar became chairman and managing director of Indian Bank, four years later, playing a critical role in turning around the bank before shifting to the National Bank for Agriculture and Rural Development in 2003.
The second woman boss in a commercial bank, H A Daurwalla, became the boss of the Central Bank of India in 2005.
Nupur Mitra took over as chairman and managing director of Dena Bank (merged with the Bank of Baroda) in 2011.
It took a little over three decades after bank nationalisation for a woman to become a bank's CEO.
However, the pace at which women bankers were moving to the corner office till a few years ago has slowed down.
Even globally, women took long to break into the male bastion in finance.
Janet L Yellen was chosen to head the US federal reserve board in 2017, the first woman to do so after a century of the Fed's existence.
No woman has ever headed the US treasury department in its 229-year history.
Back home, it was a 68-year wait at the RBI for a woman to reach the deputy governor's post (Kishori J Udeshi, the first woman deputy governor, took over in June 2003).
For the State Bank of India, the wait was 206 years to get its first woman head -- Bhattacharya.
Women currently represent 24.37% of SBI's employees and at least 2,600 of around 22,000 branches of the bank are headed by woman officers.
Its former managing director Anshula Kant has recently been appointed managing director and chief financial officer at the World Bank.
HDFC Bank Ltd's 2018 annual report says women represent around 17% Of its 88,253 employees.
It's an equal opportunity employer, but historically not too many women employees have been seen at the bank's top tier, unlike the case in ICICI Bank.
Both Daruwala and Morparia are old ICICI Bank hands.
Now, of course, except for Vishaka Mulye, an executive director, the bank does not have any other women in a senior position even though nearly 30% of its employees are women.
Citibank India, in contrast, has four women, including its consumer banking head Shinjini Kumar, in the 15-member management committee, and 32% of its employees are women.
Globally, Citibank NA aims to have 40% women employees.
A 2017 study of 71 banks in 20 countries conducted by SKEMA Business School's Observatory found that despite representing, on an average, a little over 52% of the banking industry's workforce, the representation of women, as they moved up in their careers, declined: 37.58% among middle managers and 16.45% in executive committees.
The study also points out a wide disparity in the gender balance across countries.
Sweden (45%), France (35%) and Canada (34.5%) are the top three countries for women's representation in the boards of directors of banks while Singapore (15%), China (14%) and Japan (12%) have the lowest female representation.
In India too, we see a progressive decline in women's representations in the top tier of the banking industry.
There are a few in the private sector -- Yes Bank, Kotak Mahindra Bank and Federal Bank -- but they are exceptions.
Similarly, the representation of women in the top executive cadre -- general managers -- in State-run banks is just about 10%.
There are a few banks that do not have a woman in the top executive cadre.
A 2010 human resources study conducted by a committee headed by former chairman of Bank of Baroda, A K Khandelwal, found women making up about 17% of the total workforce in these banks, but their representation in the executive cadre was less than 3%, in contrast to 26% in the clerical cadre and 11% among the officers.
The SKEMA Business School study, which does not include India, talks about a double glass ceiling in banking and this is a universal phenomenon.
Many banks look for equal representation at the entry level, but women become laggards for reasons other than talent while moving up.
The challenge is to nurture the pipeline.
Offering fully paid, adequate maternity leave, flexi working hours, and running creches for the children of employees can help the cause, but at the moment they don't have too many role models to look up to.
That's the problem.
Photograph: Ajay Verma/Reuters. Kindly note the photograph has been posted only for representational purposes.
---
Tamal Bandyopadhyay, a consulting editor with Business Standard, is an author and senior adviser to Jana Small Finance Bank Ltd.