There is a dearth of talent in the Indian banking industry. A testimony to this is the two new CEOs in the private sector -- Sandeep Bakhshi in ICICI Bank Ltd and Amitabh Chaudhry in AXIS Bank Ltd -- have come from the insurance sector, says Tamal Bandyopadhyay.
Illustration: Uttam Ghosh/Rediff.com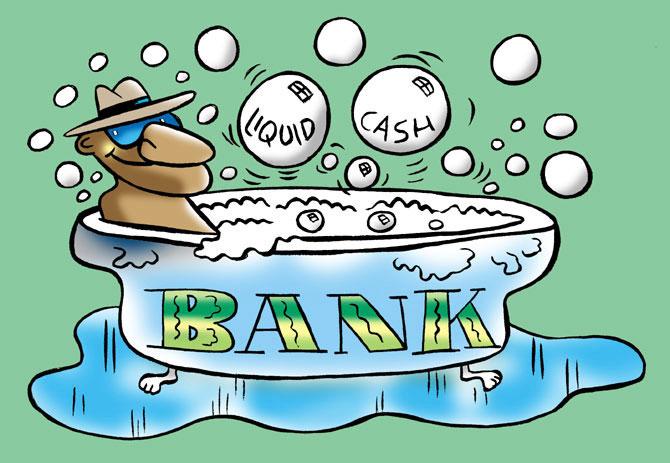 In the last week of October, Yes Bank Ltd sent a note to stock exchanges saying the search panel looking for a successor to the bank's MD and CEO Rana Kapoor --whose term ends on January 31, 2019 -- has finalised "the potential candidate profile".
Korn Ferry, a management consulting firm which is assisting the selection committee of the bank's board in evaluating both internal and external candidates, "also shared a representative list of candidate pool, based on initial industry mapping".
Who can succeed Kapoor? If you keep the insiders out, the list of probables is very slim -- Gunit Chadha, former Asia Pacific CEO of Deutsche Bank AG; Sanjay Nayar, a former Citibanker and now CEO of KKR India; Pramit Jhaveri, head of Citibank NA in India; and Rajeev Jain, managing director of Bajaj Finance Ltd. (I am not saying anyone of them is in the fray or will be picked up).
And, the same names come up as a likely successor of HDFC Bank Ltd boss Aditya Puri and IndusInd Bank Ltd's Romesh Sobti, both of whom are set to hang up their boots in 2020 when they turn 70.
Puri, who has been at the helm of HDFC Bank since September 1994, is the longest-serving CEO of any bank of this size globally.
Of course, both can continue if RBI extends the retirement age of private bank chiefs to 75.
For Puri's likely successor, CEO of DBS Group Piyush Gupta's name also crops up in the cocktail circuit. Incidentally, Gupta is the highest paid banker in Asia.
There is a dearth of talent in the Indian banking industry.
A testimony to this is the two new CEOs in the private sector -- Sandeep Bakhshi in ICICI Bank Ltd and Amitabh Chaudhry in AXIS Bank Ltd -- have come from the insurance sector.
Bakhshi was heading ICICI Prudential Life Insurance Co Ltd since August 2010 and Chaudhry, HDFC Standard Life Insurance Co Ltd, from January 2010.
Incidentally, the stream of global Indian bankers is also drying up.
After the exit of Vikram Pandit and Anshu Jain, there is no Indian heading any big bank globally, except for Gupta at DBS.
Pandit, who became the Citigroup head in December 2007, had to call it quits in October 2012, to be replaced by Michael Corbat, previously Citigroup's CEO of Europe, Middle East and Africa. Corbat was instrumental in driving Pandit out.
Jain, who was made co-CEO of Deutsche Bank in July 2011, surprised many when he resigned in June 2015 as he was widely perceived as the likely successor of Josef Ackermann as CEO of Deutsche Bank.
Rana Talwar's term as group chief executive of Standard Chartered Plc also came to an abrupt end in December 2001 when he was ousted after a bitter board room battle.
There are others like Victor J Menezes who retired from Citigroup as senior vice-chairman after a 32-year global career and Aman Mehta, the CEO of Hongkong and Shanghai Banking Corp Ltd from 1999 to December 2003.
Jaspal Bindra moved up to become a Standard Chartered group executive director and the bank's chief executive officer for Asia and Chadha as Asia Pacific CEO at Deutsche Bank.
Among the current crop of Indian finance professionals who have been doing well at the global stage, Ajit Jain, a cousin of Anshu Jain, is the vice chairman of insurance operations for Berkshire Hathaway and a close confidant of legendary investor Warren Buffet; and Ajay Banga, president and chief executive officer of MasterCard. However, they are not commercial bankers.
Why don't we see Indian bankers in the global big league any more?
In 1980s and 1990s, smart local bankers were looking forward for overseas postings for money and lifestyle but now the private sector bankers in India earn well; besides, till recently, they could invest in real estates and stocks to grow their money.
More importantly, no market can match India when it comes to growth opportunities in the business of banking.
Also, globally, most large banks are no longer in a big expansion mode in other geographies; instead, they are consolidating on their home turfs.
That is shrinking opportunities for Indian bankers.
Finally, many smart finance professionals now prefer the private equity space to banking as there is more money and glamour.
So, where do we get the new CEOs for Indian banks?
Apart from insurance, corporate treasury could be another pocket.
I will also not be surprised if senior executives from the FMCG and IT industries are wooed to head banks.
This is because banking is undergoing a dramatic change and traditional bankers may not remain absolutely relevant.
Corporate treasury has been a favourite ground for the bankers.
Saurabh Agrawal, the group chief financial officer (CFO) of Tata Sons, had worked in Standard Chartered Bank.
Similarly, Alok Agarwal, the CFO of Reliance Industries Ltd since 2005, was with Bank of America, and Seshagiri Rao, joint MD, group CFO and executive director at JSW Steel Ltd, was also a banker.
In 1994, the first set of new private banks dipped into the talent pool of the State Bank of India (SBI) and the foreign banks for leaders.
SBI continues to have a crop of fine bankers even though culturally they are different.
Recently, five senior SBI executives have been picked up to lead public sector banks.
Not too many foreign and private banks have great bench strength now. So, the headhunters have to work overtime while the investors remain anxious.
In the 1990s, the hunt was for leaders who could build new banks but now the banks need leaders who can maintain the momentum for a few and clean up the balance sheets and rebuild others.
The biggest bane of the system is there is no succession planning.
In public sector, it can't be done as the tenure at the top is only for a few years and the CEO most often comes from a different bank.
It can be done in a private bank but we don't see anywhere a succession plan in place.
When the CEOs have a long tenure (and there is nothing wrong about it if the person is competent) and a succession plan is not in place, we are bound to see a vacuum.
Let's hope that after this round, the banks get wiser and focus on this.
Tamal Bandyopadhyay, a consulting editor of Business Standard, is an author and senior adviser to Jana Small Finance Bank Ltd.