'Initially, Gift City was just another real estate project, but all that changed with Modi moving to New Delhi,' notes Tamal Bandyopadhyay.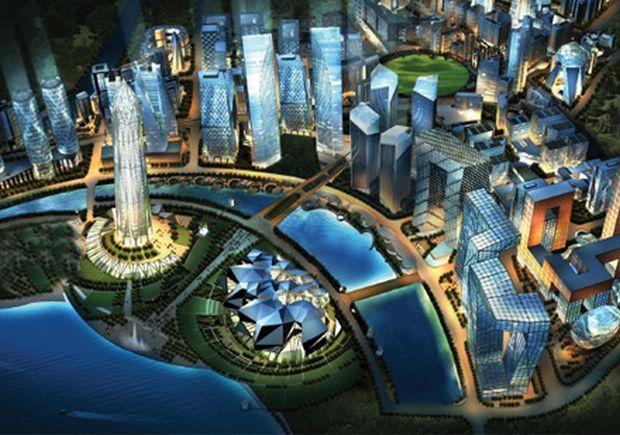 In the last week of May, the National Company Law Tribunal approved the sale of once-upon-a-time infrastructure development catalyst Infrastructure Leasing & Financial Services'S stake in the Gujarat International Finance Tec-City Company Ltd, popularly known as Gift City, to the Gujarat Urban Development Company Ltd, a state enterprise.
IL&FS, a so-called core investment company with its finger in every single pie of business spread over 347 companies in India and overseas, holds a 50 per cent stake in Gift City -- India's first operational smart city and international financial services centre in Ahmedabad, Gujarat.
In 2007, IL&FS had entered into an agreement with the Gujarat government to develop an international financial services city, IFSC.
The agreement had an exit clause.
The transaction makes the Gift City free and clear from all encumbrances, liens, security interest and third-party claims (including all statutory and tax claims) related to IL&FS, giving a big relief to all its stakeholders.
A month before that, on April 27, the central government in its gazette notification declared that Gandhinagar would be the headquarters for the IFSC authority.
This gives the Mumbai IFSC project, in limbo since 2006, a not-so-decent burial.
There will be only one IFSC in India -- the Gift City.
With IL&FS out of it, Gift City should take off in a big way making the most of the COVID-19 crisis.
How can it do this? Before that, let's take a close look at the project and its vital statistics.
Conceived in 2007 by Narendra Damodardas Modi, then Gujarat chief minister, Gift City has had a chequered history.
Around the same time, a report on Making Mumbai an International Financial Centre, prepared by a high-powered expert committee appointed by the then Congress government, made a strong pitch for making Mumbai an IFSC.
Modi lost no time in announcing his intention to create a global financial centre on the banks of Sabarmati in Gandhinagar, Gujarat's capital, by setting up the Gift City, a joint venture between the Gujarat Urban Development Co and IL&FS.
Consulting firm McKinsey & Co did the feasibility study for the project.
The 2008 global financial crisis almost killed it, but it was revived in 2011 when the state government gave it 673 acres of land spread across four villages Ratanpur, Firozpur, Valad and Lavarpur for Rs 1.
The work started in October 2011.
The plan is to develop and sell 62 million square feet commercial, residential and social space in three phases for a multi-service special economic zone (SEZ) and a finance centre (which will now take the shape of he lone IFSC in India).
In the first phase, it sold development rights for 12.5 million sq ft of land; the second phase will close soon. The third and last phase might end by 2024.
Initially, Gift City was just another real estate project, but all that changed with Modi moving to New Delhi.
It got the tag of India's first smart city.
Logistically, many smart features are in place.
There is an underground utility tunnel, a so-called C4 command centre equipped with information and communication technology infrastructure, an automated waste collection system and a centralised cooling system used for air-conditioning in an energy-efficient way.
Roughly 15 per cent of the space has been allotted to a string of real estate developers as well as banks and financial institutions, including the State Bank of India and Life Insurance Corporation of India.
At least 200 companies are operational at the moment, employing 10,000 people.
Overall, Rs 11,000 crore worth of investments have been committed to the project.
The IFSC within the Gift City hosts 12 Indian banks, one foreign bank, two international exchanges, 17 insurance firms and close to 100 brokers.
The IFSC banking units have conducted transactions of at least $26 billion even as the insurance companies have done $30 billion business.
The average daily trading volumes at the international exchanges are to the tune of $4 billion and have been growing ever since their commencement in 2017.
Recently, BSE Ltd's first international exchange, the India International Exchange (India INX) and NSE IFSC Ltd (NSE International Exchange), a wholly-owned subsidiary of the National Stock Exchange of India Ltd, at Gift City, have launched rupee-dollar futures and options contracts.
Banks, insurance companies and capital market entities have set up their operations after the ministry of commerce and industry operationalised India's first finance SEZ here and the banking, insurance and market regulators framed the operating guidelines.
That's only the beginning.
It can become an important prop in India's mission to become self-reliant by creating jobs and new businesses.
The latest additions are aircraft leasing and financing and an international bullion exchange.
India imports around $3.5 billion worth of financial services every year; the IFSC can help pare it, promoting export of such services.
The IFSC provides a platform to raise funds through global depository receipts at its exchanges.
This provides an opportunity to mid- and small-sized companies to raise equity overseas.
The platform can also come in handy for debt issuances.
The exchanges at IFSC have already listed $51 billion worth of masala bonds, issued by the Asian Development Bank, EXIM Bank, Power Finance Corporation Ltd and NTPC Ltd, among others.
To make it attractive, withholding tax on such bonds has already been reduced.
Masala bonds are raised overseas, but denominated in local currency.
London, New York and Singapore are three prominent global financial centres even as Shanghai, Dubai, Paris, Frankfurt and Tokyo have been aspiring for the position, connecting their financial systems to the world.
It will not be easy for the IFSC in the Gift City to grab the cross-border markets for international financial services.
One of the key reasons is that the local currency is not convertible as yet on current account.
But there are opportunities in the post-pandemic world that it can seize and move ahead.
The exit of IL&FS can give it a boost. The infrastructure is ready. The right kind of regulations and tax regime must supplement it.
Photograph: Kind courtesy Gujarat International Finance Tec-City
---
Tamal Bandopadhyay, a consulting editor with Business Standard, is an author and senior adviser to Jana Small Finance Bank Ltd.