'Like doctors, health workers, police, bankers are also COVID warriors,' notes Tamal Bandyopadhyay.
Baskar Babu Ramachandran, managing director and CEO of Suryoday Small Finance Bank Ltd, says at least 100,000 microfinance borrowers of his bank paid their loan instalments through digital channels in May.
His bank has around 1.3 million such customers.
Loans have always been disbursed digitally, but when it comes to repayment of loan instalments or collection, as opposed to disbursement by the bank, each and every borrower of Suryoday SFB has paid in cash till March this year.
In April, a few thousand customers used the digital channel as they were confined to their homes because of the lockdown.
In May, that number swelled to 100,000.
Another unlisted small finance bank headquartered in Bengaluru, along with the National Payment Corporation of India, launched a UPI QR-based loan instalment payment facility for its customers in end-March.
QR or quick response code is a type of 2D bar code that is used to provide easy access to information through a smartphone.
This channel is typically used for P2P (person to person) and P2M (person to merchant) payments.
A total of 4 million customers of this SFB can also check the balances in their savings accounts and fixed deposits via their mobile phones.
Kotak Mahindra Bank has recently introduced video KYC to open savings accounts.
This is a pilot project and the bank wants to extend this to get customers on board in a zero-contact digital way for other products in a phased manner.
Three years ago, demonetisation gave a big push to digital banking in India.
Now COVID-19 is giving it an even bigger push as bank customers are opting for social distancing.
Even octogenarian pensioners are refraining from visiting branches and instead learning how to bank through their mobile phones from their grandchildren.
This is a good omen. All banks are gearing up to seize the digital opportunity to bring down the cost of customer acquisition and cut down the turnaround time for transactions.
The crisis is also opening up new business avenues for banks.
For instance, the demand for loan against gold has been rising every day.
In small towns and even in villages, cash-strapped families are rushing to bank counters to borrow against gold ornaments.
This is one part of the banking story in India during the current pandemic.
The other part is the grit and determination with which the bankers are going about their business these days, at times even risking their lives.
Like doctors, health workers, police and media persons, bankers are also COVID warriors.
They are with their customers to meet their banking needs and more.
On November 8, 2016, when Prime Minister Narendra Damodardas Modi made the historic announcement of a currency swap which was to replace 86 per cent of Rs 17.97 trillion worth of currency in circulation, most branch managers could not sleep well till the 50-day exercise got over on December 30.
They had to make sure that every customer was taken care of, old high-value currency notes were exchanged with new notes, and that the bank could use the opportunity for generating low-cost current and savings accounts.
On top of that, they needed to be on their toes so that none of their colleagues was used for money laundering.
For the 155,000 branch managers in India, the COVID-19 time is far more challenging than the demonetisation days.
For the record, India has the maximum number of bank branches globally, followed by China and Columbia.
This is true about banking correspondents (BC), popularly known as bank mitra, too.
There are around 800,000 BC outlets across India; typically each outlet is managed by two BCs.
Of these BCs, 126,000 work exclusively for the Pradhan Mantri Jan Dhan Yojana, which covers 387.3 million depositors.
The movement of migrant workers from cities to their native places has made their job much more difficult.
Rajkiran Rai G, managing director, Union Bank of India, talks about a branch manager in Thane, Maharashtra, who goes to this workplace every day in public transport, changing three buses.
The working hours at the branches have been cut and footfalls have come down, but work has not been reduced to that extent since the employee strength has been halved as each of them comes to the branch every alternate day.
On top of that, there is the lurking fear of being affected by the virus.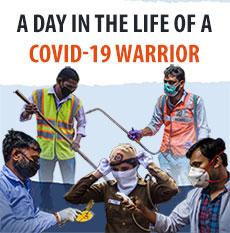 In one branch of a private bank in Mumbai, I have seen a sofa set kept in front of the counter of the cashier to create distance between a customer and the banker.
A 56-year-old employee of the Malad branch of IDBI Bank in Mumbai died of the novel coronavirus on May 1 after being treated at the Bombay Hospital for 12 days.
Eight employees of the State Bank of India's Kaveripakkam branch in Ranipet district in Tamil Nadu were quarantined after one banker -- on a three-day deputation at that branch -- tested positive.
The assistant manager at the bank's Ranipet town branch went back to Chennai after the district administration ordered suspension of bank operations in Ranipet town.
When the manager of the bank's Kaveripakkam village branch went on a three-day leave, the assistant manager of the Ranipet town branch was deputed to the Kaveripakkam branch.
These bankers may have got the virus from their customers.
Six employees of State Bank's Park Town branch in Chennai were found to be COVID positive after they visited the nearby Rajiv Gandhi Government General Hospital to distribute masks, sanitisers and food packets.
The Pradhan Mantri Garib Kalyan Package, a three-month insurance scheme for health workers fighting COVID-19 beginning March 30, offers Rs 50 lakh to health workers if they die while discharging their duties fighting COVID-19.
This does not cover bankers. Public sector banks have announced up to Rs 20 lakh compensation for their employees till September 2020 in case of death on duty due to COVID-19.
That is too small a cover for what these COVID warriors have been doing for their customers and businesses.
---
Tamal Bandyopadhyay, a consulting editor with Business Standard, is an author and senior adviser to Jana Small Finance Bank Ltd.