There is a pattern to the Modi government's economic decisions.
The follow-up, the design of the plan, implementation takes too long.
And by the time it is done, it is such a jumble of bureaucratese that looks more an overcooked spaghetti bowl, notes Shekhar Gupta.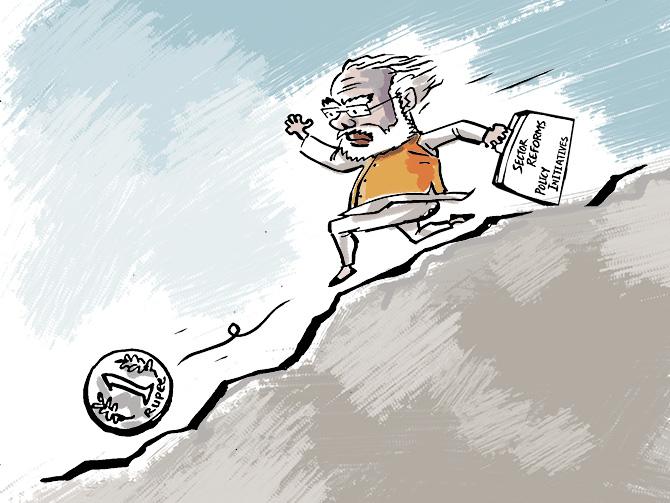 Three questions: First, is Narendra Damodardas Modi an economic reformer?
Second, where would he rank on the list of India's reformists: P V Narasimha Rao, Manmohan Singh, Atal Bihari Vajpayee?
And third, how successful is he in implementing his reformist ideas?
If the answer to the first question is yes, what does he have to show for as he begins his seventh year?
A lot has been announced and welcomed by those like us waiting for reforms to resume after a 10-year drought since UPA-2 began its slow suicide in 2010.
Railways, agriculture, banking, manufacturing, labour laws, power sector, civil aviation, FDI in new sectors, PSUs, coal, mining, taxation, the list is impressive.
But, as a Class 1 child would do in her arithmetic, draw a line under all these, and the answer will be pretty much zero.
Which brings us, sort of naturally, to the third question.
Is Mr Modi capable of implementing his ideas, especially the big, reformist ideas? You will have to be nuts, or a Naxal, urban or rural, if you said no.
Think demonetisation and nationwide lockdown at four hours' notice from 8 pm. That's decisive.
Why has he then been struggling so badly in converting his economic reform ideas into reality?
It isn't just coronavirus.
The virus came three months back.
India's economy was in a steep fall for almost two years.
There is indeed a factor of 'the day after' corona worsening our economic crisis.
But there was a severe enough crisis even 'the day before'.
We can begin with his first big one, the Land Acquisition Bill.
Granted, you can blame that on politics or Rahul Gandhi.
But here is a quick listing from the top of my mind and with the help of ThePrint's Senior Associate Editor for economy, Remya Nair.
You can add more as we go along.
There was a committee to overhaul direct taxes under then CBDT member Akhilesh Ranjan which submitted its report in 2019.
It's still not in public, and the file has been sent into, what the late George Fernandes had said about India's defence purchases, 'bureaucratic orbit', circling idly with no destination.
After demonetisation, the prime minister announced his Garib Kalyan Yojana, which was a kind of tax amnesty scheme, hoping to collect big bucks like P Chidambaram's VDIS (Voluntary Disclosure of Income Scheme) of 1997.
Zilch came.
The tax rate was so confiscatory and punitive, it was no amnesty.
Rules drafted were so complex, that it you'd be high on something illegal to make a disclosure under these.
There is a pattern to the Modi government's economic decisions.
The follow-up, the design of the plan, implementation takes too long.
And by the time it is done, it is such a jumble of bureaucratese that looks more an overcooked spaghetti bowl.
What is the status of the PSU bank reform, for example?
Where is the promised bank holding company?
Longer tenure for PSU bank chiefs, accountability of their boards?
All good ideas idling in George Fernandes's deadly orbit.
Power sector reform is a disaster twice over.
A third attempt has been announced now.
Let's watch.
The same for coal.
So many times has the coal and mining reform and private sale, been announced in six years, that even Google is confused and searching for clarity.
It has been announced yet again, in the latest, pandemic package.
The inability of the Modi government to sell even one PSU in six years, except to itself in the manner of a Milo Minderbinder in Catch-22, does zero justice to a prime minister with such enormous power.
Not even Air India.
This year, there is an obvious challenge.
But in his first tenure, his teams came up with a sale document so complicated, it might have needed the intellect of a Lord Shiva to unravel it.
And then, the courage and strength of a Lord Hanuman to buy the company, and risk spending your life with CBI, CBDT, CVC and the courts and jail.
These four dreaded 'Cs' have only become stronger than be reformed in these six years.
The answer to our first two questions, therefore, lies in the third.
Mr Modi comes off poorly on both scores, doesn't feature anywhere in the rankings of our reformist leaders yet, because his implementation of his own ideas has been poor.
So, A+ for ideas, C- for implementation, and maybe B- on the rankings, essentially because of the bankruptcy code, some PSU bank mergers and GST.
Take your mind back to 1991.
The political direction for reforms came from Rao's minority government, but it had a stellar team of civil servants.
And this continued until about 2009, after which Congress's internal politics killed even the thought of reform.
List the sherpas who hauled the reform up.
There were in three categories: Bureaucrat-economists (N K Singh, Y V Reddy, D Subbarao, K P Geethakrishnan, all IAS), economist-bureaucrats (Montek Singh Ahluwalia, Bimal Jalan, Vijay Kelkar, Rakesh Mohan), and some pucca bureaucrat-bureaucrats who knew how to get things done.
Think about A N Verma (principal secretary in Rao's PMO), Naresh Chandra, who held every job or headed every reform committee that mattered (including defence) for those two decades, and Abid Hussain.
And tough truth to tell, a memo written under their watch would never need one amendment for clarity or contradiction, forget multiple ones as is now the norm in the lockdown period.
There are three ways in which they were different.
One, the career bureaucrats among them had their moment under the 'Mai-baap' sarkar sun.
When the State had enormous power.
Having enjoyed it, they were happy to give it up now.
Which is essentially what reform, or the spirit of 'less government, more governance' is.
Two, having lived most of their lives through pre-reform years, they had experienced the shortages and miseries that licence-quota raj brought.
Listen to Montek and N K Singh recount their stories of the humiliation when a hotel in New York wouldn't check them in, full secretaries, because Indian credit cards were not valid overseas.
Or realising at a big multilateral negotiation in a Geneva hotel that you could tell whether an Indian had been in a lift by sniffing petrol.
Because India still did not allow the import of modern dry-cleaning equipment.
A memory bank of such experiences brought the impetus for reform.
And third, combining this IAS group with lifelong economist-bureaucrats brought in intellectual weight.
Finally, each one of these was allowed a long tenure in economic ministries.
The career of N K Singh from joint secretary (commerce) onwards (even now he heads the 15th Finance Commission) is an example.
Today, RBI Governor Shaktikanta Das is the only durable economic bureaucrat.
The current civil service leadership consists mostly of secretaries of the 1985-1987 batches.
They are children of reform, or let us say, officers of the 'colour TV era' (beginning 1982).
They don't know what we were denied pre-reform, but also never knew the powers their predecessors gave away.
They don't have to be on a three-year waitlist for a Premier Padmini even on IAS quota.
They lack that motivation for reform, and they are only now learning to enjoy old powers, with the lockdown.
Think of the power of a civil servant ordering, hey, you 138 crore demented children, you will be on curfew between 9 pm and 5 am because didn't mummy say it's dangerous in the dark.
And listen again, if you live in the green zone, you can eat tutti frooti ice cream.
In orange, maybe strawberry.
In the red zone, only vanilla, and that too if I can have it delivered to you.
Then say thank you, jaan hai, toh jahaan hai.
And reform, you want me to give up these powers? I haven't even learnt to write a clean memo yet.
By Special Arrangement with The Print
Production: Aslam Hunani/Rediff.com