Blend pumpkin, green coriander, ginger, lemongrass and garlic to make Kamini Patel's satiating Pumpkin Lemongrass Soup with its pleasant spicy punch.
It's a marriage of flavours made in soup heaven -- the refreshing lemongrass, a natural antiseptic, beautifully balances the earthy warm taste of the pumpkin, while ginger and chilly flakes add a further zingy note.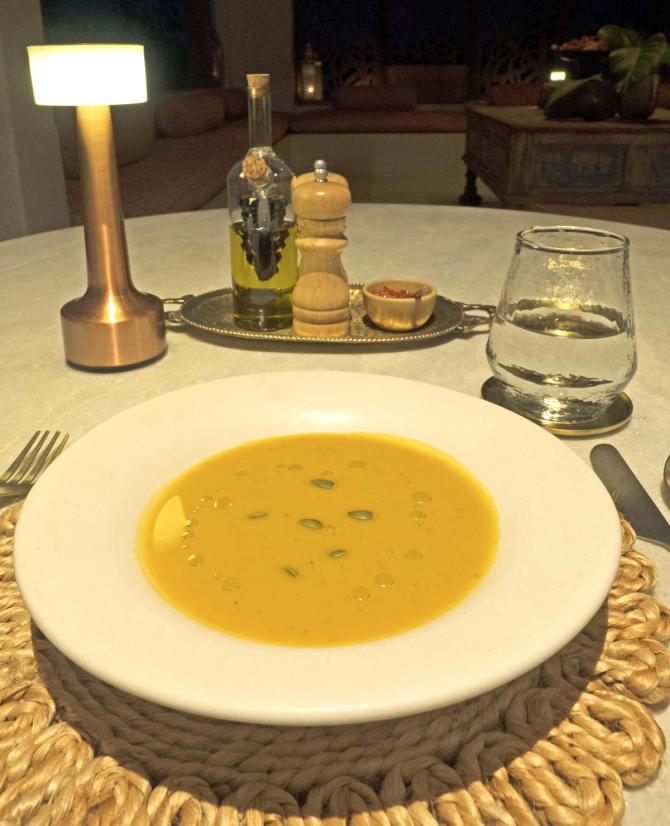 Pumpkin Lemongrass Soup
Serves: 3-4
Ingredients
250 gm lal bhopla or pumpkin, cubed in bite-sized pieces
10 ml vegetable oil
5 gm or a 1-inch piece ginger, roughly chopped
10 gm or 3-4 pods garlic, roughly chopped
5 gm or 4-5 green dhania or coriander or cilantro stalks, without the leaves
3 gm or 5-7 stalks lemongrass
150 ml vegetable stock (please see the note below)
300 ml water
1 tsp salt
4-5 leaves fresh basil
1 tsp red chilly flakes
For the pumpkin seed garnish
1 tbsp pumpkin seeds
1 tsp til or sesame seeds
½ tsp coconut oil
Pinch sugar
Pinch sea salt
Pinch red chilly flakes
Method
Tie the lemongrass together with a food-safe string and set aside.
Tie the coriander stalks with another food-safe string and set aside.
Spread the sesame seeds and the pumpkin seeds evenly on a baking tray.
Drizzle with the coconut oil and sprinkle the salt, red chilly flakes, sugar over it.
Bake for 10-12 minutes.
Take out of the oven and keep aside.
In a heavy-bottomed, large saucepan, over low heat, saute the chopped ginger and garlic with the vegetable oil, until fragrant and golden.
Add the pumpkin pieces, red chilly flakes and stir to coat the pieces.
Add the vegetable stock and the water, along with the tied stalks of coriander and lemon grass, leaving the ends of the strings hanging out of the pot.
Cover the pot and simmer for 25-35 minutes, stirring occasionally.
At 15 minutes, add the basil and continue cooking.
Once pumpkin cubes are cooked through, take the soup off the heat.
Remove the lemon grass, coriander stalks and basil leaves too (optional).
Allow the soup to cool before blending in a mixer to a smooth puree.
Garnish with the roasted pumpkin, sesame seeds and the spices and serve warm.
Note: Pumpkin is available either ripe or raw. If you would not like your soup to be sweet, opt for a raw pumpkin.
Liquid broth is available in some gourmet food stores. Or combine 2 vegetable soup cubes or 2 vegetable broth/bouillon cubes or 2 tsp vegetable broth/bouillon powder with 4 cups boiling water.
Or make vegetable broth from scratch by boiling 4-5 cups water with 1-2 large roughly chopped carrots, 3 stalks roughly chopped celery with leaves, 2 medium onions chopped in chunks, 5-6 whole black peppercorns, 2 tsp salt, 4 tbsp chopped parsley with stems, 2 laung or cloves, 5 pods garlic, 2 tej patta or bay leaves till vegetables are tender and the water is steeped with the flavour of the vegetables and spices.
Strain and use for the recipe.
Kamini Patel is the food consultant at Aramness.