The seasons are changing and it's time to give the wonderful winter Undhiyu a go!
When the weather cools, this one-pot Gujarati dish comprising of baby potatoes, unripe bananas, brinjals, purple yam, the hard-to-get surti papdi, suran and methi muthias brims with textures and flavours.
Preparing Maharaj Jodharam Choudhary's recipe may be time consuming, but once you taste it, you willl feel your efforts were worthwhile. Have it with warm rotis, that have a chota dollop of ghee on them. Yum!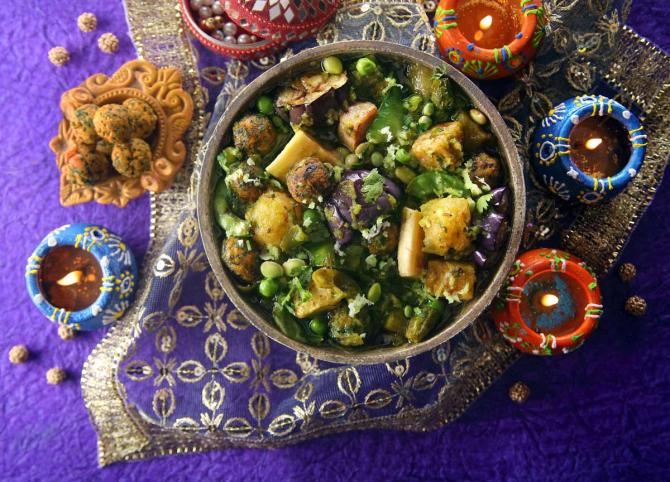 Undhiyu
Servings: 10-12
Ingredients
For the methi muthias
3 cups chopped methi or fenugreek leaves
Salt to taste
½ cup gehu ka aata or whole wheat flour
½ cup besan or Bengal gram flour
3 tsp ginger-green chilly paste
2½ tsp sugar or as per taste
½ tsp haldi or turmeric powder
1 tsp lal mirchi or chilly powder
A pinch of soda bi-carb
3 tbsp oil
Oil, for deep frying
For the undhiyu
1 cup peeled baby potatoes, uncut
1 raw banana, peeled and cut into 1-inch cubes
3 to 4 small brinjals or baby eggplants, uncut
1¼ cups surti papdi or fresh vaal, stringed and cut into halves
¾ cup kandh or purple yam, peeled, cut into cubes
¾ cup suran or yam, peeled, chopped
¼ cup fresh toovar or arhar dana or fresh green pigeon peas
2 tbsp oil
½ tsp ajwain or carom seeds
¼ tsp hing or asafoetida
Salt to taste
A pinch of soda bi-carb
2 cups hot water
For the coriander-coconut masala
1 cup freshly grated coconut
½ cup finely chopped green dhania or coriander or cilantro
1/3 cup finely chopped green garlic
½ tbsp coriander powder
½ jeera or cumin powder
2 tsp ginger-green chilly paste
1½ tsp chilly powder
1 tbsp sugar
1 tbsp lemon juice
Salt to taste
For the garnish
3 tbsp finely chopped green dhania or coriander or cilantro
Method
For the methi muthias
In a bowl mix the fenugreek leaves with a little salt.
Let it rest for 5-7 minutes.
Using your palms, squeeze out all the salty liquid from the fenugreek leaves.
Keep aside.
Add all the remaining ingredients and knead into a soft dough.
Add water a tiny bit of water, only if required.
Divide the dough into 18 to 20 equal portions.
Shape each portion roughly into a small disc by rolling it between your palms.
Heat the oil in a heavy-bottomed kadhai or frying pan and deep fry the muthias, in batches, until golden brown.
Drain on absorbent paper and keep aside.
For the undhiyu
Make criss-cross slits on the baby potatoes, banana pieces and brinjals.
Take care not to separate the segments.
Keep aside.
In a bowl, mix all the ingredients of the coriander-coconut masala.
Stuff the baby potatoes, brinjal and banana evenly, using ½ of the coriander-coconut masala mixture.
Keep the stuffed vegetables aside.
Combine the fresh surti papdi or vaal, purple yam, suran and ;toovar dana with the remaining masala mixture in a bowl.
Mix well and keep aside to marinate for 8-10 minutes.
Heat the 2 tbsp oil in a pressure cooker.
Add the carom seeds, asafoetida and soda-bi-carb.
Saute a few seconds.
Add the stuffed brinjals, baby potatoes, along with the marinated vegetables.
Add salt and 2 cups of hot water.
Mix gently and then pressure cook over high heat for 2 whistles.
Allow the steam to escape before opening the lid.
Transfer the cooked vegetables into a large heavy-bottomed kadhai or saucepan.
Add the stuffed bananas and methi muthias.
Toss gently and cook over low heat till the bananas are tender.
Stir occasionally.
Serve hot garnished with coriander with warm, soft rotis.
Maharaj Jodharam Choudhary is the corporate chef at Khandani Rajdhani, a chain of thali restaurants serving Rajasthani food.