Soup season is officially here!
Chef Neha Deepak Shah's light Broccoli Walnut Soup, dished up, if you prefer, with a drizzle of cream, is a warm, gentle hug in a bowl.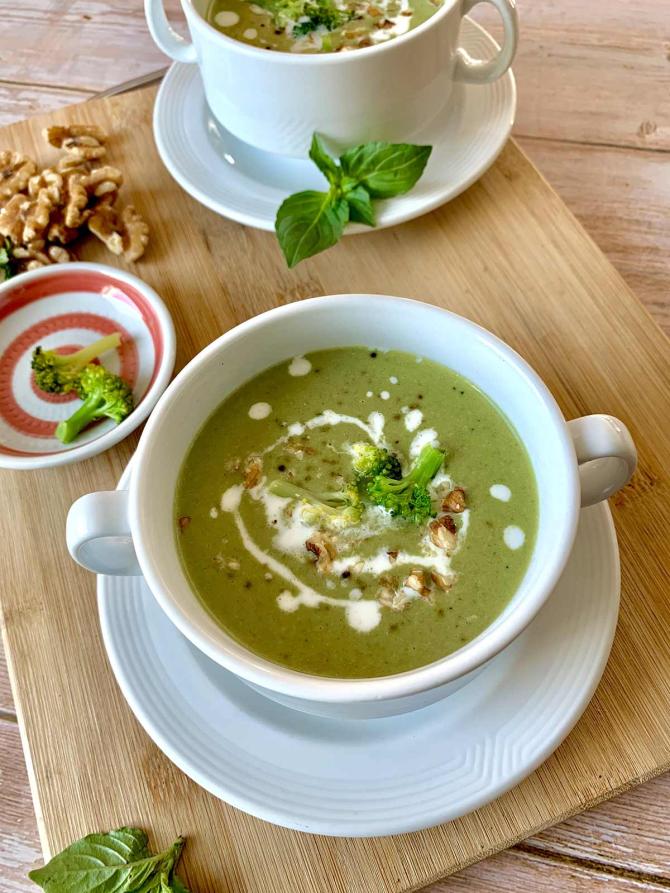 Broccoli Walnut Soup
Serves: 4
Ingredients
250 gm broccoli, chopped into small florets
Handful chopped spinach
1 tbsp extra virgin olive oil
1 small onion, finely chopped
2 pods garlic, finely chopped
12-15 walnut halves, chopped
½ cup water or vegetable stock (please see note below)
½ stock cube
½ tsp black pepper powder
Salt to taste
To serve
Fresh cream
Pink salt or Himalayan salt, available in gourmet food shops or online
Dash black pepper powder
Roasted walnuts halves
Toasted bread
Method
Heat the oil in a heavy-bottomed saucepan.
Add the chopped onion and garlic.
Saute for about 5-7 minutes.
Add the chopped walnuts and toast for about 2-3 minutes.
Add the spinach and the broccoli florets.
Saute 1-2 minutes.
Pour in the vegetable stock and add in the stock cube (please see note below).
Cover and cook for 10 minutes.
Take off heat.
Season with salt and pepper.
Serve hot, in individual soup bowls, with a drizzle of cream, a sprinkling of pink salt and pepper.
Garnish with roasted walnuts halves and serve with toasted bread on the side.
Note: Alternately, puree the soup in a mixer/blender and mix in a cup of Bechamel or white sauce for a richer, creamier soup.
Liquid broth is available in some gourmet food stores. Or combine 2 vegetable soup cubes or 2 vegetable broth/bouillon cubes or 2 tsp vegetable broth/bouillon powder with 4 cups boiling water.
Or make vegetable broth from scratch by boiling 4-5 cups water with 1-2 large roughly chopped carrots, 3 stalks roughly chopped celery with leaves, 2 medium onions chopped in chunks, 5-6 whole black peppercorns, 2 tsp salt, 4 tbsp chopped parsley with stems, 2 laung or cloves, 5 pods garlic, 2 tej pattA or bay leaves till vegetables are tender and the water is steeped with the flavour of the vegetables and spices.
Strain and use for the recipe.
A contestant on MasterChef India Season 4, Chef Neha Deepak Shah is the co-founder of Meraaki Kitchen and Cafe White Sage in Jaipur.