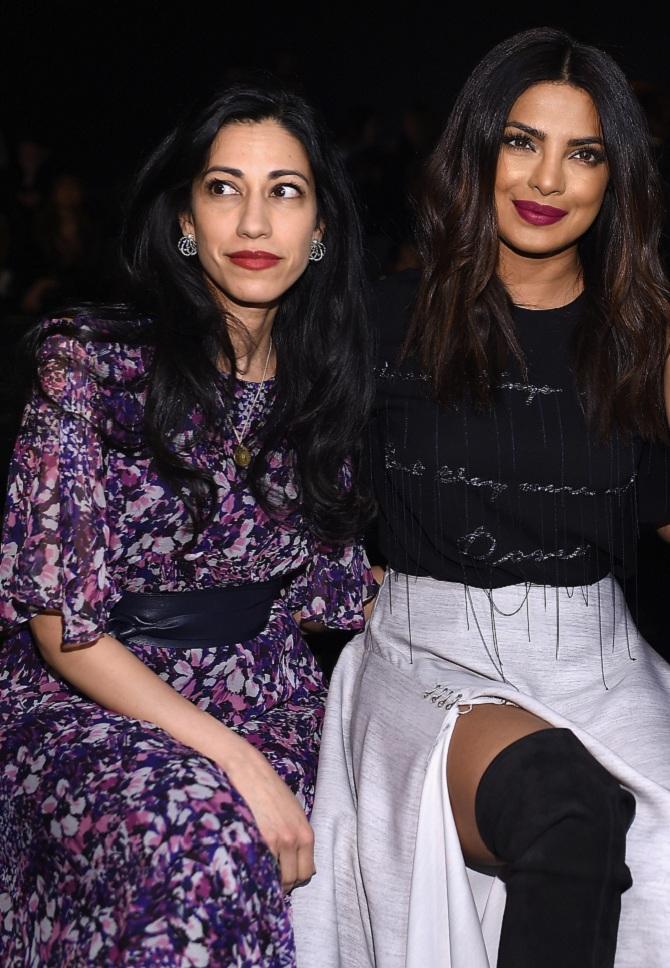 The Bollywood star shared the front row at Prabal Gurung's New York Fashion Week show with Hillary Clinton confidante Huma Abedin.
A leading Indian star.
A powerful Indian origin political adviser.
A celebrated Indian origin designer and model.
New York designer Prabal Gurung made a powerful political statement at the ongoing New York Fashion Week not just with his designs, but also with the front row celebrities at the show.
Seated alongside Hollywood stars Sarah Jessica Parker, Diane Kruger, Leighton Meester and ballet dancer Misty Copeland (the first African-American female principal dancer with the American Ballet Theatre) were Bollywood star Priyanka Chopra; the Indian origin Huma Abedin, Hillary Clinton's closest aide, and designer Waris Ahluwalia.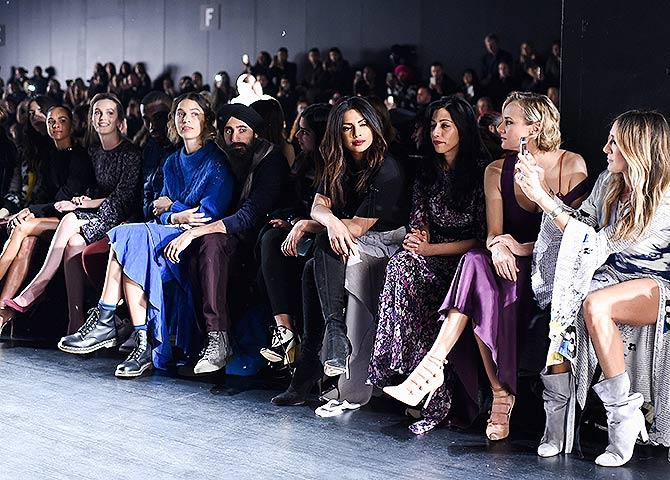 IMAGE: From right, Sarah Jessica Parker, Diane Kruger, Huma Abedin, Priyanka Chopra, an unidentified guest and Waris Ahluwalia at the Prabal Gurung collection at New York Fashion Week: The Shows, February 12, 2017. Also seen, from left, Misty Copeland and Leighton Meister. Photographs: Dimitrios Kambouris/Getty Images
Gurung -- who presented a well received collection of coats and evening dresses -- closed his show with a charge of models in T-shirts that made statements against the rise of the far right and the current regime of the United States.
The first to walk onto the ramp was Palestinian origin model Bella Hadid in a T-shirt that read 'The Future is Female.'
She was followed by models in T-shirts that had messages like 'Break Down Walls,' 'I Am An Immigrant,' and 'Revolution Has No Borders.'
Puerto Rico born Joan Smalls ended the show in a T-shirt that stated 'We Will Not Be Silenced.'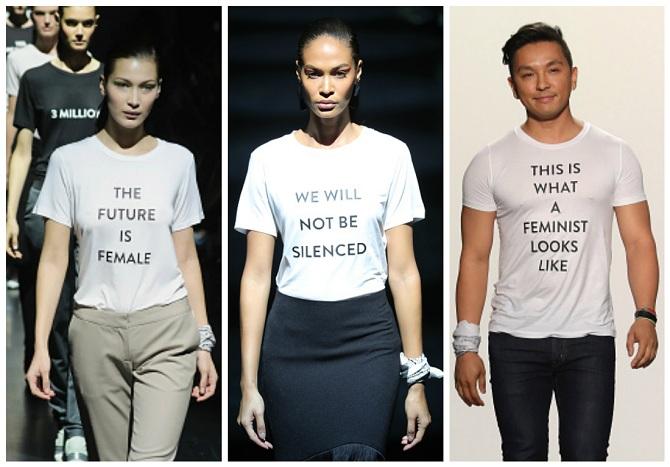 IMAGE: From left, Bella Hadid, a model of Dutch-Palestinian origin; Joan Smalls, a model who was born in Puerto Rico; and designer Prabal Gurung, an immigrant from Nepal and India. Photographs: Neilson Barnard/Getty Images
Abedin's presence at the show was especially significant as she has kept a low profile since Hillary Clinton lost the US presidential election.
'Several weeks earlier, Abedin and Gurung fuelled rumours of a fashion week collaboration when they were photographed having dinner together in New York City,' the Daily Beast noted. 'It all made sense in light of Gurung's finale.'
'It was fitting, though, that the single show she chose to attend was so politically charged,' New York magazine added.