New York City's newly inaugurated Second Avenue subway line features museum quality mosaic art, including portraits of Sikh-American designer Waris Ahluwalia and an Indian woman in a sari, discovers Monali Sarkar.
Inside the stations that were a century in the making.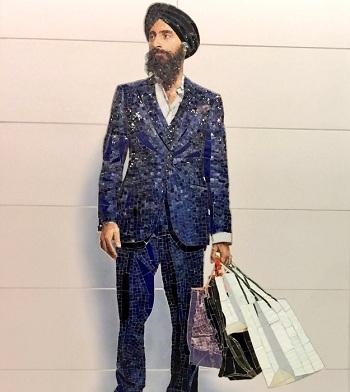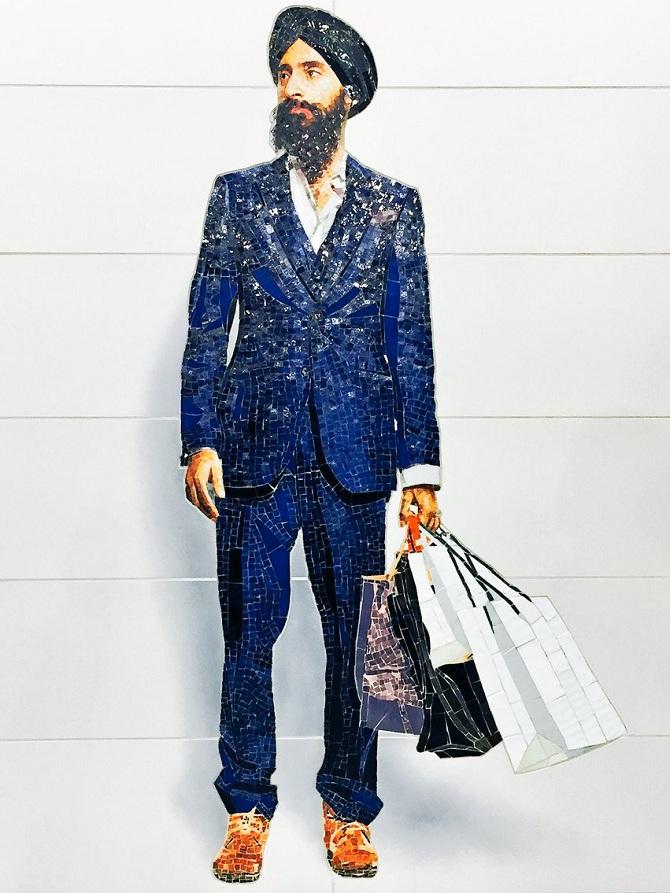 Actor-designer-model Waris Ahluwalia features among artist Vik Muniz's Perfect Strangers mosaics at the 72nd Street station on the Second Avenue Subway.
Photograph: Simran Jeet Singh/Twitter.com
Why New York City loves Waris Ahluwalia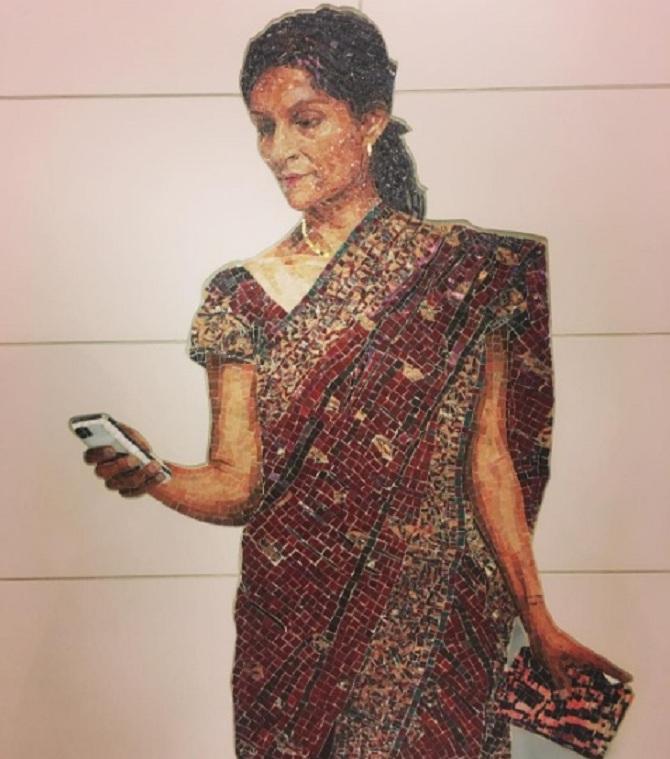 Muniz, a Brazilian-born artist, has captured New York City's diversity with sights that are rare for subway walls like a South Asian woman in a sari and a gay couple holding hands.
Photograph: Stan Cherian/Instagram.com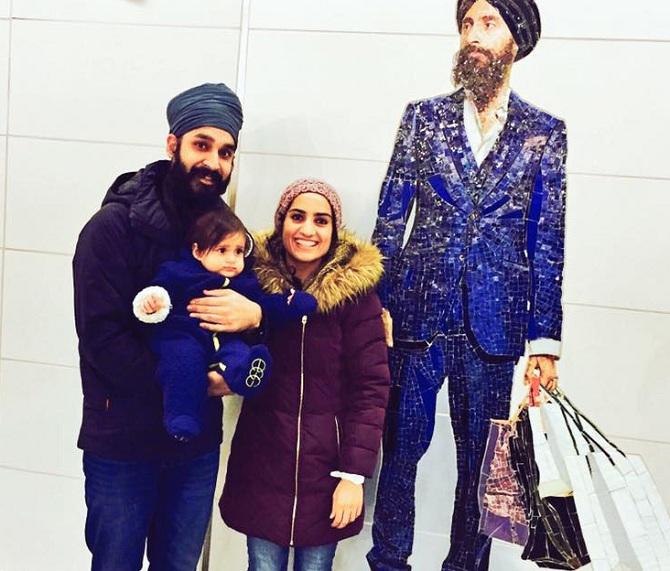 'Love this mosaic of a Sikh American in New York City's newest subway station. Love that our kids will grow up feeling represented,' tweeted Simran Jeet Singh, an academician and a New Yorker.
The diversity in the art made Indian Americans in New York feel seen.
Sumana Harihareswara told The New York Times that she was brought to tears when she saw the portrait of the South Asian woman in a sari.
'This woman could be my aunt, she could be my cousin,' she was quoted as saying in the NYT.
'There is no feeling quite like seeing yourself cemented into the infrastructure of New York. It lets me know that my city loves me.'
Photograph: Simran Jeet Singh/Twitter.com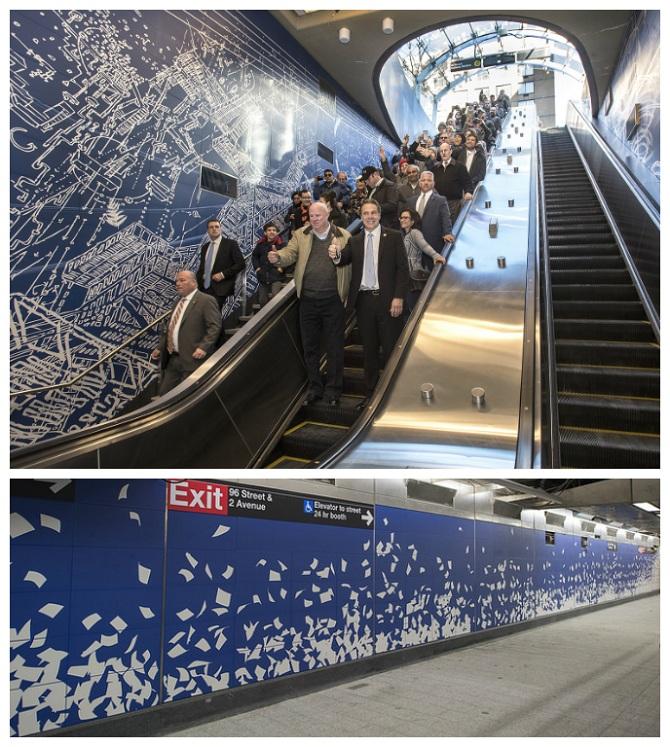 New York Governor Andrew Cuomo, front right, enters the 96th Street station on Second Avenue Subway.
This station features Sarah Sze, an artist and MacArthur Genius with deep Indian ties. She is married to Dr Siddhartha Mukherjee, who won the Pulitzer Prize for his book Emperor of the Maladies.
Titled Blueprint for a Landscape, Sze's art is spread across 4,300 porcelain tiles spanning approximately 14,000 square feet.
'The designs feature familiar objects -- sheets of paper, scaffolding, birds, trees, and foliage -- caught up in a whirlwind velocity that picks up speed and intensity as the composition unfolds throughout the station with references to energy fields and wind patterns,' the Metropolitan Transportation Authority notes.
'Each entrance features a different shade of blue and a blueprint-style vector line design, a visual theme that is integrated with the architecture, creating one of the most dynamic stations in the MTA system.'
Photographs: Metropolitan Transportation Authority/Flickr.com
Watch: Siddhartha Mukherjee on the making of his Pulitzer-winning book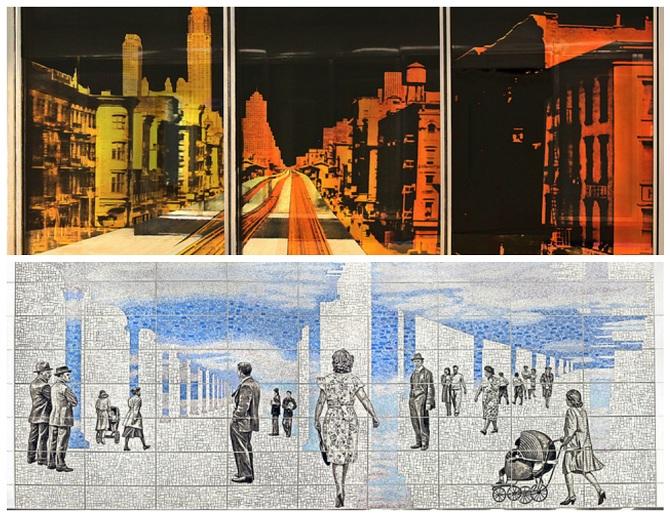 Each of the four new stations -- servicing New York City's famous Museum Mile and supported by a $4.5 million budget -- serve as permanent art installations by a different artist, including Chuck Close and Jean Shin.
Shin's work at the 63rd Street stop is a nod to the city's transit history -- an interesting theme for a subway line that has been in the works since 1929.
Photographs: Metropolitan Transportation Authority/Flickr.com
Meet Sree Sreenivasan, New York City's Chief Digital Officer