After going on to conquer the ring, Nikhat Zareen hopes to inspire young girls to follow in her footsteps and fight for their dreams.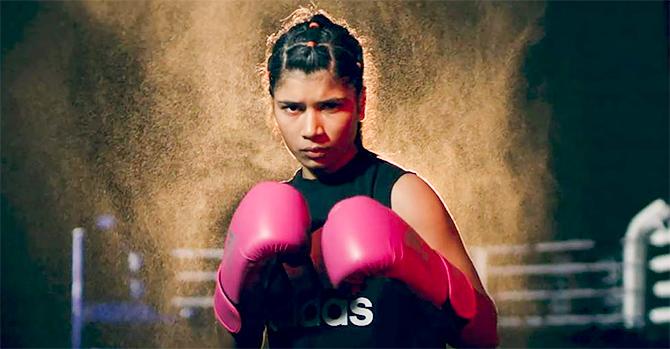 "How much time will the interview take? In the next 10 minutes, I'll need to be in the boxing hall for my practice," Nikhat Zareen said, as soon as we exchanged pleasantries on a phone call.
"Will it be possible to talk after the training?" she quickly requested.
A junior world champion, in 2018 Nikhat bagged a gold medal at the Strandja Memorial Cup in Sofia, Bulgaria, regaining her place as one of India's best boxers in the 51 kg category.
Earlier this year, the whole world watched the young girl from Nizamabad (Telangana) as she fought her way, defeating two-time champion Nazym Kyzaibay of Kazakhstan, to bag a bronze at the Asian Boxing Championship in Bangkok.
Behind her immensely popular sporting image, is a young, compelling fighter who is willing to pull all stops to turn the tide in her favour.
At 22, Nikhat, who found her calling in the ring, is a role model for young girls.
"Boxing gave me a voice to express my real grit and motivation; to challenge stereotypes and fight for victory. I hope more and more girls are able to pursue their dreams," says Nikhat, who features in Adidas India's latest campaign 'She Breaks Barriers' along with Indian sporting icons like Hima Das and Swapna Barman.
"I am very happy to be a part of the campaign. It is about women in sports, who face challenges and still continue to inspire others. It is for young players who want to become champions."
In an interview with Anita Aikara/Rediff.com, Nikhat Zareen shares six empowering lessons.
1. Fight for your dreams
Quiz her about how it feels to be an inspiration to young girls who want to live their dreams and she says, "It feels great.
"(When one talks about Indian women boxers) many people only talk about Mary Kom. She is a five-time world champion and is a role model.
"But I also hope to inspire young women, especially Muslim girls, to take up boxing. I wish to see more Muslim girls in boxing."
Nikhat started boxing to prove that girls could take up the sport after noticing very few women boxers in her hometown of Nizamabad.
Revealing the criticism she has faced while pursuing her boxing dream, she adds, "Being a Muslim girl from a conservative family, people used to ask my parents, 'Arre, ladki ko boxing mein kyun dala (Why did you let your daughter take up boxing)?"
They would say, "Yeh mardon ka game hain (This is a man's sport).
"But my father, who has been in the sporting field himself, used to ignore these comments and support me.
"The criticism never affected me, because my father handled it well and never let it get to me."
2. Stay grounded
With titles and awards comes popularity and, at times, ego and arrogance.
However, Nikhat refuses to let go of her simplicity and unpretentious lifestyle.
"I like talking to people and getting to know their stories," she admits candidly. "I like making friends too."
"People keep telling me that, mentally, I'm strong and very down-to-earth. That's how I am, and will continue to be.
"I feel that one achieves nothing with arrogance. At the end of the day, you'll only end up earning a bad name for yourself."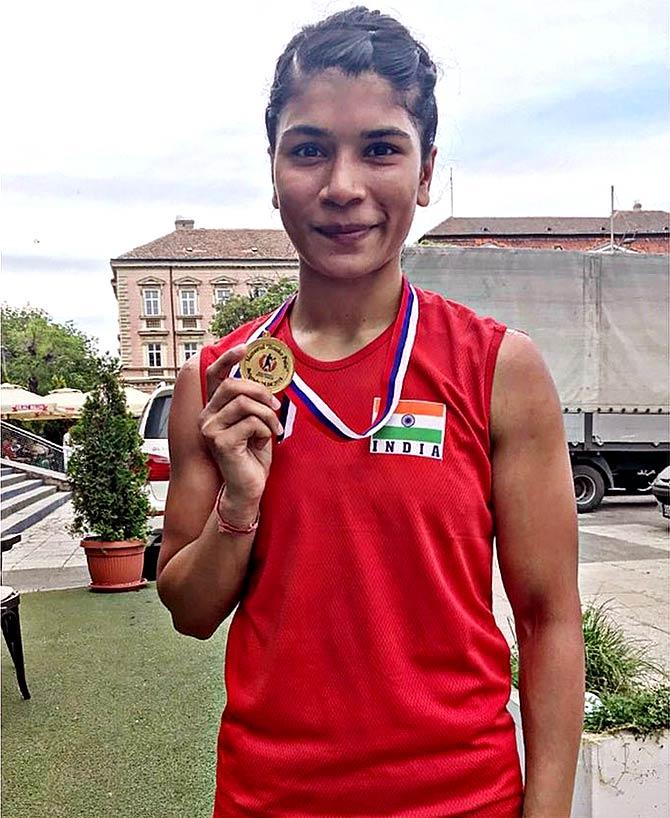 3. Be the change you want to see
When Nikhta initially started boxing, people would often advise her father, telling him, 'Padaee kar ke shaadi karva do (Get her educated and then get her married)."
Instead of being deterred, Nikhat and her family chose to focus on honing her skills in the boxing ring.
"In India, people think that women are very weak," says the professional fighter, who sees boxing as a medium to speak her mind. "They feel that women can't do the work that men can do.
"We need to set an example for them and show them what women can actually do."
4. Have a hero in your life; someone who believes in you
Nikhat's father is the hero in her life. "He has always stood by my side. He supported me when the world chose to criticise me. I'm very grateful to have him in my life."
The boxer feels that every person needs to have someone in their life whom they can blindly trust.
"You should be able to share your happiness and pain with this person," she says.
"You'll be confident if you have someone who stands with you no matter what happens."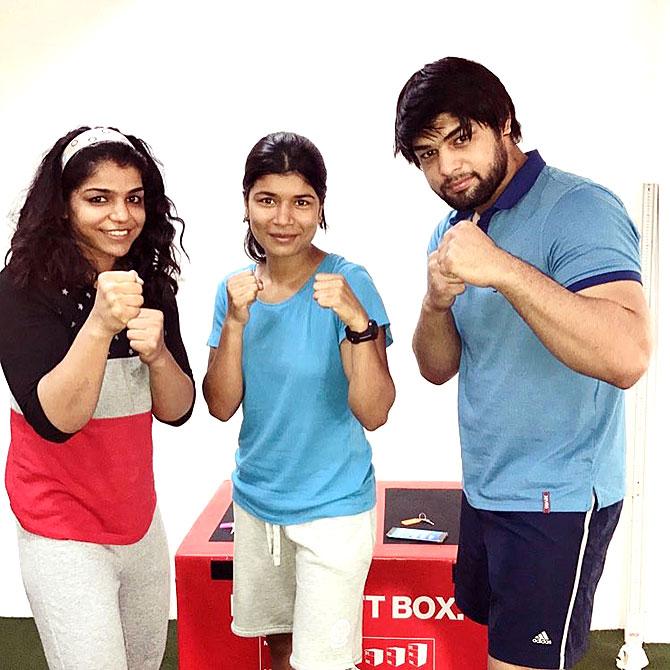 5. Women, you need to be independent
According to Nikhat, young girls think that if they become boxers, their face will get ruined.
Some also think that no one would marry them if they took up boxing.
"I want to tell these girls that boxing is safe," shares Nikhat.
She adds, "Moreover, you can't always depend on a man. Women need to be independent in life."
Does boxing come with an expiry date? Perhaps not.
"I have seen so many of my seniors get married and return to the boxing ring even after having children. Such women inspire me."
The International Boxing Association has rewritten rules that allow female boxers to wear a hijab.
"This gives Muslim girls, who don't want to wear shorts and sleeveless clothes, a chance to participate in the sport. They can represent India and win medals for the country."
6. It's never too late to learn a new sport
Nikhat is a fighter in the boxing ring. She is someone who can take a hit and keep coming back.
Boxing isn't merely a matter of winning and losing for her. It is a part of her.
"Make sports a part of your life too," she advises. "It is good for you."
"When you are sick, the doctor will tell you to maintain some fitness level. Sports keeps you young and active."