The sharp witted boxing legend lived a large life, and the champion himself, in his daughter's words was -- a humble mountain.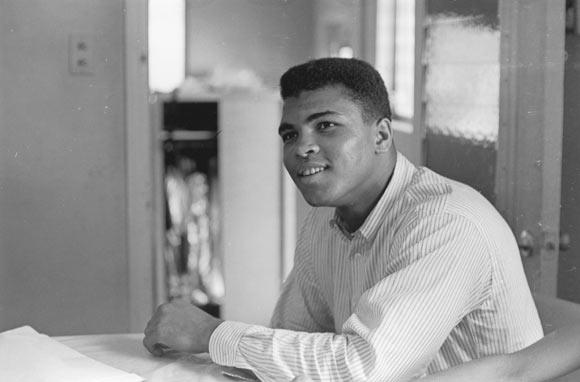 IMAGE: File photo of American heavyweight boxer Cassius Clay (later Muhammad Ali), February 1964. Photograph: Getty Images.
When I say two, there's never a third,
Standin against me is completely absurd.
When Cassius says a mouse can outrun a horse,
Don't ask how; put your money where your mouse is!
I AM THE GREATEST!"
-- This is the legend of Cassius Clay"
A civil right activist, legend and "the greatest". Muhammad Ali wasn't just one of the best boxing champions in the world, he was also known for his courage, quick wit and sharp tongue.
Muhammad Ali aka Cassius Clay died at the age of 74 on Friday (June 3), after a 32-year battle with Parkinson's disease.
Legend has it that at the age of 12, he was fuming over a thief taking his bicycle, and he told the police officer that he was going to 'whup' the thief.
The officer first told him to learn how to box; thus began the stupendous journey of the legend that is Muhammad Ali.
While many controversies surround Muhammad Ali, he would always back his talk with action.
Today, as we remember this boxing legend, here are the top five things you can learn from this boxing champion:
1. "Float like a butterfly, sting like a bee, your hands can't hit what the eyes can't see" – Muhammad Ali
The famous quote used by Ali, was stated when he beat the then world heavyweight champion Sonny Liston the second time in an reported 30-second knockout.
These words simply showed how quick Ali was in the ring and holds a great lesson for entrepreneurs, especially.
During your life's journey too, there will be times when you have to be quick and look for opportunities to bring on your 'sting'.
2. Never back down
"I hated every minute of training, but I said, 'Don't quit. Suffer now and live the rest of your life as a champion'." -- Muhammad Ali
A controversial legend in every way, Ali was known for his never-say-die and never-back-down attitude.
Known to be extremely scrupulous, he even gave up what he called 'his slave name' Cassius Clay to take on a new name -- Muhammad Ali.
He was vocal about racism and is believed to have even thrown his Olympic Gold in the river when he was refused service at a soda fountain due to racism.
Ali believed in his rights and stuck to it till the very end.
3. "Champions aren't made in gyms. Champions are made from something they have deep inside them, a desire, a dream, a vision"
In a world where white supremacy was at its peak, Muhammad Ali carved a niche for himself.
Apart from fighting in the ring, Ali faced opposition from different classes.
While deeply offended and hurt by the racism he faced, he continued on and that can be attributed to his belief in himself and his passion to become a world-famous boxing champion.
He believed: "Hating people because of their colour is wrong. And it doesn't matter which colour does the hating. It's just plain wrong."
4. "'Impossible' is just a big word thrown around by small men who find it easier to live in the world they've been given than to explore the power they have to change it. Impossible is not a fact. It's an opinion. Impossible is not a declaration. It's a dare. Impossible is potential. Impossible is temporary. Impossible is nothing."
Ali had to often swim against the tide.
When he beat Liston, there was an uproar and people assumed he had cheated. But none of the accusations held ground and people came to understand he indeed was one of the best boxers they had seen.
The outspoken Ali always believed that there were times when life doesn't give you the best circumstances, but if you have passion, desire and vision you can achieve whatever you want in the worst circumstances.
5. It is never too late to learn new things in life
"A man who views the world the same at 50 as he did at 20 has wasted 30 years of his life."
While strong in his views and beliefs, Ali was one of the few people in this world who had the power and courage to define the terms of his public reputation.
By the age of 22, Ali had become the youngest boxer to take the title from a reigning heavyweight champion.
From changing to Islam to later taking on Sufism, Ali did things against the norm and went on to learn new things. And that is what he taught the world -- to never stop learning.
ALSO SEE
The Muhammad Ali tribute you MUST read!