'You can have a bath in just one bucket of water.'
'When you are brushing your teeth, remember to turn off the tap.'
'You don't have to wash your car every day.'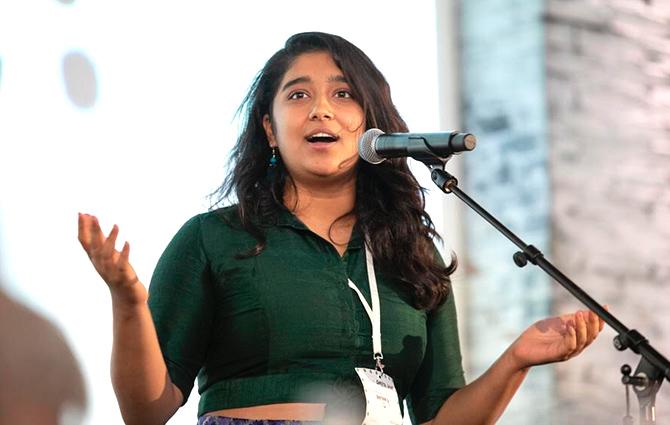 14 million litres of water is wasted every year -- in the water that we leave behind in glasses at restaurants.
Five years ago, this simple unsettling statistic forced Garvita Gulhati to start Why Waste?, a foundation that helps raise awareness on how we can save water, repurpose it and make optimal use of what is available.
But the road ahead wasn't easy.
She had a small group of friends and supporters who faced countless hurdles and criticism. But Garvita was determined and never stopped trying.
She wrote numerous e-mails, organised several awareness campaigns and spoke to people in her capacity to see how they could help her in the cause.
Three years later, on World Environment Day, Garvita was back with another thoughtful campaign called Glass Half Full.
The idea was to encourage restaurants to fill the glass in half so you can save at least 50 per cent of the water that was wasted earlier.
Today, Glass Half Full has volunteers across 20 cities in the country and friends in Dubai, Canada, Oman and the US who share a parallel vision -- to save water.
She became an Ashoka Youth Venturer in 2016 and in 2018, started the campaign Schools Lead Young to inspire school students to become change makers through which she connected to 2.5 million students across 800 schools in India holding discussions and sharing ideas on how to save water.
In May 2020, Garvita started Hopeschooling, an initiative that aims to connect people to share ideas on 'climate hope' -- how to bring environment change through our actions in times of COVID-19.
Garvita, who calls herself a 'waterpreneur', is currently in her third year of electronics and telecommunication engineering at the People's Education Society University in Bengaluru.
Her father Arvind works at Oracle; her mother Preeti is a former entrepreneur. She has a younger brother Rudraksh.
Garvita was awarded The Diana Award recently for her save water campaigns. The award has been instituted in memory of Diana, the late princess of Wales, for 'going above and beyond in their daily life to create and sustain positive change'.
"The kind of support we get through winning the award, for me is a recognition of efforts of all the people who believed in my crazy ideas and never gave up," Garvita tells Divya Nair/Rediff.com.
What inspired you to start Why Waste?
In 2015, there was a severe drought situation in Maharashtra, and here in Bangalore. I read about farmers committing suicide.
Just behind my home, I saw women walking miles to get clean water while we were getting it by simply turning on the tap.
I read a report which mentioned that 100 million children in India did not have access to clean water and how a lot of them are dying because of that.
To think of it, the majority of us waste water in the most trivial ways in our daily lives.
I didn/'t know where to start because it felt like a vast problem that affected all of us.
On World Environment Day that year, my environmental science teacher K N Poornima shared a presentation that 14 million litres of water gets wasted every year through the glasses we leave behind at restaurants (that we don't end up drinking).
This is just one of the 100 ways in which we waste water.
And what did you do about it?
I was 15 and I didn't have a lot of experience. So I started going to restaurants and talking to the staff, the owner telling about about how we are wasting water.
I suggested options like: Why don't you put a jug of water on the table and let your customers pour out how much water they want.
Or why don't you ask people before offering them or filling up their glass?
The response was mostly negative.
People told me: 'We are in the hospitality industry and we have to follow certain norms. We can't do this to our guests.'
I was in high school studying for entrance examinations. So people would say: 'Don't waste time on this. Focus on your studies. This is not the time.'
But then I thought: The planet is not waiting for us. So why should we stop or delay this?
How did Glass Half Full happen? What was the response?
After spending two years, I realised that you have to come up with innovative solutions.
I had written several e-mails to the NHRAI (National Restaurant Association of India) to bring this to its notice.
They have access to some 5 lakh restaurants across India, so I hoped that if they respond to my campaign, things may help.
One of their marketing heads wrote back saying they liked my idea and they'd take it forward.
After a lot of deliberation, on World Water Day, March 22, 2019, we trademarked the idea Glass Half Full which comes with a bunch of modules.
A couple of my friends and I visited a restaurant in Bangalore where we announced the campaign while speaking to the guests there and sharing the idea with them. People instantly liked the idea.
And we did a lot of campaigns with schools, youngsters after that. It instantly became viral.
A friend in Oman took the idea to an Indian restaurant there without me even asking for it.
There are students from the Philippines, Europe and South Africa who want to be a part of this.
The biggest win in this campaign was the shift in mindset for everyone who eventually became a part of this campaign.
What are the most obvious ways in which we waste water and what can we do about it?
You can have a bath in just one bucket of water.
On days you wash your hair, you may need an extra bucket.
When you keep the tap running or use the shower you don't have control on how much water you are using or wasting.
So just fill a bucket and use just that.
Similarly, when you are brushing (your teeth) remember to turn off the tap. Instead, fill a cup with water and use just as much as you need.
If you have an RO plant at home or in your society, you can use the waste water from it for gardening or to wash your car.
Also you don't have to wash your car every day. You can wipe it every day and clean it with water once a week.
How did your parents support you?
My parents have always raised us with a consciousness for society.
My younger brother Rudraksh and I spent most of our birthdays in orphanages with less privileged kids.
We grew up learning the importance and value of privilege and a desire to give back.
My mother would always say: All that food on your table needs to be finished. So we would rarely waste food at home.
My father taught me resilience and perseverance.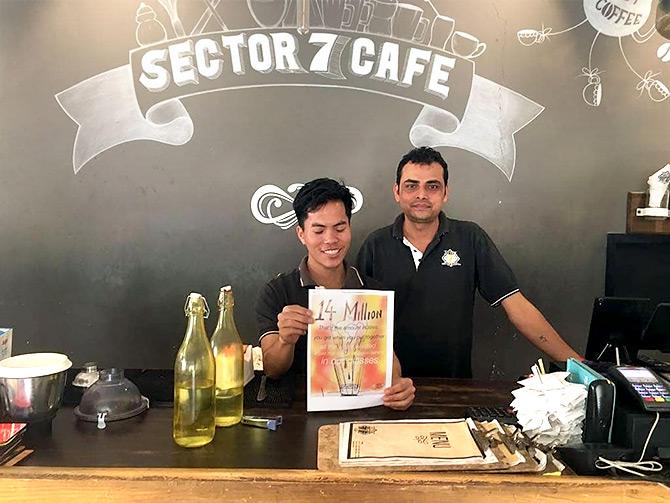 What was your role as Ashoka Young Changemaker?
Every school has a 5 minute assembly before classes begin. Here the idea was to share one inspiring story of a changemaker.
A lot of people have interesting ideas, but never really think of taking it forward because they feel they are alone, they are too young or someone tells them otherwise.
The idea behind this idea is to let them know that there are people like you out there who faced problems, but they chose to solve them.
What next?
I believe that a lot of conditioning happens between Classes 1 and 5 in school.
We need to teach our young citizens the importance of conserving water. We are planning to release a book of stories involving animals that will teach students about our planet and saving its resources.
We are also in talks to launch a mobile app that will have resources and tips on 'How to save 100 litres of water every day.'
What were your thoughts when you won The Diana Award?
Everyone who has read or followed Princess Diana would agree that she was an international phenomenon who stood up for all the right issues.
She was a change maker and believed in the power of young people.
So the intent behind the award is amazing. The kind of support we get through winning the award, for me is a recognition of efforts of all the people who believed in my crazy ideas and never gave up.
What are your career plans?
I am studying engineering. I love technology as much as I care about the environment.
I know a lot of people feel that technology has ruined our planet.
If you ask me, I think technology is amazing. If you know how to use it well, you use it to solve problems in an innovative way. That's what I plan to do.