If you think life has made Asna a bitter person, you are wrong; she is one young woman full of positivity and dreams.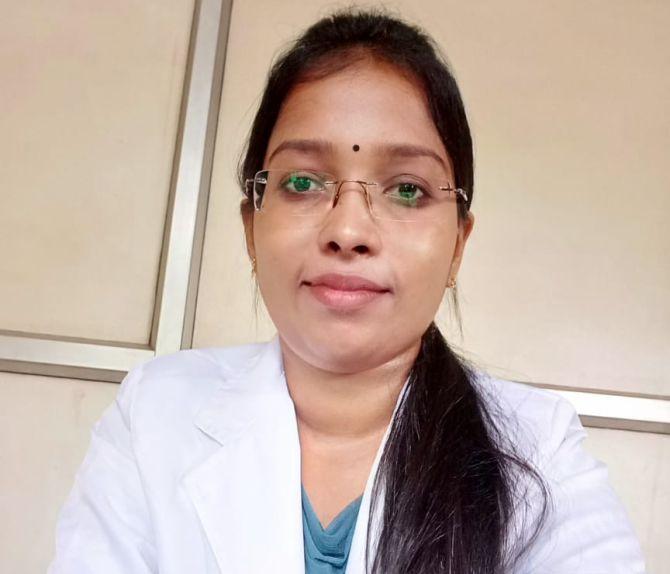 The image of weeping six-year-old Asna lying on a hospital bed with bandages on both her feet became a symbol for the violent politics associated with Kannur in north Kerala.
It did not mean the image pricked the conscience of rival party workers and ended the murder and mayhem in arguably India's most politically violent district.
Even today, people kill each other for political reasons in Kannur.
On September 27, 2000, Asna lost her right foot in a bomb attack.
Today, Asna is 25 years old. She has rebuilt her life and is a doctor posted at the primary health centre in her village, Cheruvancheri.
Her younger brother Anand, who was also injured in the bomb attack, is doing his final year nursing at the Kannur Medical College.
If you think life has made Asna a bitter person, you are wrong; she is one young woman full of positivity and dreams.
This is her story. As told to Shobha Warrier/Rediff.com.
September 27, 2000, the day life changed for a 6-year-old girl
It was panchayat election day.
The polling booth in the school close to our house was full of people from all political parties.
Naturally, there was a lot of noise and fights going on there.
We didn't pay much attention except when we heard crude bomb explosions.
My uncle's house is in the same compound, but behind our house.
Because my aunt was a heart patient, we knew the sound of bombs exploding would scare her.
So, my mother said we would go there to be with her.
That was when a man ran into our house for shelter.
In no time, a bomb was hurled at him.
What happened was he escaped and we got injured in the explosion.
The bomb fell on my leg. My mother and brother were also injured in the blast.
I don't remember anything that happened at that moment or afterwards. Maybe because I was just a child.
Three months in hospital
The next thing I remember was lying on the hospital bed after the surgery. There was a lot of pain.
I don't know whether I really remember those three months spent in hospital.
Most of my memories are quite muddled, based on what the others have told me.
The truth is I don't think of the incident or the time spent in the hospital at all.
That is because I don't like to be reminded of those days.
Maybe that's why I don't remember those days specifically.
When people ask me, I realise I remember only so many people coming to see me.
I also remember that I saw many doctors and nurses.
I was told the doctors had to amputate my right leg above the knee.
The left leg was burnt in the attack and they had to take skin from the left leg to graft on the right one where it was amputated.
No crutches!
I am told that when I was about to be discharged, I refuse to leave with crutches.
I said, it seems, that I would leave only if I had my leg back.
Generally, artificial legs are fitted only after the amputated part heals well.
But because I threw such a huge tantrum, the doctors decided to fit an artificial leg before sending me home though the wound had not healed well.
Somehow, I did not like to use crutches. I still do not.
At home also, I refused to use the crutches.
When the wound hurt me really badly, I would remove the limb and hopped around on one leg.
I even played with my friends hopping on one leg which resulted in me falling down, even fracturing my left leg. Still, I didn't use crutches.
I was okay with the wound hurting me; after all, I had a limb. That was my consolation.
Not being able to play like the other children did not bother me much. I was basically an introvert.
More than playing with friends, what gave me happiness was the classes I attended to learn drawing and magic.
Yes, as I grew up, it affected me sometimes that I was not able to do certain things which others could do without any effort.
My father had a shop, but after what happened to me, he closed it down to come with me everywhere.
Dreaming to be a doctor
Maybe because a lot of my childhood days were spent in hospitals among doctors and nurses, I wanted to be a doctor when I grew up.
So, when teachers asked us what we wanted to be, I always would say, doctor.
Later, I realised I was really dreaming big.
The dream became bigger and bigger each passing day, and there was no way I could abandon my dream.
After I finished my 10th standard, people from the media asked me what I wanted to be and I again said, doctor!
Because of that one incident in my life, my life was closely monitored by the media and after every milestone, they would interview me.
Every time, they wanted me to repeat what happened to me on that day.
I never liked it. When I wanted to forget that chapter in my life, I was made to recall it again and again.
In fact, I didn't like talking about myself.
Joining medical college in 2013
When I joined the Kozhikode Medical College in 2013, I realised it was the realisation of a dream I had carried with me for so long.
The only problem I faced was my class was on the second floor and climbing steps was and still is extremely tough and painful for me.
Till then, in school and the one year I spent at the coaching institute, I was dropped just in front of the class. I only had to walk a few steps.
But here it was an arduous task climbing up to the second floor.
Slowly I got used to it. I would reach college early and climb the stairs slowly.
Hearing about this, then chief minister Oommen Chandy ordered a lift to be installed at the medical college.
It took one year for them to install it.
Though it did not help me, I am happy that all those students like me who would come later will have it easy.
The medical college was very understanding of my condition.
The hostel provided to the juniors was quite far away from the college, and it required a long walk to the classes.
Knowing my situation, the authorities provided me with a single room at the seniors's hostel close to the medical college which was a boon for me.
Every single person I met at the medical college was sympathetic and supported me wholeheartedly.
Life at the medical college
The first year in the medical college was spent mainly alone as I was in a single room, that too in the seniors's hostel.
I was totally cut off from my batchmates.
By the second year, I got adjusted to my new life and learnt to be on my own.
I moved from the single room and got a very good friend in my roommate from Lakshadweep.
By the time we reached the final year, her friends who used to drop in, also became my friends.
I never went out with friends as crowds made me a little weary.
I do not know why, I enjoy sitting all alone rather than being in a crowd.
Working in a primary health centre
Soon after my studies, I got a temporary posting at the Primary Health Centre in my village Cheruvanchery itself.
The appointment was done by the panchayat.
It was a matter of pride for my parents to see their daughter working where they live, as a doctor.
I don't know how to describe my feeling; I can only say I felt extremely happy.
My first patient was Anil, a small boy who had fever.
Most of the patients who come to see are those with a common cold and fever as it is a primary health centre.
People over here have seen me grow up; they all know me.
I see that they are proud to see me as a doctor here.
Every one of them tell me they know me, but have not seen me for some time as I had gone out to study.
I want to be a surgeon
This posting will end on the 31st of March, but my plan is to do post graduation in surgery.
I am aware that I may find it difficult to stand for long hours, but my interest is in surgery.
I am sure I will be able to do it.
During our internship, we had to stand for very long hours, and it had resulted in an ulcer in my right leg.
I have only skin cover in the area where it was amputated; no muscle.
Naturally the bone is not covered strongly. That's why I get ulcers in that area quite frequently. But I would continue to work swallowing pain killers.
The pain did not bother me much.
Learning to drive and experiencing freedom
The best thing that I did was learning to drive.
When I had a two week break after my final year I learnt to drive.
Because my right leg was the problematic one, I needed a lot of alteration in the car.
I could learn driving only in an altered car and not in the ones used by the driving school.
They had only manual cars with pedals for accelerator, brake and clutch.
I bought a Wagon R on a bank loan and paid the instalment from the stipend I got for my internship.
There is a disabled person in Malappuram who does alterations in the cars for people like me.
Because it is an automatic car, what he did was, he fixed a pedal for the accelerator where the clutch was.
So, I use my left leg for both brake and accelerator.
The toughest part was to get someone to teach me driving.
Finally, it was my cousins, my brother and his friend who helped me master driving.
After I started driving, it became very easy for me to come to the hospital from the hostel.
Most of the time our duty would go on till late at night.
So, going back also became so easy.
More than anything, it gave me a kind of independence which I had not experienced till then.
Till then, if I needed something, I would tell my friends to buy it for me when they went out. Once I started driving, I went out on my own, and bought the things I wanted.
I can't say in words what I felt after this newfound independence! It was exhilarating.
I was like a bird who had learnt to fly for the first time.
At the end of the day
Not a day passes with me thinking how blessed, happy and satisfied I am because I chose this profession.
As interns, we would work continuously for hours, and most of the time we would not get time to even eat.
Many patients would notice this and ask, 'Doctor, did you have lunch? Please eat something.' In which profession will you get such concern and love from strangers?
When they go back cured after the treatment, the happiness you feel as a doctor is unexplainable.
You will never be able to forget the thankful and loving smile they give you once they are well.
That one smile gives you so much energy that you will not feel tired even after long hours of duty.
When you lie down at night tired and ready to sleep, the love and smile you received, will come back to you and you are energised for a new day!
And that is the most blessed part of being a doctor.