'I can finally tell my father that he need not go fix tiles in other people's homes.'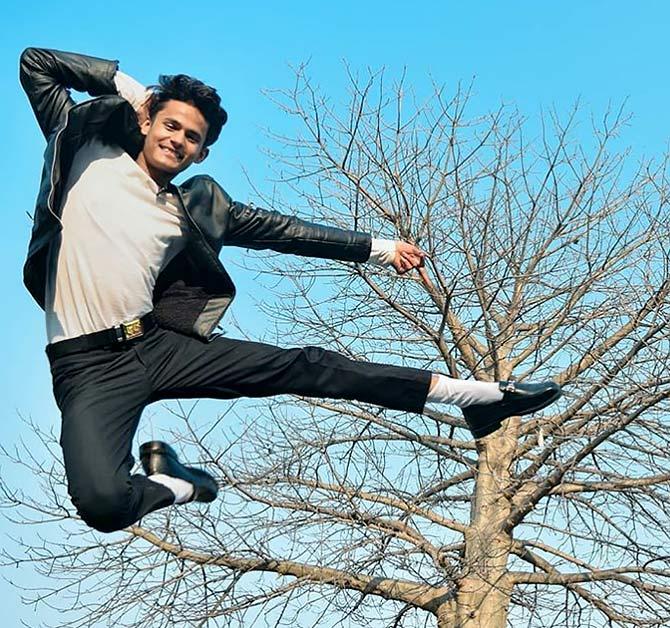 Some of you may know Baba Jackson as the young boy from the viral video where he did a smooth moonwalk on TikTok, a video sharing app.
In January, Hrithik Roshan shared a compilation of his dance moves and said: 'Smoothest airwalker I have seen. Who is this man?'
While millions watched and shared his dance videos, no one knew where he lived or what his name was.
The son of a daily wage labourer tells Divya Nair/Rediff.com that he had "no dancing shoes or decent pair of clothes" when he started making videos in 2018.
But things began to look up in 2020 after he became an Internet sensation.
Months later, when the rest of India was busy making Dalgona coffee and complaining about the lockdown, Yuvraj Singh Parihar aka Baba Jackson as he is known on social media, became the winner of Entertainer No. 1, an online talent reality show hosted by Varun Dhawan and sponsored by Flipkart.
On June 7, the 18-year-old self-trained dancer bagged a whopping Rs 1 crore as prize money.
How did he do it?
This is his inspiring story: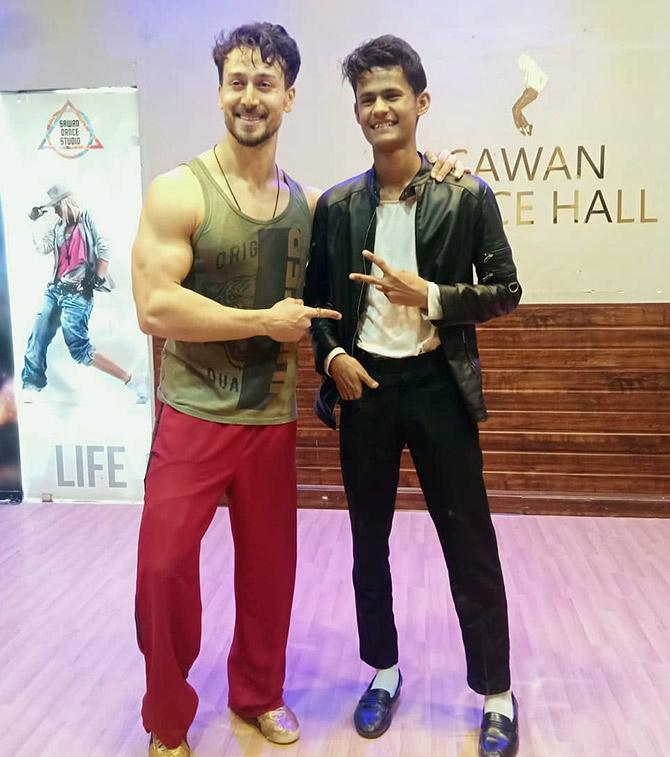 It all started in 2017 when I watched Munna Michael with my family.
My family is a huge fan of Tiger sir. I was particularly drawn to Tiger sir's dancing moves.
When I came home, I started watching his dance videos on YouTube.
My father is a daily wage labourer. He fixes tiles in Jodhpur, where we live.
My mother Neelam used to be a teacher, but she is a homemaker.
I have two younger sisters -- Harshita, 16, and Yashasvi, 13.
I knew I couldn't ask my parents for money or to send me to a dancing school. So I started learning on my own.
I would practice wherever and whenever I could.
I was an introvert at my school, Shri Sunder Uchha Madhyamik Vidyalaya in Jodhpur.
It is a big school where no one recognised me. And why would they? I used to fail in one subject or the other.
But I never gave up. I knew I had to study harder for my parents.
After Class 10, I developed this passion for dancing.
So before the teachers came in or after everyone left, I would dance or practice in the free space behind the benches in the classroom.
No one knew about my dancing talent except my family and a few friends. My mother would always encourage me to pursue dancing.
Since we didn't have enough resources, I tried to manage with whatever I could.
I didn't have a mirror or a studio to practice. So I would wake up early and practice in the open fields or wherever I found empty space.
I knew I wouldn't be able to train once the sun comes up. So I would practice early morning or late evening.
I watched videos of Prabhu Deva Sir, Tiger Sir and Hrithik Roshan Sir dancing and try to do them myself.
I loved moonwalking and tried really hard to perfect it.
Then when I had to record, I would go to the terrace because it was convenient. I'd place the phone below and start recording.
When I started making videos, the Internet connectivity was very poor. So if I had to upload a video, I would have to go searching for a good signal.
It was quite a task to record and upload videos. I didn't have a lot of followers.
I didn't have dancing shoes or decent clothes. I would record with whatever I had.
But I kept improving myself every day. Soon I got myself a new pair of shoes and clothes.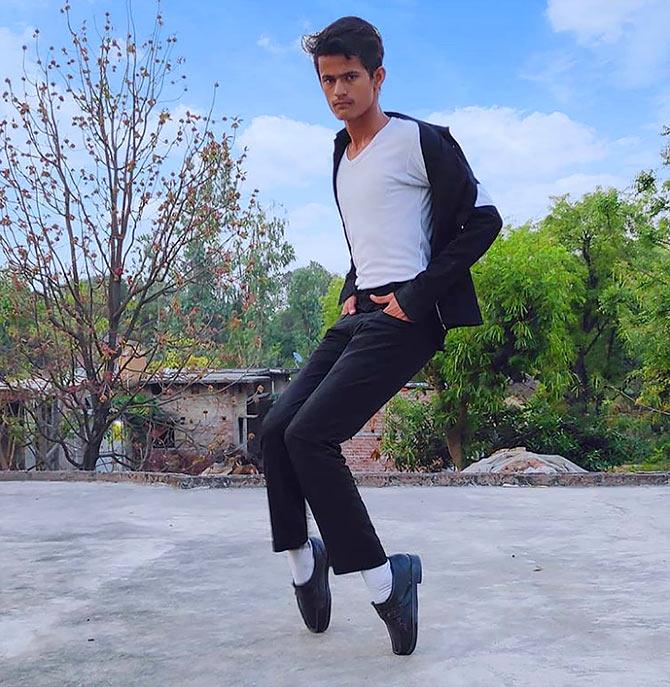 It was only after Hrithik Sir shared my video that people noticed me.
My followers increased overnight. People were suddenly asking about me.
I was surprised when my teacher from school called up to say: 'Ab sabse chupkar nahi sabke saamne aakar nachna hai (You can't dance in secret; you need to dance openly).'
It was encouraging.
Watch Baba Jackson's cool dance moves in the video below:
In March, after appearing for my Class 12 exam, I travelled to Ayodhya with my family to attend a wedding.
When we were there the lockdown was announced. Around the same time, I was invited for Entertainer No 1, which I was told was going to be judged online.
I didn't know what to do.
I knew it was a big opportunity, but I wasn't prepared.
We hadn't packed much thinking we were only going to stay for a few days. I had bought only one pair of clothes. We couldn't go back or shop.
I didn't want to give up so easily. So I thought let me do it.
Once I signed up, I realised that there were other problems. In Ayodhya where we stayed there were frequent power cuts.
We would have electricity only for four hours a day. And the timings weren't fixed either.
During these four hours, I'd have to charge my phone and also record my video.
Everyone in the family helped.
I did eight episodes with one pair of clothes!
When we were travelling back by train to Delhi from Ayodhya on June 2, the finale was underway.
I hadn't expected to come so far. So I was already grateful.
During the competition, I had learned so much.
Earlier I used to like more of freestyle (type of dancing), but now I had started to do hip hop, locking-popping also.
On June 7, the day of the results, I was very restless.
When the results were announced between 8 pm and 8.30 pm, I was with my family. When they announced my name, I couldn't believe it.
Everyone was overjoyed. My mother had tears.
The next few hours were a blur. People were calling from all over to congratulate.
I was grateful to a lot of people -- my family, the relatives who helped me in Ayodhya, the people who had voted for me to win...
We were awake till 2 am.
I am thankful to Guru Randhawaji, Raveena Tandonji, Anupam Kher Sir for tweeting my video and encouraging me.
For me, it was never about the money. Because I wasn't sure I would reach the finale.
My parents never put any pressure on me. They silently supported what I did.
I can tell my father that he need not go fix tiles in other people's homes.
A lot of people have been commenting on my videos asking me when they will see me collaborate with Bollywood actors. A few years ago that may have seemed impossible.
But now, I can proudly say I have met Varun Dhawanji and the entire team of Street Dancer.
This is just the beginning. My ultimate dream is to represent India in World of Dance.
I also want to meet Salman (Khan) Sir and do the moonwalk. I like his style of dancing.
As for the prize money, I haven't thought much about it. I want to open a dance school for less privileged people like me, so they can come and get trained.
I have a message for parents:
A lot of parents compare their children's marks at school. They feel that only if you score well you will do well in life.
If you ask me, I would fail in at least one subject. But I didn't let that affect me.
I don't think everyone can become a doctor or engineer. Someone like me may want to dance or sing, or do something else.
Parents have a huge role to play in how your future turns out to be.
In my case, mere mummy ne mere talent ko pehchana (my mummy recognised my talent).
Once you step out of school/college no one is going to remember how much you scored in Class 10 or 12.
As parents, all you have to is show the right path and be with your child at the right time. That is all s/he needs to succeed in life.
Watch Yuvraj Singh thank his supporters after winning Flipkart Video's Entertainer No. 1: