'I have a voice and must use it to do as much as I can,' the singer tells Sansan Lotha.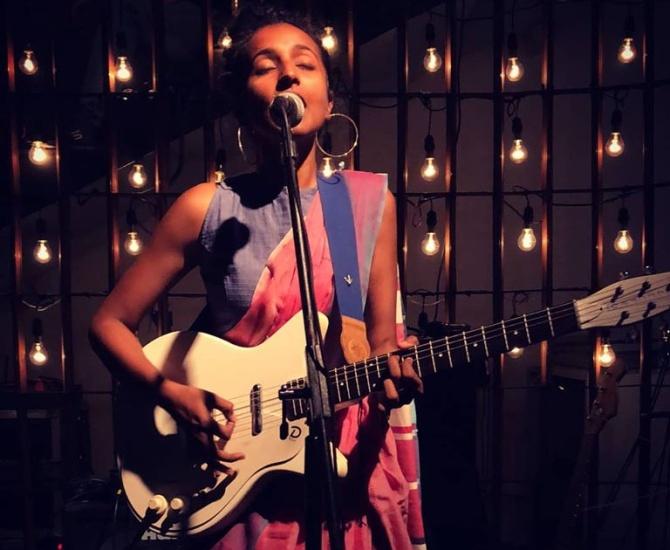 Ditty likes to keep it simple. She is the girl next door who is trying to save the world, but with a guitar.
Flower headbands and roses pinned on her dress -- these are the few elements that comprise her personality.
I discovered Aditi Veena aka Ditty a few weeks ago, while randomly scrolling through Instagram pages. Deathcab was her first song that I listened to.
The three-minute, 38-second song compelled me to find out more about this Goa-based alternative/indie singer whose poetry and melodies make a case for saving the planet.
When I reach out to her for a meeting, she is recording a song in Vienna but tells me that she will be in Delhi soon.
Ditty has been vocal about saving 'mother earth' and that's one theme that resonates in her songs as well as during the conversation we have on a chilly evening at The Wishing Chair, an Italian restaurant at Shahpur Jat, one of South Delhi's bohemian enclaves.
"It is heartbreaking... what we are doing to our cities and our lives," she says, emphasising on the world's detachment with nature.
"For instance, it's really shocking to know that we don't have a fully functional sewer system for a city (Delhi) with a population of 19 million."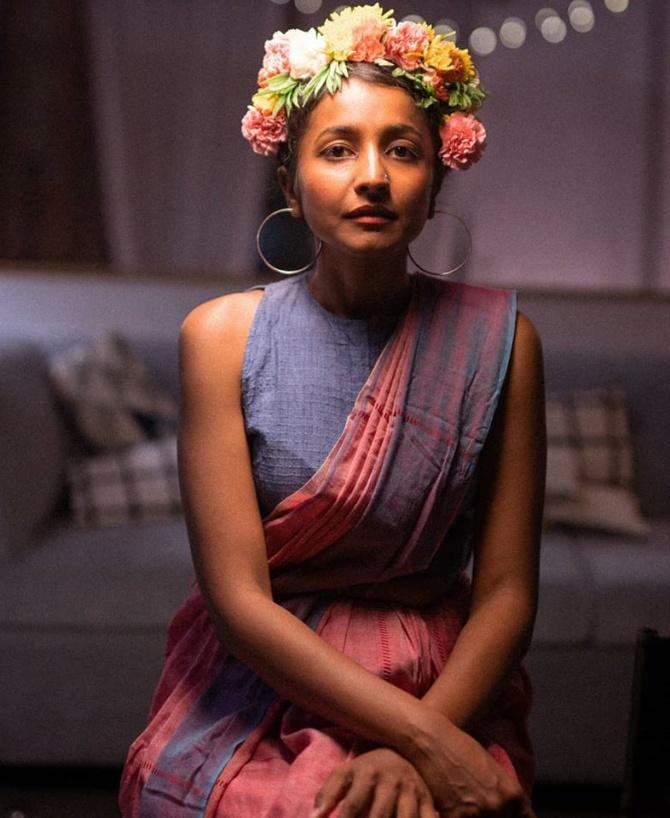 An urban ecologist and architect by profession, Ditty grew up with a deep-rooted love for nature thanks to her mother, a botanist, and her father who often took the family out for picnics.
Her childhood, she says, was spent in a "nice little neighbourhood" in South Delhi. Studying in a school close by, she recalls feeling "lost" as a student and resorted to the arts and singing as her sweet escape. With her guitar and a notebook, she knew well where she was heading.
"I was just writing songs in my bedroom and these poems (too)," Ditty smiles, as she speaks about the birth of her music cum spoken poetry fusion. "It is not the conventional music; that's just how I wrote it,'" she says.
Picking up the guitar and singing songs started as a personal journey for this singer-songwriter, who never thought this would become her profession.
Ditty, who has performed in Sri Lanka, Nepal, Germany and England, says, "I was always singing as a kid."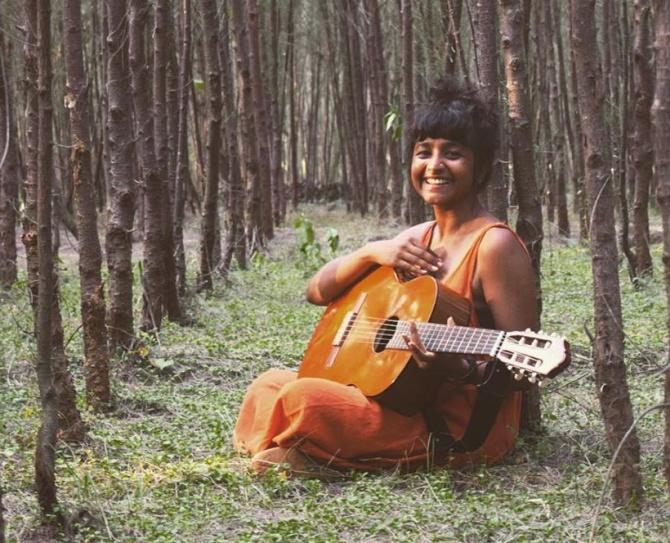 Four years ago, she decided to turn her poems into songs. She collected bits and pieces of her writings, and started tuning them on her guitar, and that eventually led to the release of Mumblings, her first EP, in 2014.
The same year, a visit to Sri Lanka left her stunned and she decided to relocate to the island nation. "The sea was a big part of why I moved," she says.
"Places closes to the sea have their own charm -- people are humble and friendly. When we live in the city, we don't have a relationship with nature. If the ocean is with us, we stay humble. It's a sensual experience," Ditty says about living in Sri Lanka.
She paid her tribute to that lovely island nation in her debut album, Poetry Ceylon, which released last year to acclaim.
Oh city lights/I bid you goodbye/I'm now a girl on an island -- that is her three-line love letter to Sri Lanka.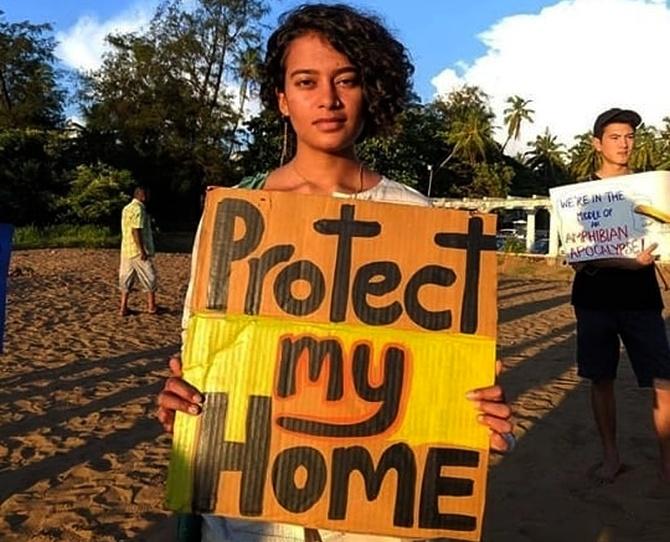 In her song, On an Island, she sees herself retreating from the modern world, while turning towards the simpler things of life. She bids farewell to 'a city life devoid of freedom, love, and reason'.
Ditty's songs are organic and straight from the soil. In her soulful voice, she questions: 'We were meant to be brothers, not silent neighbours' ... 'they forgot the streets. Is that how it's supposed to be?'
The mood for the entire album is melancholic, deep and raw. One of the songs, Eulogy for a Sparrow speaks of nature that's heading towards extinction. 'Oh they're gone, they're gone, never to be seen.'
The rest of the songs in the album -- Garden, History of Us, Food City, Sadness -- follow the same emotion.
While she was in Sri Lanka and performing at the music festivals, Ditty met Dhruv Singh from New Delhi-based indie label, Pagal Haina.
They played a couple of gigs and in 2017, she left her beloved Ceylon after a three-year stay to join the label.
Singing for Ditty does not imply showing off vocal prowess; she has a bigger purpose. "I have a voice and must use it to do as much as I can," she says.
Life in her world is always green. Her daily activities include singing earth songs, while also working as a conservation architect.
In practice, she designs and helps build natural buildings, while also teaching people about ways to become self-sufficient.
This year, Ditty plans to start a tour -- a low-carbon footprint tour via trains -- to be played in public places.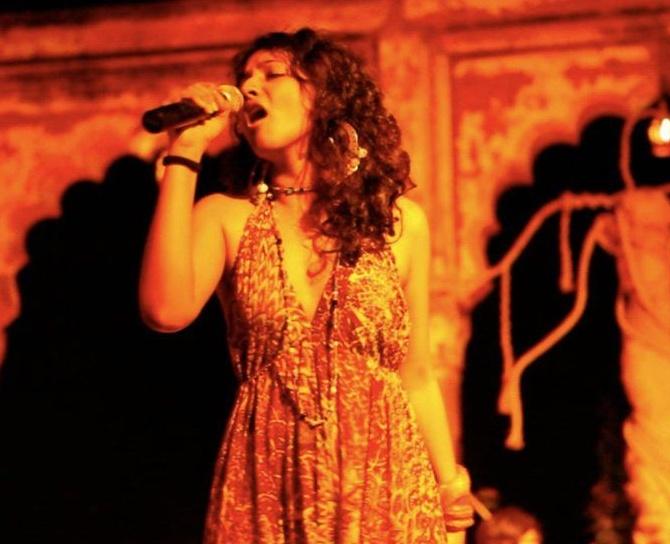 The 30-year-old singer serenades the world with her beautiful music. Ditty, in her mournful yet melodious voice, gives out a message for all to live by.
The extinction of animals, the death of humanity and the loss of natural resources are expressed in her songs.
Hers is the kind of music that you can listen to anywhere: In a park, in the car, or, you could cry to the tune with a cup of hot cocoa.
That is Ditty -- ready to either arouse you or calm you down with her lyrical songs.
Ditty studied to be an architect at the School of Planning and Architecture, New Delhi and that, she says, helped her understand "the gruesome realities of capitalism".
She speaks of how disconnected the world has become: "It has been going in the wrong direction for thousands of years. Here (in India) people fail to see the connection between nature, economy, society and more. Things are missing."
But then the world is also waking up, she says, and lauds the young Greta Thunberg and her environmental activism.
"It had to happen. The more we disturb the earth, the more it is speaking to us."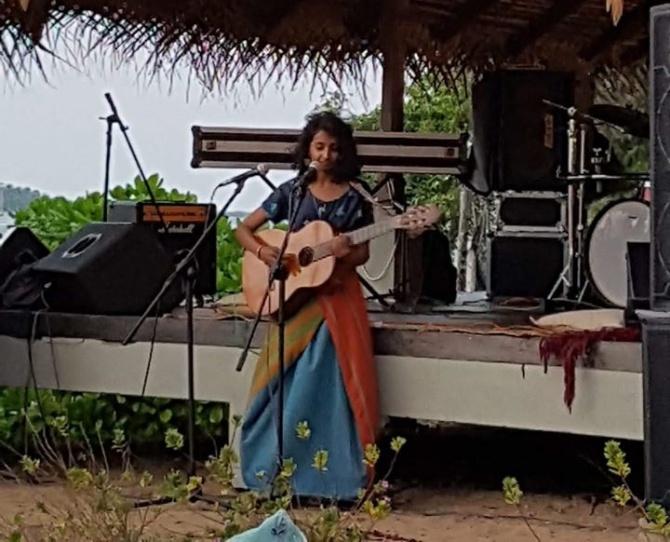 On her part, Ditty uses natural resources as her everyday accessories. Her one act to go sustainable in the fast-fashion world is to simply go all natural.
"Growing up, I too used to buy clothes. But once I knew how these clothes were made and the things that were happening, I decided to have a really simple wardrobe," she says.
And being an up-and-coming artist doesn't change much. Even now, she is often seen wearing flower headbands and pins while playing all her gigs.
"I have this one pendant and it's really pretty," she says, gleefully showing off her pressed flower ornament.
The other way she contributes is through her songs. Ditty gives the world a wake-up call, a cry to action and an urge to return to Mother Earth, one song at a time.
Her songs reflect the condition of the society. "There is so much mobility of people for political reasons in our country. But soon, this will happen for the environment," she says.
"We are the earth... (we) have to stop separating ourselves from everything," tells Ditty as we take our last slip of autumn tea with rose petals and lemon balm -- a fusion just as delightful as her mix of spoken poetry and music.