The mind block against online education is crumbling and the demand may be led not just by parents, but also teachers.
Amrita Singh reports.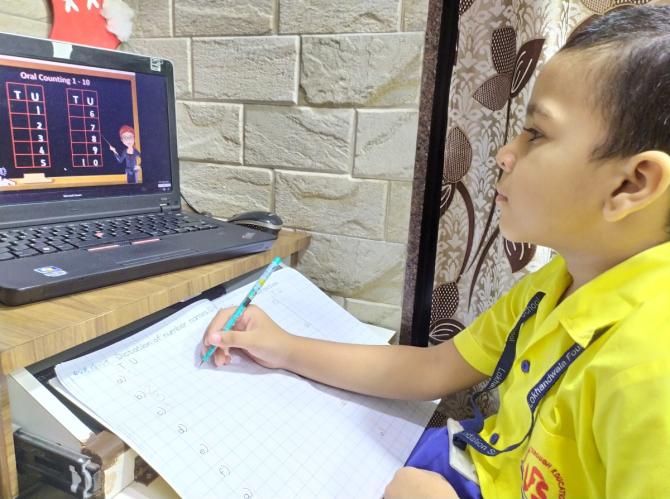 Students glued to smartphones in the back seat of a car, while getting a head oil massage or sprawled on a sun-lounger may not look like a typical class.
But over the past few months, as education moved online, this ad by an edtech start-up has come to typify the new classroom.
Although online education via edtech platforms has been around much before COVID-19, the crisis has brought the sector into limelight.
Enrollment of students and investments into these start-ups have surged.
Demand has been high not just for Byju's and Vedantu, which made their live classes free soon after the lockdown, both out of concern for students and in hopes of enlisting more students, but also for other newer players.
Vidyakul, for instance, a start-up focused on tier II and III cities and with a sharper focus on vernacular teaching, has seen a nearly 200 per cent jump in students attending its live classes.
"For students living in villages, who are preparing for state boards, there aren't many options available. They are looking for online classes and want to study in apni bhasha. So, a majority of our user base is of students demanding lessons in vernacular language," says Vidyakul Co-founder Tarun Saini. He is planning to start offering courses in four more languages this year.
With the sector booming, investors have pumped in $795 million in the first half of 2020 compared with $108 million in the previous year, and the trend is set to continue.
Over 50 new edtech companies were evaluated by Bengaluru-based Orios Venture alone over the past six months, and currently, there are 4,450 edtech companies in the country, according to DataLabs, a resource centre for start-ups.
So is this the start of a normal boom, bust and reckoning cycle that will end once students go back to school?
Or is this the future of education, a goldmine of growth that is here to stay?
Kunal Malik, co-founder of PlanetSpark, a start-up focused on communication skills for preteens, is convinced that online is the future.
"China has about 8 Unicorns in live online learning and the US has 4. India only has two (Byju's and Unacademy) and will see several new unicorns in this space," he says.
Most edtech companies are focused on making their classes as close to real as possible and also accessible in terms of prices.
Vamsi Krishna, co-founder of Vedantu, is looking to disrupt the delivery further by bringing the prices to as low as Rs 500 a month for live classes.
Currently, the cost for online live classes start from Rs 75 to Rs 200 an hour and more. The higher the number of students per class, the higher the revenue.
But start-ups are also conscious of their responsibility to students, and try to limit the number per session to ensure individual attention.
"We have the technology to live stream the classes to even 5,000 students right now, but we do not want to do that in the interest of students," says Krishna.
Live classes mimic the look and feel of a regular class, with interactive platform where students can type their queries for the teacher to answer in real time and other engagement tools to answer questions in yes or no that the teacher asks from time to time.
Vedantu even has a fastest finger first sort of contest where the names of top 10 students, who answer a question first are displayed on the screen.
In a way, these platforms are a bit like a marketplace for teachers. They are doing what Ola and Uber did for drivers and Amazon for sellers.
Students can scroll through a site and choose a teacher that suits them. The selection criteria for teachers are set by the platforms, and teachers are paid on a per hour basis.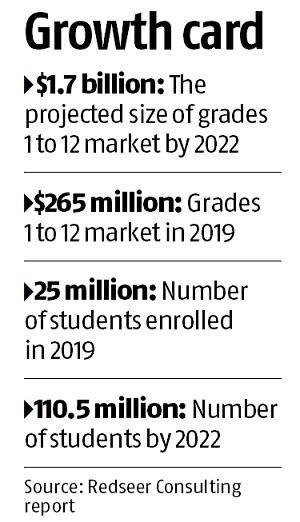 PlanetSpark's Malik says teachers can make anywhere up to Rs 45,000 if they teach for five to six hours a day. Some platforms like Edurev only provide content.
Such offline courses, which include video, audio lessons, can cost anywhere upwards of Rs 45,000 for K-12 classes.
But will this technology stick once students go back to school? Studies on the efficacy of online as a medium for school teaching are still emerging.
And teachers and parents alike are worried children might be losing out on learning this academic session as regular schools have also moved online.
Padma Sarangapani, associate professor at the Centre for Education Innovation and Action Research at the Tata Institute of Social Sciences, Mumbai, says, "Online education could work best for certification courses and higher studies but not for school students, particularly younger children."
"So much in the classroom is driven by responses and reaction. That spontaneity is missing in online classes and teachers have to put in a lot more effort to teach -- they have to decide where to pause, anticipate student reaction and sometimes keep the class on hold as they go through the chat messages to answer a student's query," Sarangapani says.
Many parents are also confused about letting their children spend such long hours online.
"With online education each child is an island, there is no motivation or enthusiasm to look forward to the next day. Children need face-to-face interaction to study physics, chemistry and social sciences," says Soumya Mohan, the mother of a Class 7 student in Bengaluru.
But expert reckon the online trend is only likely to accelerate further.
"Just like in e-commerce, which started with the large marketplaces leading the way and educating consumers to buy online and then other brands followed soon after and flourished, we believe edtech could see a similar journey in the three-five years," says Rohit Krishna, general partner, WEH Ventures.
Malik says the mind block against online education is already crumbling and the demand may be led not just by parents, but also teachers.
In the pre-pandemic time, the best or most experienced teachers were not available to teach online as they had students to teach through their networks.
"During the pandemic they were forced to move online without a choice. But they now see the benefits of digital teaching -- they can teach kids in India and abroad and earn more than a school job," says Malik.
"Pandemic has not brought in a new change, rather it has accelerated what was already underway," according to him.
Tied to this are the gaps in the country's education system where many students struggle to find good teachers. That makes edtech essential to the aspirations of people in tier I to III cities.
"The interest in edtech had actually started trending in 2019 and the total users across K-12 and post K-12 has grown 100 per cent YoY to 90 million," says Karan Mohla, partner at Chiratae Ventures, a VC.
"But the base is still quite basic as the infrastructure, content available and teaching pedagogy are still catching up with the demand."